The family of the late Antonin Scalia, J.D. '60, who was a leading associate justice on the U.S. Supreme Court, announced Monday that it will donate his papers to the Harvard Law School (HLS) Library.
The bulk of the Antonin Scalia Collection consists of judicial papers from his tenure on the Supreme Court as a forceful and influential conservative interpreter of the law and previously on the U.S. Court of Appeals for the D.C. Circuit.
The collection also includes papers from earlier in the career of Scalia, who died a year ago, including his government service in the U.S. Department of Justice, the Administrative Conference of the United States, and the Office of Telecommunications Policy, as well as his academic career as a law professor at the University of Virginia, the University of Chicago, and elsewhere. Various other materials, including drafts of speeches and articles, correspondence, and records pertaining to his professional appearances and awards, will also be included.
"We are extraordinarily grateful to the family of Justice Scalia for donating these papers to the Harvard Law School Library," said Martha Minow, the Morgan and Helen Chu Dean and Professor of Law at HLS. "Justice Scalia will be remembered as one of the most influential jurists in American history. He changed how the court approaches statutory interpretation, and in countless areas introduced new ways of thinking about the Constitution and the role of the court that will remain important for years to come. His papers will be a tremendous resource for students, scholars, and the general public for generations to come."
The collection will be made available for research on a schedule agreed upon by the Scalia family and the Law School Library. Materials pertaining to Scalia's work on the Supreme Court and the D.C. Circuit Court will begin to be opened for research in 2020, although materials regarding specific cases will not be opened during the lifetime of other justices or of judges who participated in the case. As materials become available, they will be announced on the HLS Library's blog, Et Seq., and through other outlets.
Maureen Scalia, Radcliffe '60, who was married to the justice for 55 years, said, "Nino and I met as students in Cambridge, when he was at the Law School and I at Radcliffe. Our visits back to Harvard together always felt like a homecoming, particularly in recent years. I am pleased to make this gift, and that his papers will now be at the Law School."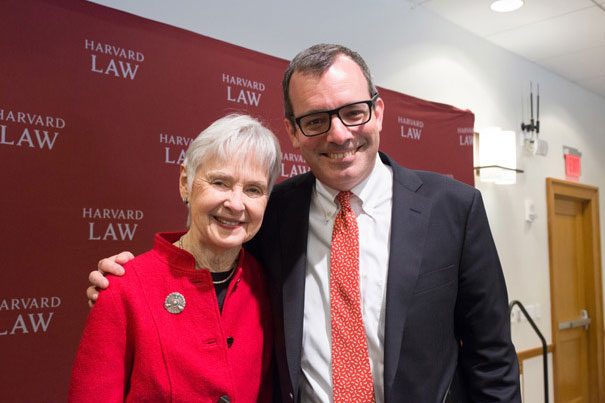 As a student at HLS, Scalia served on the Harvard Law Review, which he recalled with great fondness in many subsequent visits to campus. His last appearance at the School was in 2014, when he visited to hear his longtime friend and colleague Judge Frank Easterbrook of the U.S. Court of Appeals for the Seventh Circuit deliver the inaugural Scalia Lecture in what has become a regular series in the justice's honor.
"We are deeply grateful to the Scalia family for donating Justice Scalia's papers to his alma mater," said John Manning, deputy dean and Bruce Bromley Professor of Law at HLS and a former clerk to Scalia. "These papers will someday be a treasure trove for historians, legal scholars, and others who wish to study and understand the justice's historic tenure on the court and impact on legal thought."
Adrian Vermeule, the Ralph S. Tyler Jr. Professor of Constitutional Law at HLS and also a former Scalia clerk, said, "Justice Scalia was, indisputably, the most influential and interesting justice of his generation, and a brilliant academic as well. His papers will be of surpassing value to future scholars, and it is fitting that they should find a home at Harvard Law School."
Jonathan Zittrain, the George Bemis Professor of International Law and director of the library, said, "The Harvard Law School Library serves not only the campus community, but the world at large. Its patrons are not only those using the library today, but those who will follow. We are trustees of the development of the law, and we embrace new technologies as part of the solemn pursuit of universal and ongoing preservation of and access to materials entrusted to us."
"The Harvard Law School Library is honored to steward Justice Scalia's memory and his contribution to American jurisprudence," said Jocelyn Kennedy, executive director of the library. "Adding Justice Scalia's papers to our modern manuscripts collection, which includes the papers of Oliver Wendell Holmes, Louis D. Brandeis, and other Supreme Court Justices, will allow future researchers the opportunity to explore the courts and our venerable jurists across three centuries."