China's dramatic rise as a world power rivaling the United States has placed the two nations on a potentially dangerous collision course, experts warned during a Harvard Kennedy School forum on Wednesday.
Joining Belfer Center Director Graham Allison in conversation were Samantha Power, former U.S. Ambassador to the United Nations; Niall Ferguson, senior faculty fellow at the Belfer Center and the Minda de Gunzburg Center for European Studies; and moderator Arne Westad, S.T. Lee Professor of U.S.-Asia Relations at the Ash Center for Democratic Governance and Innovation.
The forum was based on a theme that Allison, who is also Douglas Dillon Professor of Government at the Kennedy School, explores in his forthcoming book, "Destined for War: Can America and China Escape Thucydides's Trap?"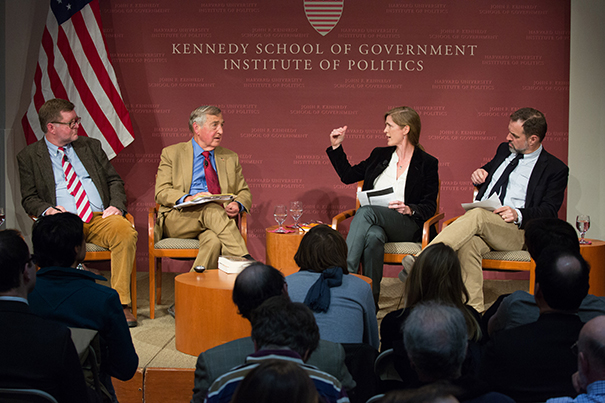 The titular trap, named for the ancient Greek historian who developed the concept in reference to the Peloponnesian War, refers to the conflict that can arise when a rising power threatens to replace a ruling one. Allison said that of 16 instances in which the threat occurred over the last 500 years, war was the outcome in 12.
In the case of U.S.-China relations, war is not inevitable, he said.
"The question is, will we follow business as usual … or could we imagine a surge of imagination" that avoids conflict, Allison said, such as the Cold War strategy the U.S. developed in response to the rise of the Soviet Union. "That's going to be the challenge for all of us."
Power said she was struck by the many "gasp-worthy statistics" on China's rapid ascendance cited in Allison's book. As an example, she noted China's having produced and used more cement between 2011 and 2013 than U.S. production in the entire 20th century. She agreed that such advances are likely to cause stress for a status quo power such as the United States.
While agreeing that "we have got to wrap our minds around this," Power said that she worries "there is just not enough knowledge of history" among U.S. policymakers to guide their response.
Power, whose four-year tenure as U.N. ambassador ended in January, said there is no clear evidence yet that China "is going to want to renegotiate the rules in the international system." Instead, she said, China seems to be mostly following an approach of "hide your capabilities, bide your time."
In the past year, however, Chinese leaders have begun to assert the country's power outside its immediate geographical region and have "really started to embed themselves within the U.N. structures," she said. As evidence, she said that China now has nearly 3,000 troops active in U.N. peacekeeping missions, and is seeking to establish a separate 8,000-troop rapid reaction force.
Power said that if China were to push a "more conservative and less active" approach to peacekeeping, it could have a "major impact on the extent to which civilians get protected in the world."
"They fundamentally do not act as though they agree … that bad governance is itself destabilizing," she said of China's leaders. "Over the last couple of years … it really wasn't clear whether there were any lines governments could cross and forfeit China's relationship."
Ferguson, who is also a senior fellow at Stanford University's Hoover Institution, agreed that China's economic rise has been dizzying. But he cautioned against assuming the country is overtaking the United States or that the threat of conflict is urgent, noting that the U.S. is still "miles ahead militarily" and that the two nations remain economically interdependent.
"Chinese leaders know that they do not need war … to surpass the United States," he said, adding that in a recent trip to China, he was struck by "the self-confidence I encountered among China's leaders — that history is going their way."
The U.S. should pursue closer relations with China as a way of promoting international stability, said Ferguson, who sees an opening for this strategy. Noting that China faces similar challenges to the U.S. — including rising debt — he said, "China's leadership is more focused … on resolving these economic or domestic problems than on becoming a superpower."