Viola Davis, the acclaimed actress, producer, director, activist, businesswoman, and philanthropist, was awarded the Harvard Foundation's 2017 Artist of the Year medal at a March 4 ceremony during the 32nd annual Cultural Rhythms Festival.
Speaking to a packed Sanders Theatre, Davis said that when she arrived on campus, she wondered, "Who is this for, who is this Viola Davis? Art is a sacred place. When I channel people and their stories, I want them to be seen and less alone. The power of what I do has healed me in many ways. Your job is to bear witness. If an audience member is shifted in any way, I've done my job."
In accepting the award, she said, "I will try to live up to this as much as I can. I am honored to be in the presence of so many artists here."
The award caps what has been an incredible streak of accolades for Davis. Since 2014, the actress has won three Screen Actors Guild Awards, a Primetime Emmy, a Golden Globe, a BAFTA, and most recently an Academy Award for her portrayal of Rose Maxson in the film "Fences." The role was a reprisal for Davis, who also starred in the play's 2010 Broadway revival, for which she won a Tony Award. She is the first African-American actress to win an Emmy, a Tony, and an Oscar in acting categories.
"Representation is powerful, because it shapes how we understand the scope and limitations of our potential," said festival host Jonathan Roberts '17. "If, growing up, you never saw someone who looked like you in a position of power or acclaim, it becomes increasingly difficult to imagine yourself in such a position in the present."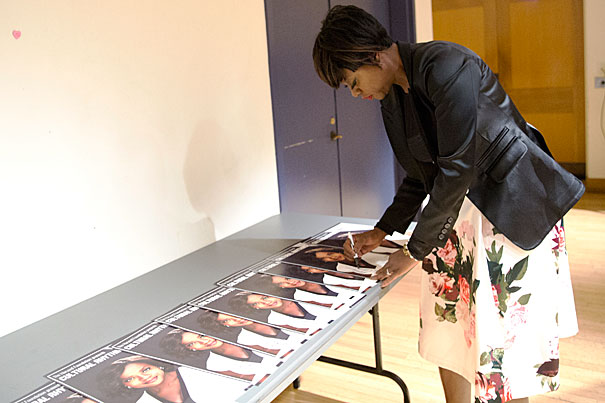 It was a sentiment that co-host Karen Chee '17 shared: "I love Cultural Rhythms because it's incredibly inspiring and heartwarming to see so much love, joy, and celebration for people from all different backgrounds, especially at a school that was built for white men. I was honored and thrilled to emcee; it was easily one of the best days of my life. Viola Davis makes me proud to be a woman of color."
Davis was born in a one-room shack on a former South Carolina plantation where her grandfather had been a sharecropper. She moved to Central Falls, R.I., when she was just 2 months old. Her family lived in poverty, and in a recent People Magazine interview, Davis said that she has only one photo of herself as a child because her family was never able to afford a camera. Despite her family's struggles, they supported her as she took an early interest in acting. She was voted "Most Talented" by her Central Falls High School class, and went on to graduate from the Juilliard School.
"Holding onto the legacies of those who came before her, she stepped forward when there was no step to be seen," said Roberts. "She willed her dreams into existence."
Robert Mitchell, assistant dean of Diversity Relations and Communication, contributed to this report.
John Michael Baglione is a writer and author residing in Boston. His work can be found at johnmichaeltxt.com.