For retail, the revolution is being televised, as it's increasingly being delivered online through computer and phone video screens.
The growth of digital shopping was the central point of "Future Retail," a presentation and panel discussion held at Harvard's Graduate School of Design (GSD) on Wednesday evening, as both marketing professionals and academics discussed the ramifications of this revolution and where it's likely headed next.
Opening the session in Piper Hall, GSD Dean Mohsen Mostafavi, the Alexander and Victoria Wiley Professor of Design, said the discussion would outline "the status of shopping and its relationship to design practice," which allowed for a spectrum of topics, from futuristic clothing to restructuring of old-fashioned brick-and-mortar stores.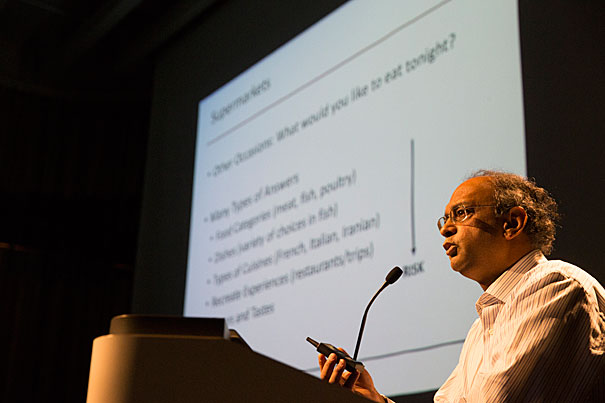 In the first presentation, Rajiv Lal, the Stanley Roth Sr. Professor of Retailing at Harvard Business School, looked ahead, saying that retailers must assume that technology will continue to change their field. Developments like the Amazon Go store, which automates checkout and streamlines shopping, and spray-on clothing, customized to the individual, are two promising frontiers. Both incorporate old-school, in-person shopping, but in innovative ways. "Technology will allow us to live more imaginative lives," he predicted.
Lal started the forward-looking discussion by peering back at work, including his own, that inaccurately predicted the impact that the internet would have on retail.
"Why focus on the past when I'm supposed to focus on the future?" he asked. "Because we were wrong." In a few short years, thanks to Amazon and other online retailers, he said, "shopping at stores became a chore." Price and ease, areas in which the internet easily outpaced stores, quickly became paramount, disrupting the industry. In order to respond effectively, he said, retail outlets must re-engage consumers. "Make it entertaining, engaging, and fun," he suggested, such as the Apple store, where design and personal service combine for an experience that is about more than the product being purchased.
Illustrating his presentation with National Retail Federation statistics, Eric Symon, vice president of the global retail business unit of the tech company PTC, outlined the extent of the "massive transformation" of retail, noting that e-commerce currently accounts for approximately 10 percent of all sales, but nearly all of the field's growth. "Retailers are shuttering thousands of stores," he said.
But while e-commerce appears to be behind this change, he said, "The real disrupter is the consumer." Calling the new consumer "connected, informed, engaged, and demanding," he pointed out how the online shopper has enacted a basic power shift "from retailer to consumer."
Whereas previously manufacturers and retailers determined product availability — by seasonality, for example — the new consumers have become accustomed to products on demand. Shoppers want variety, and they do not want to wait. The winners in such a new world will follow what Symon called the Zara model, "shortening the cycle time." Citing the success of the Spanish clothing chain, he noted how fashion "used to have four seasons, but Zara does it every two weeks." He then gave examples of how increased client engagement and customization — such as enhanced shopping experiences that refer to a customer's previous purchases and spending history — will allow retail outlets to use technology and design to reach and retain consumers.
Neil Blumenthal, co-founder and co-CEO of Warby Parker, then gave an inside perspective on just how these principles can be applied in the real world. Blumenthal, whose budget- and style-conscious eyeglass line has moved from the online world to include brick-and-mortar outlets, walked the audience through the development of his business. Starting with a question — "Why aren't glasses sold online?" — he and his partners came up with a straightforward business plan. They would use their own designs, thus avoiding licensing fees, and a limited palette of materials and styles, which would help reduce costs. They also spent much of their 18 months in development working on their website — the interface with consumers — understanding that this was as important as the product.
The primary concern, however, had to be customer service. Because eyeglasses are such personalized products, said Blumenthal, building trust was paramount. The team came up with the idea of shipping frames to consumers to try on at home, and this, along with free shipping and returns, became the basis of the online business. "We wanted to eliminate every friction point possible and convey confidence," said Blumenthal.
Warby Parker was also committed to a social mission: The brand distributes a pair of glasses to an underprivileged user for every pair sold, pairing with a non-profit for this purpose. However, Blumenthal said, Warby Parker quickly realized that this would be a lower priority for consumers. Instead, he stressed, the company focused on being "a lifestyle brand, offering value and service," and only then noting that it had "a social mission." The results were immediate: The company hit its first year's goals in three weeks. It has since gone on to experiment with brick and mortar, first with pop-up stores in Philadelphia and New York, and more recently with permanent outlets, which rely heavily on design, playing up the neighborhood attributes of their urban settings.
Craig Robins, CEO and president of the real estate company Dacra, commented on the role of neighborhoods when he joined the speakers for the ensuing panel discussion. Developer of the Miami Design District, Robins spoke of the "intersection between culture and business," specifically about incorporating historic buildings — "real things" — into a retailer's vision. In that way, he showed a way forward for the field, using both technology and design, and stressing the need to "invest equally in the culture side of the neighborhood as well as places for people to sell things."