With a new administration in Washington, it's widely accepted that the Affordable Care Act (ACA), otherwise known as Obamacare, isn't likely to survive in its current form. But nobody seems to know whether it will be replaced or repealed, or what shape health care coverage will take in the future. The experts who met for a Kennedy School panel on the subject Monday evening didn't presume to answer those questions, but they did pinpoint the crucial issues for the transition.
While they disagreed on possible replacements, they agreed that any solution will take time to create, agree upon, and roll out.
The panel on "Alternatives to the Affordable Care Act" began with a look at the benefits and drawbacks of Medicaid. According to Katherine Baicker, the C. Boyden Gray Professor of Health Economics at the Harvard T.H. Chan School of Public Health, expansion of Medicaid under Obamacare led to a decline in certain chronic diseases — but that also cost money, because the newly insured used more care. "This forced policymakers to think about how much they cared about the benefits to the insured, versus the costs of that care. That brought politics into it, and economists aren't so good at politics."
Two panelists represented opposite philosophies. Jonathan Gruber, the Ford Professor of Economics at Massachusetts Institute of Technology and a former Obama administration consultant on the health act, and Avik Roy, co-founder and president of the Foundation for Research on Equal Opportunity, argued respectively that government oversight of health care is the only sure way to leave fewer citizens behind, and that the free market, aided by block grants and tax credits, could do a better job.
Roy, speaking via Skype, said that Medicaid has failed the poor by directing too much funding to higher-income groups that don't need it. Further, Roy said, doctors in many states avoid treating Medicaid patients because they can make more money on wealthier private patients. "Our argument is to say let's take the money that we are sending to the Medicaid program and send it directly to the patients, so they can choose the program that serves their needs." Tax credits and health savings accounts, he said, would give the poor more choices than Medicaid does.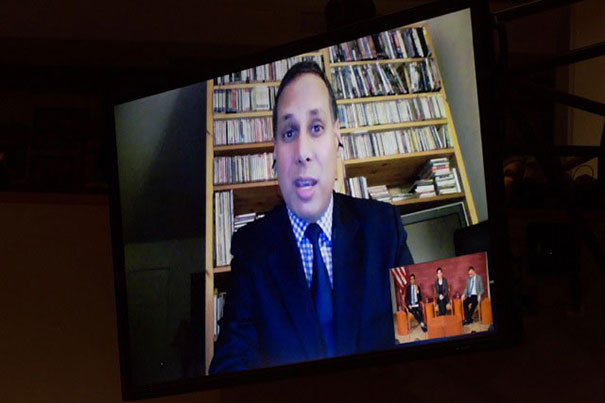 "Poor people can't do anything with health savings accounts," Gruber replied. "If you have a $10,000 income, you can't put $3,000 into a savings account." He said that if you take away the individual mandate, one of the cornerstones of Obamacare, you lose the funding to insure the poor unless another mechanism is put in place. "We can't escape the mathematics of insurance: 80 percent of the pool is paid by 20 percent of the people. Any alternative to Medicaid has to address affordability, it has to address adverse selection (i.e., people who opt out), and it has to address the architecture of the plan. But there is no alternative to the right of the ACA that does not increase un-insurance. It cannot be done."
Gail R. Wilensky, senior fellow at Project HOPE and former director of Medicare and Medicaid, added that other countries have adopted strategies that probably would not be accepted here. Also speaking via Skype, she said, "There are alternative strategies to delivering health care, such as putting tight limits on technology. The light tech centers and digital imaging could be put under government control. You could theoretically lower costs that way. But if people were uncomfortable with the mandate, with government telling them what to buy, imagine what the reaction would be to that."
Another question is whether patients would make the smartest decisions in an open health care market. Gruber said that under President George W. Bush, many elders simply chose the cheapest available plan, often with unfortunate results. Roy countered that low-income patients are often the shrewdest health care shoppers. "It is unreasonable to expect patients to be doctors," Baicker said. Wilensky concurred, saying "I've talked to many patients with health savings accounts, and they found it incredibly difficult to know what they were buying."
Everyone agreed, however, that the ACA is not near being definitively repealed or replaced. Chandra asked all four panelists when they expected a new plan to be in place. Estimates ranged from next winter to 2019. "One big difference is that Democrats were all united behind Obamacare, but there is no Republican consensus," Roy said. "They're against Obamacare, but they're not sure what they're for. There is literally nobody in Washington who knows what the new plans will look like, and I give it a 50-50 chance that they even come to agreement."
One possible solution, Wilensky said, is to bring together all the affected parties — policymakers, physicians, and at-risk patients — in town-hall-type meetings that look into new solutions. "There are a lot of things that don't make sense," she said, "and in this country we've tried most of them."
The session was moderated by Amitabh Chandra, the Malcolm Wiener Professor of Social Policy and director of health policy research at the Kennedy School.