Those who cherish the nation's tradition of religious freedom should be alarmed by President Trump's executive order temporarily banning immigration from seven Muslim-majority countries and all refugees, two Harvard Divinity School faculty members warned Monday.
"I find it to be a moral travesty," Diane L. Moore, director of the Religious Literacy Project and a senior lecturer on religious studies and education, said of the president's order, which was issued Friday and set off a weekend of nationwide protest.
While planning for the forum on religious freedom began before the November election, recent actions by the president were a key focus at the Andover Hall event.
Moore and Dudley C. Rose, associate dean for ministry studies and a lecturer on ministry education at the Divinity School, warned that the immigrant ban and other moves by the administration are sending chilling signs about coming challenges to religious and other bedrock American freedoms.
The immigration ban, Moore argued, is a particular worry because it is "based on an association of Islam with violence and terrorism." A related concern, Moore said, is the administration's apparent effort to "make a distinction between religion in terms of its freedom of protection and Islam, which they are associating with political ideology."
"This notion that is being promoted to exclude the current executive order … from being challenged on religious freedom grounds [is] very dangerous," Moore said, warning that it could lead to justifications for executive orders based on claimed links between Islam and terrorism.
"This is exactly what the foundations of a police state require," she said.
Both speakers urged those worried about an erosion of religious freedom, particularly religious groups, to take a vocal stand. Resistance is especially important, Moore said, in the context of the president's suggestion of preference for Christian refugees.
"So many Christian groups said no …. to giving exemptions for Christians coming from Syria, for example," she said. "These are the sorts of things we have to stand up to and stand up against — the desire to try and divide."
In the discussion, moderated by Aisha Ansano, M.Div. '16, Moore urged that religious freedom be seen in its historical and social context. Both she and Rose traced the way different perceptions of it have taken root in this country in recent times.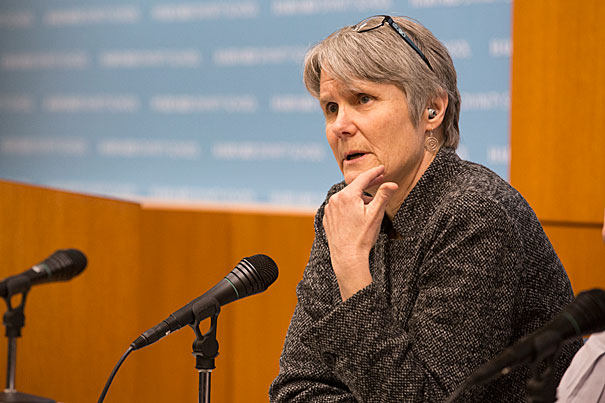 The two recalled how several court cases that ruled against individuals or groups claiming the right to engage in certain religious activities prompted Congress to adopt the 1993 Religious Freedom Restoration Act. The bipartisan measure barred limits being placed on religious freedoms beyond those needed to protect the rights of others or the rule of law.
But a 1997 court ruling declared the act unconstitutional, and Moore and Rose said that with the aid of other court rulings since — including the 2014 Hobby Lobby case — some states have adopted laws allowing firms to cite religious convictions in sometimes controversial business decisions.
Moore said the trend shows how "the context of religious freedom is so critical. … If it's just the freedom of any individual or corporation now to hold any religious belief they want, it really can come into conflict and violate other fundamental values that we have enshrined in our Constitution. And that I think becomes a very interesting challenge and tension."
Rose said he feared a shift in focus from religious freedom being understood as protecting people vulnerable because they are religious minorities to "people in power using the claim of religious freedom to actually impose their will on the vulnerable."