When students move back into a renovated Winthrop House this fall, they'll find transformed spaces and modern amenities as well as design touches that celebrate the residence's rich history.
The neo-Georgian house with the riverfront view will accommodate more than 400 students when it opens for the 2017-18 academic year. Robert M. Beren Hall, the new addition to Winthrop with all-suites living, will be completed several months ahead of schedule, which means that Winthrop residents will return to the House in August.
The new five-story building, named for Beren '47, M.B.A. '50, also will house social spaces, a high-tech seminar room, and a bright rooftop common space with sweeping views of the Charles River. Etched in the molding of the rooftop room are the famous words of Puritan leader John Winthrop: "We shall be as a city upon a hill, the eyes of all people are upon us."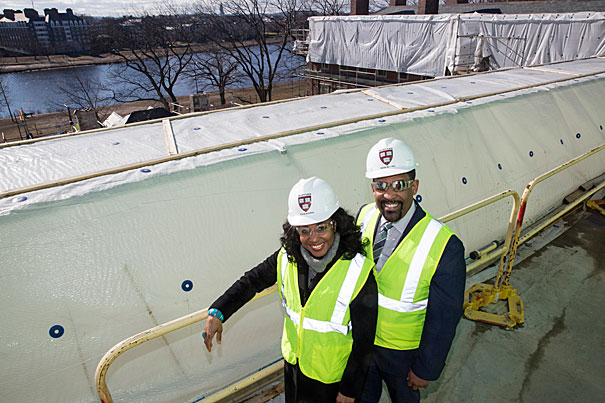 In a statement, Winthrop Faculty Deans Ronald S. Sullivan Jr. and Stephanie Robinson said: "We are thrilled beyond belief that all of Winthrop will be returning home in the fall of 2017. It will be a wonderful celebration to have our entire community together under one Winthrop, something that we've never experienced before. We are extraordinarily grateful for the generous support of Robert M. Beren for helping to make this possible. We further wish to thank all of the people — especially the renewal team and the construction workers who have worked tirelessly to finish Winthrop ahead of schedule."
Nods to House history and to the students' shared sense of belonging inspired the personalized touches that will be evident throughout the House. Gigi Kisela, a Winthrop House senior concentrating in visual and environmental studies, has worked on the project for the better part of the last year as design intern, helping Harvard's Planning and Project Management Department and architects Beyer Blinder Belle research archives and design graphics for the space.
The 22-year-old, who hails from Capetown, South Africa, began digging into the archives for artifacts and images illustrative of moments and people important to students. She found: a photo of the first Radcliffe women who were allowed to move into the House in 1970; a 1954 picture of the dining hall staff; an image of the coveted intermural football medal from 1934; and photos of John Winthrop's descendant Emily Winthrop Miles and her paintings. These images, all found in the Harvard University Archives, Harvard Art Museums, and Harvard Library, will hang in a gallery along the connector to Standish Hall. Others, such as a graphic of a lion Kisela created for the Lion's Den student lounge, will be featured in different rooms.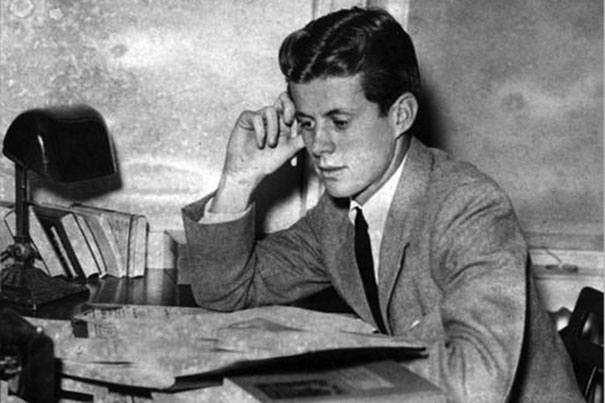 "I was really trusted with the responsibility of thinking about what was important to us, and I tried to communicate that through the imagery," Kisela said.
Winthrop House began as Gore and Standish halls, freshman dorms built in 1914, and counts among its famous alumni President John F. Kennedy, actor and comedian B.J. Novak, and former U.S. Treasurer Rosa Gumataotao Rios. Architects and planners working on the renovation have also paid careful attention to the exterior. Among the highlights are a landscaped courtyard in front of Standish and the expanded terrace outside Gore. The updated timeline of the entire project will result in an anticipated $750,000 in savings, which will benefit overall House renewal.
"Houses are at the heart of the student experience at Harvard," said Michael D. Smith, Edgerley Family Dean of the Faculty of Arts and Sciences. "The spectacular renewal of Winthrop House represents, both inside and out, a truly 21st-century educational environment where our students will thrive today, tomorrow, and for generations to come."
Save
Save
Save
Save
Save
Save
Save
Save
Save
Save
Save