The group of students and doctors hovered around "Pieta," the sculpture of Mary cradling a dying Jesus, as if they had a real patient. With eyes to the injuries and to the comforting arms, they debated whether the cloth in Mary's hands was for wiping her own tears or cleaning his bloodied body.
"I initially didn't even want to look at this sculpture because it was so jarring," said Lisa Wong from the back of the crowd gathered on the fourth floor of the Harvard Art Museums to look at the Austrian sculpture. "(But) our initial human instinct of revulsion has to be overcome before we are able to truly see, then care for the patient."
Such was the powerful beginning to the Wintersession course "Creativity, Medicine and the Arts," an afternoon of workshops led by Wong, a pediatrician and co-director of the Arts and Humanities Initiative at Harvard Medical School (HMS). Attended by a cross-section of undergraduates as well as students from HMS, the Graduate School of Education, Harvard Law School, and Harvard Business School, participants were invited to rethink the idea that studying of the sciences requires giving up the arts.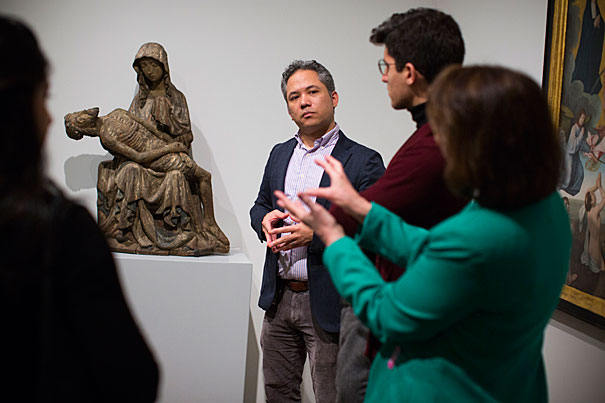 "You'd think arts and humanities are very far from medicine and science, but actually it's all part of one continuum. As doctors, we're looking for beauty and helping patients find their beauty. At the same time, artists are looking for ways to express suffering and other emotions," said Wong, a violinist who performs with the Longwood Symphony. "Many students are intense premeds, and their concept of getting to medical school is they have to embrace the sciences and leave their art behind. This is a chance to reassure them they can embrace both."
Dogus Mordeniz '20, from Turkey, can relate. A prospective engineering concentrator who lives in Stoughton Hall, Mordeniz spent an hour of the Wintersession course in a workshop called "Healing Narrative Through Movement," with Madhvi Venkatesh, a curriculum fellow in the department of biological chemistry and molecular pharmacology at HMS and a classical Indian dancer. Venkatesh led the students through different interactive activities. In one, they matched their words to physical movements; in another, they found 15 movements for a single verb, then paired off to perform with a partner.
"It had always been instilled that an interest in arts cannot be pursued while majoring in a STEM field. This workshop proved that any form of art is complementary to medicine — or any other scientific field for that matter," he said after the class. "The movement workshop showed me that every feeling can be expressed by our moves."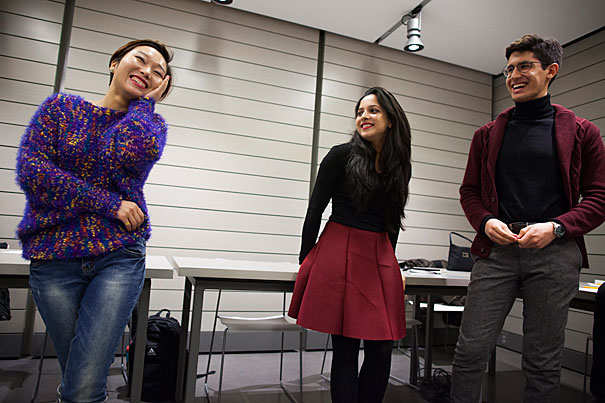 Back in the galleries, Elizabeth Rider, HMS assistant professor of pediatrics, and David Odo, the museums' director of student programs and research curator of University collections initiatives, introduced students to Picasso's painting "Mother and Child" and Doris Salcedo's "A Flor de Piel," a giant tapestry made of hand-stitched rose petals.
When Odo told the students that Salcedo created the work in memory of a nurse tortured during the civil war in her native Colombia, Avanti Nagral found the background information critical in shaping her response to the piece.
"It's hard without the clue to have compassion for something that doesn't look human," said the 19-year-old, who lives in Hurlbut Hall.
Odo agreed, noting that studying art isn't unlike a taking a patient history. "It helps us look as things differently," he said.
After the class, Nagral said hearing varied interpretations from classmates with different backgrounds and perspectives "was wonderful."
"There really is no 'right' or 'wrong' answer in the arts, just as there shouldn't be in the human side of the sciences," she said.
Wong, who is was in her fourth year of teaching in this Wintersession, ended the day with a musical performance of Bach performed with HMS students Justin Lo and Michael Wu.
"This has such broad appeal," she said, "because young people are all trying to find meaning in the work they are doing, and it helps to be able to relate it back to art that they love."