First came the fashion police. Now come the fashion lawyers.
While the fashion police playfully expose the dos and don'ts of style, fashion lawyers draft contracts and provide legal advice behind the curtains, far from the spotlight and glamour of the red carpet. Still, the job can be exhilarating.
Students who took "Fashion Law Lab," a nine-day course offered at Harvard Law School (HLS) during the January term, caught a glimpse of the allure of the fashion industry, and most couldn't get enough of it.
Unlike other law courses, which emphasize readings and class discussion, this one featured daily workshops in which students role-played simulations of scenarios faced by general counsel working in fashion companies. Acting as lawyers advising a brand, students one day dealt with design rights and counterfeits. Another day, they had to come up with strategies to handle unregistered workers and underage models. On yet another day, they offered counsel on how to respond to accusations of greenwashing, or faking concern for the environment, and how to protect animal rights.
"It was mentally exerting but rewarding," said J.D. student Keith Thomas. "It was … so different from other courses at HLS. It was so practically focused, and the skills we learned are transferable to other industries outside fashion. It was fantastic."
That was exactly what the instructors, Jeannie Suk Gersen, the John H. Watson Jr. Professor for Law, and Nana Sarian, general counsel of Stella McCartney, had in mind when they thought up the experiential course.
Gersen and Sarian, who share an interest in the arts and fashion, tailored the course to help law students learn communications and people skills while dealing with practical situations in fashion law that they couldn't read about in a book. But they also wanted to offer students a window into a growing field that can be more spellbinding than mergers and bankruptcies or employee contract negotiations.
"A lot of students come to me and tell me they don't want to do the jobs that are normally expected for lawyers," said Gersen '02, who has written about fashion law and taught criminal and family law at HLS. "They say they want to do something unusual and work in creative industries."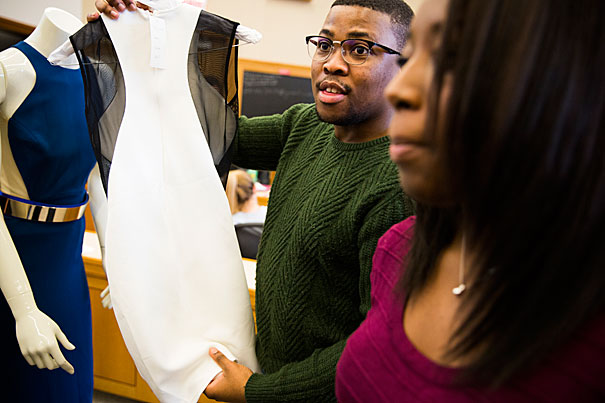 They could be onto something. Fashion is a $1.2 trillion global industry, and lawsuits over knockoffs and counterfeits don't show any signs of abating, which suggests the need for more attorneys. In 2010, Fordham Law School launched the first fashion law center, and this term HLS' Fashion Law Lab was offered for the first time. The course proved all the rage. The average number of students for a January term course is 20 or 25, but Gersen's and Sarian's course drew 65.
The rise of fashion law is something Gersen would like to capitalize on to debunk the notion among academics that fashion is frivolous and prompt them to see it as a serious research topic. "I want to bring fashion into the conversation," Gersen said. "Other industries are given a tremendous amount of attention in academia. Do we really want to put fashion on par with the production of music or books? It's a conversation to be had. "
Sarian shares Gersen's sentiment. "It's an area worthy of academic attention," said Sarian, who brought from London 400 pounds of fashion items, including handbags, dresses, sneakers, and mannequins to use in the class. "It's an industry that touches upon issues that are relevant across industries, whether it's protection of intellectual property, workers' rights, the environment and sustainability, etc."
Chloe Chapin, a costume designer and fashion historian who is a first-year Ph.D. candidate in the American Studies Program, took the course because it was among the few classes dealing with fashion. "Fashion plays such a big role in contemporary culture that it deserves a place at the academic table," she said.
Students who took the course said they enjoyed its fast pace, Sarian's real-world experience, and the challenging legal scenarios they had to handle. When dealing with intellectual property law on a recent afternoon, they were encouraged to closely examine a real and a counterfeit designer handbag and pay attention to the materials, the stitching, and the labels. Lawyers have to leave their ivory tower, said Sarian, and familiarize themselves with the end product regardless of the industry they represent. Often, Sarian works backstage in fashion shows, making sure models, hair stylists, and makeup artists have proper work documentation.
"The legal work is not a party, but it has to be done," she said.
Law students also had the chance to work on a project with design students at Central Saint Martins, a prestigious arts and design college based in London. The former offered legal counsel to the latter, who came up with offbeat ideas for fashion shows. One featured a live birth, another involved models parading in a slaughterhouse, and another included live animals roaming the runway.
On the last day of class, students made their final presentations. The design students explained their ideas for their fashion shows, via Skype, and the law students offered advice based on safety concerns and liability issues. It was a fitting end for the class, said Sarian.
"It's when the creative and legal worlds collide," she said. "It's a beautiful interaction."
Save
Save
Save
Save
Save