Writing is a solitary process, but Bret Johnston doesn't believe it needs to be a lonely one.
"Yes, you're alone a lot of the time, but when you find that community where people care about the same things you care about, things many people in the world don't care about as deeply as you, you feel as though you're being welcomed home," said Johnston, the Paul and Catherine Buttenwieser Director of the Creative Writing Program and senior lecturer on English.
That collective sense of creative vibrancy is why he believes the program has blossomed by nearly every measure. Led by Johnston, it now has a faculty of 11 with the most recent announcement of food and science writer Michael Pollan joining to teach nonfiction writing next fall. He joins recent hires Jill Abramson, who teaches journalism, and Paul Yoon and Laura van den Berg as Briggs-Copeland Lecturers. Two noteworthy gifts, the Gore Vidal Presidential Fund and the Joseph Y. Bae and Janice Lee Arts Lectureship, announced earlier this year, allow for even more creativity, which is evident in the 36 percent of senior theses among English department concentrators that were creative theses (versus 31 percent for critical theses).
"To make art or to produce nonfiction is to imagine the remaking of an always-recalcitrant world," said James Simpson, chair of the English department and Donald P. and Katherine B. Loker Professor of English. "Our lustrous creative writing faculty models a distinctive ethos of teaching and writing. Students need to understand where they are coming from and where they are going. The ethos of this department gives them a disciplined voice and an inspiring direction."
There is also a workshop called "Writing for Television: Developing the Pilot," which was taught for the first time this fall by playwright Sam Marks. Sitting in a recent class in the Barker Center, the dozen students began with a discussion of a homework assignment, which included watching "Mr. Robot," a drama about cyber security airing on USA Network.
"Every scene, he's doing something. He's always driving toward something," Marks said, before asking Nina Sapers, a senior concentrating in English, to share her working pilot.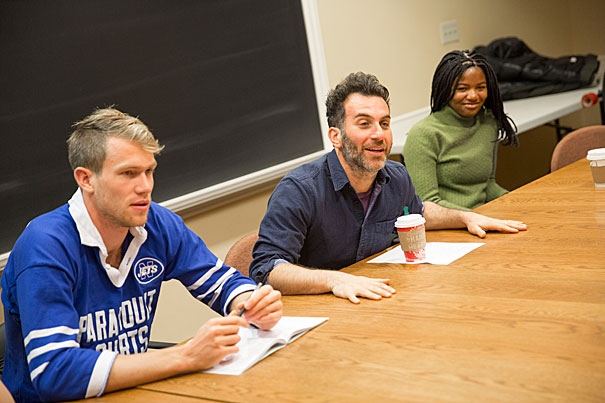 After distributing roles to the class for a read-through of "Frederick," a story about Megan, an unemployed recent college graduate, and her fish that ended with an escape from a family barbeque, Marks opened a feedback discussion that lasted more than a half hour.
"Frederick" was "structurally sound" and "super funny," classmates told the 22-year-old Quincy House resident. One liked "that everyone's invested in her life." Along with the positive reactions, there were constructive suggestions: Why not have fewer characters in service of more fleshed-out characters?
Marks put several questions to Sapers to answer in future revisions, including "What do you want to find out?" and "What is she after, not just running from?"
"I have taken two fiction-writing classes before the pilot-writing class," Sapers said. "I've met people I'm still friends with now, people I have an immense amount of admiration for, people who consistently gave thoughtful, engaging feedback. The level at which people are writing in these classes is crazy good."
That verbal volley of ideas is the cornerstone of the program, Johnston said. "It raises the emotional level in the room, and the students take that very seriously. Those discussions can feel transformative, not just for the piece of writing, but [for] the writer and the writers who are responding to it."
Such was the case in Jill Abramson's class, "Introduction to Journalism," in which students studied first-person writings from Ron Suskind (a memoir called "Life, Animated" about his family and his son's autism) and Ariel Levy's tale of her miscarriage while on assignment in Mongolia. Shaun Gohel called out The New Yorker staff writer for her fear of getting "Mongolian AIDS" when an EMT put in an IV.
"She wants the reader to hate her a bit," he said.
Replied Abramson: "She doesn't want the readers to identify."
In his fiction workshop, Johnston gave his class writing exercises. Some students had to write from the point of view of someone walking on the beach who just killed another, without mentioning the murder. He encouraged the students to focus on how they could tell the story, describing the view, the waves, and the moon.
"If you can narrow the field, it can liberate you. It's like playing tennis without a net. The net makes the game," he said, before leading the class into a lively discussion about dialogue.
"Arrive late to the conversation and leave early," he advised. "Less is more." Then he banned students from using any dialogue tags beyond "said" or "asked."
"The days of 'screamed,' 'retorted,' 'whistled,' those days are gone and you're a better person for it," he said.
Maddy Nam asked: "How about italics?"
"By all means. I'll take italics over tags any day of the week," he said.
Before class, Johnston shared news that alumna Weike Wang '11 recently got a book deal. Hong Kong-born British poet Sarah Howe, who studied with Jorie Graham, Boylston Professor of Oratory and Rhetoric, as a Radcliffe fellow, won the 2016 T.S. Eliot Prize for "Loop of Jade."
"Everyone's work is paying off," Johnston said. "All of the faculty go to workshop feeling inspired, and three hours later the inspiration has multiplied tenfold."
Though many graduates find jobs and publish their work, he rarely mentions their evident success in classes.
"One of the ways our program is so different than many in the country is that we're focusing on the literary art that students are making. By focusing on that, publication and stage and film productions, those are necessarily going to follow. But we never talk about them," he said. "Everyone here cares about language and making something that matters out of 26 letters and their infinite combinations. It's humbling and thrilling."