The ironic thing about modern health care is that it isn't really about health at all, said Laura Kubzansky. It's about disease.
But the problem with a disease-focused health care system is that health is more than the absence of disease, she said. Just as disease sets in motion an array of physiological reactions, there is increasing evidence that happiness and well-being are connected to bodily processes as well.
Kubzansky, the Lee Kum Kee Professor of Social and Behavioral Sciences and the co-director of the Lee Kum Sheung Center for Health and Happiness at the Harvard T.H. Chan School of Public Health, made the comments Friday outside a symposium on the science of health and happiness at the New Research Building on Harvard's Longwood campus.
The event was something of an academic coming-out party for the new center, which was established earlier this year with the support of a $21 million gift from the Lee Kum Kee family.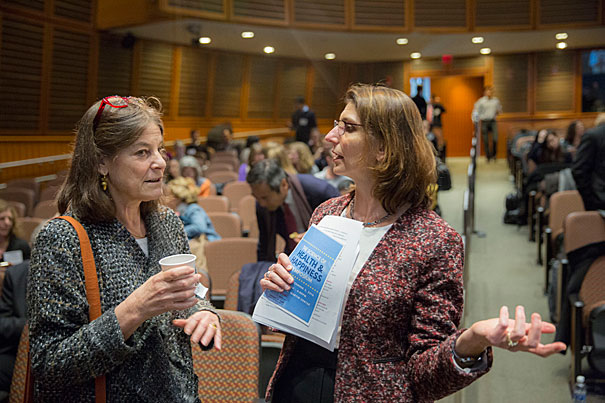 Inside the auditorium, attendees heard about what Kubzansky said has long been a "quiet science," but one that is emerging as evidence accumulates that human health, well-being, and happiness are connected.
Francesca Dominici, the Harvard Chan School's senior associate dean for research, said the new center will focus on developing a "rigorous science" on how positive psychological and social factors can influence health and how to translate those findings into public policy with the aim of improving health broadly.
Kasisomayajula Viswanath, the center's other co-director and Lee Kum Kee Professor of Health Communication, said translating those findings into policy will be an important part of the center's mission. Doing so, he said, means crossing a "chasm" between what happens in the research world and in the halls of power. The journey means more than just appearing on television, he said, and involves interacting with policymakers in ways that result in real changes.
Related
Speakers at the all-day event discussed recent findings about positive well-being and health, and about how to translate those findings into public policy.
Andrew Steptoe, director of the Institute of Epidemiology and Health Care at University College London, presented the results of several studies that showed a connection between various measures of well-being and health, finding that people who had greater enjoyment of life lived longer and had more disability-free years.
"People are living longer and in a healthier way," Steptoe said.
Further work explored why that may be and found that people who are more satisfied with life are more likely to exercise, eat fruit, and use sunscreen, and are less likely to smoke. Other studies explored the accumulation of fat around the heart, finding that people who report being less happy have higher fat levels and levels of the stress hormone cortisol, and observing different patterns of its daily rise and fall among those reporting higher well-being.
Though evidence of the connections between subjective well-being and physical health are mounting, Steptoe said there are still questions about the direction of the relationship, whether subjective well-being is a mechanism that can be manipulated to improve health, or a marker of other processes at work.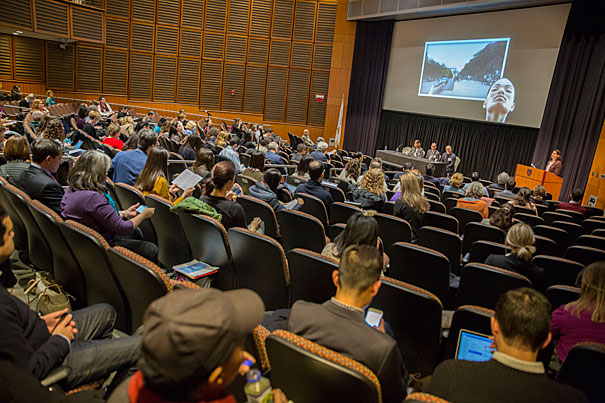 Jeff Huffman, assistant professor of psychiatry at Harvard Medical School and director of Harvard-affiliated Massachusetts General Hospital's Cardiac Psychiatry Research Program, described a seven-year effort to understand the impact of positive psychology on patients and whether interventions can improve patient outcomes.
In one trial whose results were published this year, researchers examined a population of patients with heart trouble, evaluating their levels of optimism two weeks after acute coronary syndrome and then following up six months later. The work found that optimism was associated with greater levels of physical activity and lower readmission rates.
Another study examined whether an intervention that aimed to promote a positive mental state, through motivational interviewing, could improve the adherence of type 2 diabetes patients. The results, Huffman said, are encouraging enough to seek a larger trial to confirm them.
"Really, we're skill-building," Huffman said of the effort.
Save
Save
Save