The Harvard Glee Club and Radcliffe Choral Society's holiday gift came early this year, in the form of a newly commissioned piece of classical music from alumnus Paul Moravec '79.
Moravec, the winner of the 2004 Pulitzer Prize for music who served as assistant conductor of the Harvard-Radcliffe Collegium Musicum while an undergraduate, composed for the choruses "Winter Songs," a three-movement work setting poems by Emily Dickinson, Robert Burns, and William Shakespeare. "Winter Songs" premiered at the annual community holiday concert on Dec. 2 in Sanders Theatre.
"Having written this new piece with the Harvard Glee Club and the Radcliffe Choral Society, I've come home," he said.
Andrew Clark, director of the glee club and choral society, said the commission — a project two years in the making — was intended "to create a new body of work to complement the sacred music people love to hear this time of year and to create secular pieces that weren't necessarily about Frosty and Rudolph but still captured the vivid imagery of the year."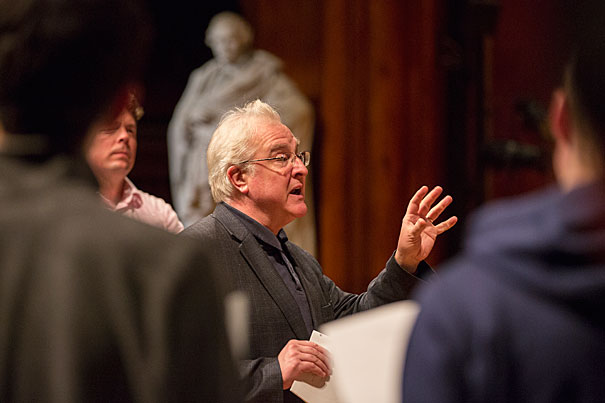 In "Winter Songs," the tenor-bass glee club sings Dickinson's "There's a certain Slant of light," followed by the soprano-alto choral society performing Burns' "Winter: A Dirge." The two groups join for the rousing third movement of "Blow, blow, thou winter wind" from Shakespeare's comedy "As You Like It."
"There's a lot of great text painting in the Dickinson and the Burns poems, and the third part is reflective, and ends on a happy note. They're all evocative of the winter season," said Nelson Barrette, who is a senior and serves as financial manager of the glee club.
Moravec said "Winter Songs," like many of the 150 pieces he has composed, begins in darkness and goes into light.
"I begin with Dickinson's melancholy mood, then pass through 'Winter: A Dirge,' in which Burns sees the silver lining in the darkness of winter days, and I set Shakespeare's song lyric from his comedy 'As You Like It' as a kind of joyous finale," he said.
The stirring sounds of "Winter Songs" follow what has been a formidable year for Moravec, who teaches at Adelphi University in New York. "The Shining," his opera adapted from the Stephen King horror novel, premiered at the Minnesota Opera in May to sellout crowds and critical praise.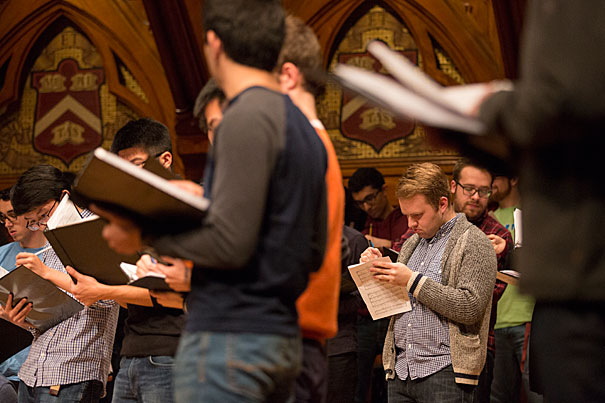 "It's about love, death, and power, which is what opera is about," Moravec said.
More recently, he composed "Light Shall Lift Us," performed as part of a benefit for the city of Orlando to honor the victims of the Pulse nightclub massacre.
"The most gratifying experiences to me as a composer are when communities use my music in civic events," he said. "I want my music to be used, and to be useful to people. I want to contribute something beautiful to our common experience."
The "Winter Songs" commission will do just that, said Clark, explaining that he hopes other choruses incorporate the work into their repertoire.
"Part of our mission is to share the work," said Clark, adding that the technically challenging piece is "beneficial from a pedagogical perspective."
"Tackling a substantial work in an unfamiliar idiom cultivates our ensemble skills that benefit all of the music we sing. This breathes new life into the traditions we cherish, particularly our holiday concerts."
Save
Save
Save
Save
Save