In the years following Augusto Pinochet's military coup, Chilean artists created works in fear and solidarity, and out of defiance. Many of those creations, from street art in Santiago to dance performances abroad, were ephemeral, making them difficult to historicize.
A new exhibition at the Carpenter Center for the Visual Arts aims to stem the loss of those important works. "Embodied Absence: Chilean Art of the 1970s Now" presents several performance-based works from that politically charged time in partnership with a younger cohort of Chilean artists.
"I felt it was important to do this exhibition while the artists who made work in the '70s are still here with us, and can attest to their memories and legacies," said Liz Munsell, visiting curator at the David Rockefeller Center for Latin American Studies. "I also invited three artists of an emerging generation, all born in the '70s, to create new works in collaboration with artists who made art in the '70s. We are not recreating the original performances or making a theater of a very specific context. Rather, the new works are reconstructions or responses to the original works, and to the loss of them."
Human rights abuses marked Pinochet's near 20 years in power, with more than 3,500 deaths and disappearances. Some estimates put the number of exiled Chileans at 200,000.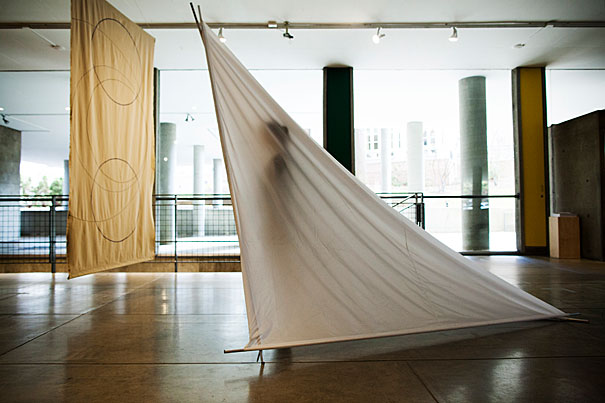 "The challenge with ephemeral art is that often there are conflicting memories of what happened, or competing narratives," said Munsell, who is also assistant curator of contemporary art and special initiatives at the Museum of Fine Arts, Boston. "This exhibition emphasized the many exchanges that took place between artists in Chile and those who were abroad. The myth of Chile's isolation dates back to dictatorial times when some artists inside the country believed artists who left were abandoning the struggle, while some exiled artists thought those who remained in the country were collaborating with the dictatorship. It was a sad reflection of the divisiveness and trauma caused by the dictatorship. Some of these dynamics continue to affect the construction of art history in Chile today."
Among the works on display in "Embodied Absence," which runs through Jan. 8, is a video by Cecilia Vicuña, who resided in England and Colombia in the years immediately following the coup. Her 16 mm colorful film "Sol y Dar y Dad," part of a series inspired by the act of writing as power, shares exhibit space with "A Mile of Crosses on the Pavement" from Lotty Rosenfeld, a founding member of the activist art collective CADA (Colectivo Acciones de Arte). Rosenfeld created the series by staging road divides with crossed panels of white fabric.
With support from the Harvard University Committee on the Arts, "Embodied Absence" features works by 15 artists, including a reimagining of an earlier work by Carmen Beuchat, this called "Two not One II, 2016." The dancer, choreographer, and founder of her own postmodern dance company in Chile moved to the United States in 1968 intending to study with Merce Cunningham. In 1975, she first staged her experimental "Two not One" in New York, playing with sculptural objects and choreographed movements in lines and circular shapes.
Dancing abroad in Italy with Trisha Brown's company in 1973, Beuchat recalled: "When the coup happened, my life did change. It was my country. It was like my mother and father were killed." Her family encouraged her not to return to Chile following the coup.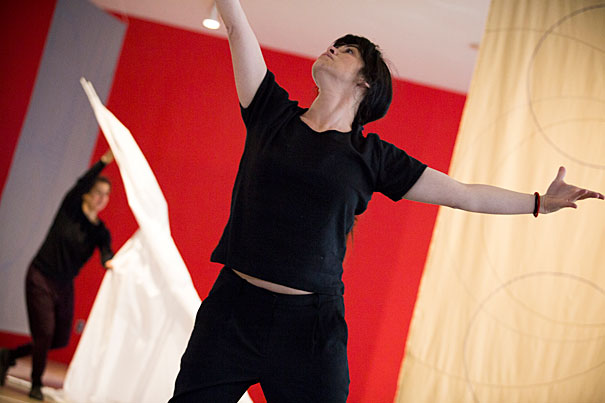 "Two not One, 1975" and "Two not One II, 2016" are built around the concept of the mobile sculpture. Beuchat took inspiration from the Indian god Shiva, a half-man, half-woman deity, and added ideas of shadow and light.
"It's two personas in one piece, and I created this dynamic with dancers using white and black fabrics," she said.
To stage the "Embodied Absence" version of the work, Beuchat and her team used three photographs that she had from the original performance to help recreate the steps. More recently, her dance theorist, Jennifer McColl, discovered 30 photographic slides that provided even more details about the architectonic movements of the dancers — images that are today projected on the gallery wall of the Carpenter Center. Chilean dancers Carolina Escobillana and Paula Sacur performed the piece twice last week surrounded by bright fabric panels created by artists Felipe Mujica and Johanna Unzueta, who were born in Chile in 1974.
"So many artists in the '70s were invested in ideas of collaboration and space-making, noting that the body has its own intelligence and ways of expressing and retaining information that you can't experience through words or images," Munsell said. We all have guts that tell us certain things. I wanted to ensure that audiences today could experience some aspects of the historic performance not just as still images, but live — in the flesh — as they originally were."
Save