Sick of the 2016 election, or even sickened over it? Join the club.
More than half of Americans surveyed say the election is a significant source of stress in their lives, according to findings from the American Psychological Association published late last week. Fifty-two percent of respondents labeled the election very stressful. That finding was nearly the same regardless of party affiliation or gender.
Using social media amplified the election stress, the study said. Fifty-four percent of adults on social media said they felt very stressed out, compared to 45 percent who weren't tweeting and posting but who still found the election nerve-wracking.
Laura Kubzansky, Lee Kum Kee Professor of Social and Behavioral Sciences at Harvard T.H. Chan School of Public Health, studies the effects of stress and emotion on heart disease and said she's not surprised by the survey.
"Stress is a function of people feeling either like they don't have control over what's happening, or the demands of the situation exceed their ability to cope," she said.
"I think this election has generated an immense amount of uncertainty because the candidates are so very, very different … and so, if it goes one way, America as we know it will look quite different from if it goes another way. And it's uncomfortable because it's raising lots of hard issues and … has opened up a conversation that people either hadn't heard or hadn't had."
The good news is, except for people dealing with trauma, the short-term stress should not do long-term health damage.
On the whole, whatever discomfort, distress, or uncertainty people report "may have less to do with the election per se than with big social issues we have that we haven't resolved," whereby large segments of society feeling "disenfranchised and dislocated," said Kubzansky.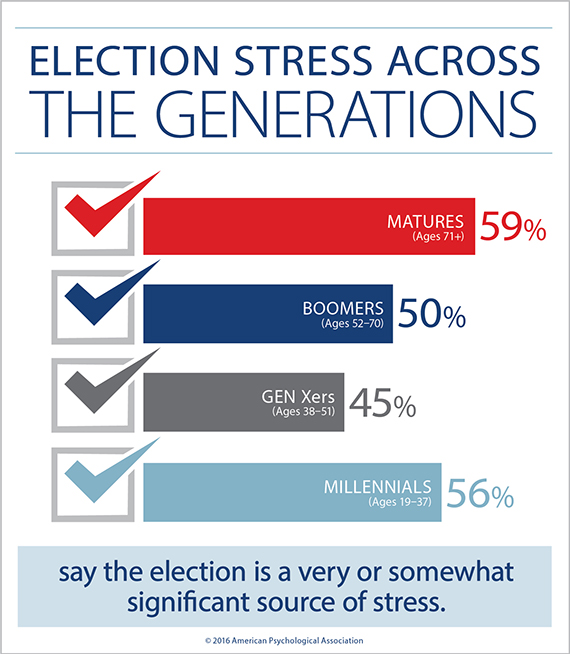 Ryan D. Enos, an associate professor of government who studies politics and decision-making, was skeptical that the election was upsetting to so many people, given the historically limited number of people who closely follow politics. "I'm not saying that I don't think that this election is perhaps more stressful for people than past elections. I just don't buy that a majority of people in each party find it significantly stressful," he said.
Since many people would define stress a bit differently, a more meaningful measure would be to have people compare their feeling of stress to a range of life stressors, said Enos.
"My guess is that for most people the election is closer down there to the shopping-for-groceries end than the losing-a-job" end.
The study found that 55 percent of Democrats and 59 percent of Republicans felt stressed, with 51 percent of men and 52 percent of women doing so.
Although people typically report feeling less stressed as they age, this election has both old and young feeling on the ropes. The respondents feeling the most stress were age 71 and over (59 percent) and millennials (56 percent), while baby boomers (50 percent) and gen-Xers (45 percent) were the least anxious.
The survey, conducted by the Harris Poll, contacted just over 3,500 adults between Aug. 5 and 31 as part of the association's "Stress in America" report, which is due out in early 2017.
To get through the next few weeks, the association advised people to take breaks from social media and the news, avoid conversations about the election if they can, and vote on or before Nov. 8 to put some of the anxiety behind them.
Besides following typical stress-management techniques if needed, it's important for people to remember that, regardless of the outcome, this too shall pass, said Kubzansky. Volunteering time or getting constructively involved in the final electoral process may also prove useful.
"If people feel really passionately that they want it to go one way or the other, then volunteer some time. Volunteering generally enhances one's well-being," she said, "and it will give them a sense of doing something or taking control."
Save
Save
Save
Save
Save
Save
Save
Save
Save
Save
Save
Save
Save
Save
Save
Save
Save