After they've survived a harrowing trip across the Mediterranean in a crowded rubber boat, fleeing war and violence in the Middle East and Africa, many refugees do something anyone might do when they reach a safe harbor — they take out their cellphones and capture that once-inconceivable moment.
To Maciek Nabrdalik, a Polish documentary photographer and 2017 Nieman Fellow, it's a simple, natural reaction. But as refugees came ashore on the beach of Lesbos, Greece, late last year, it was the angry reaction of another photojournalist that captured Nabrdalik's eye. For him, it exemplified the stereotypes now rising in European Union countries.
"A photographer working for one of the biggest wire services, talking to two volunteers, said 'When I see those people jumping out of the boat and taking selfies I'm so [angry] I don't even take my camera out,'" Nabradalik said at a program last Wednesday at the Harvard Ed Portal that examined the politics and prejudices surrounding the migration crisis in Europe.
"I found this man at that very moment guilty of what people in my country and Europe think of the refugees."
In 2015 the International Organization for Migration reported that more than 1 million refugees from Syria, Afghanistan, Pakistan, Iraq, Nigeria, Somalia, and other countries had crossed into Europe, mostly by sea. This year's tally has already passed 300,000. The media has called it the greatest movement of people since World War II, and it has been deadly: In 2015 more than 3,700 migrants died trying to make the crossing, including many children.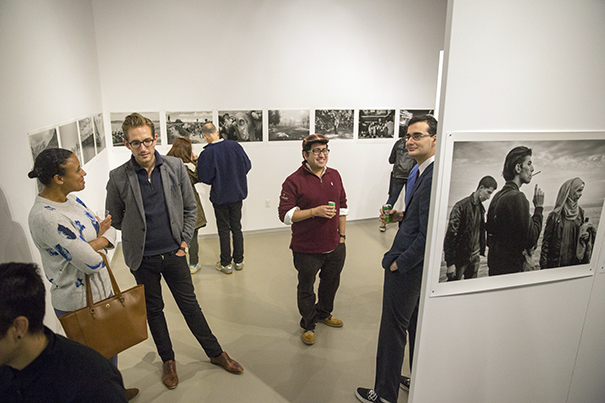 "Behind every single one of those numbers is an individual with a story, with a life, with hopes, with dreams, with nightmares, and these are the things that we don't often see," said Nkem Ifejika, a 2017 Nieman Fellow and presenter on the BBC World Service, who moderated the program. "Whenever we discuss refugees we use words such as 'swamping,' as if they are sludge, or words like 'swarm,' as if human beings are locusts, or 'flood' as if they are like an inanimate, destructive, uncontrollable phenomenon."
A collection of Nabrdalik's work called "Refugee Crisis" was the focal point for the panel discussion, which included three other Nieman Fellows: Berlin-based reporter and columnist Georg Diez, German television correspondent Christian Feld, and Karin Pettersson, the political editor in chief at Aftonbladet, Scandinavia's largest daily newspaper.
Pettersson, who was an important voice on the political left in Sweden during the refugee debate there over the last two years, said that many Europeans lack perspective on the crisis. "I believe [the images from the front line] had an impact on civil society and initiatives from citizens to help refugees, and impacted policymakers in the EU for a short period of time — but that effect was not lasting. The refugee crisis isn't over, rather the opposite."
Determined to bring awareness to the necessity of equal human rights, Nabrdalik followed the refugees on their journeys from Lesbos through Europe, documenting their plight in pictures as they went. It is a mission he said, not one he was assigned, but one he was called to, photographing them from a whole new perspective.
"You are moved but feel you can't do anything. This exhibition and its simple form is meant to be a conversation-starter," said Nabrdalik. "I don't treat it as artwork. It's not a show that I would like you to go away with seeing nice frames and complimenting me for them … but hope for change."
On assignment, Diez also took a trip to Greece to witness the humanitarian crisis firsthand. He said this could be a historic moment for Europe, an opportunity to model how to deal with sudden migration from war-torn or economically depressed countries.
"This is what it means to be a citizen. You don't ask where you come from, you just help. On a one-on-one basis you build something, but it has turned into a politicized field of hatred and cynicism," he said. "And people to this day don't talk about the facts."
Feld said that so far, the European Union has failed to effectively deal with the influx of refugees or rally member states to share the burden.
"The 28 member states did not use their potential in terms of power and wealth to tackle what has to be called a humanitarian catastrophe," he said. "The Union was not a union at all. This willingness to compromise seems to have vanished during this crisis."
About 100 people attended the program, which also served as the opening of Nabrdalik's exhibition, which will be on display at the Ed Portal's Crossings Gallery in Allston through Oct. 27.
Eva Rosenberg, arts program manager at the Ed Portal, said the issues his photos address could not be more timely or important.
"The Ed Portal hopes to create the opportunity for dialogue about important issues of our day. Hosting five Nieman Fellows in conversation about the crisis epitomizes this," she said.
Nancy Kalajian of Somerville came to the program sensitive to the plight of refugees because of her family history.
"I am a grandchild of Armenian Genocide survivors," she said. "When I watch TV and see so many refugees in crisis it seems that very little has changed in over 100 years for people in many parts of the world."
Nabrdalik's experience at the border left deep marks on him. Exhausted, hungry and clutching a small pack of whatever remained from their lives, these people were willing to risk drowning to flee the violence of their homeland, he said.
"The refugees thought of this moment as a rebirth, very often they would say it's a new life for them. I think if the media would show refugees with their cellphones just like us, maybe people would like to have them as neighbors," said Nabrdalik. "But I'm not sure photography is enough."