"Burgeoning experimental music scene" is not the first thing you'd associate with Harvard College. But it's quickly becoming a player.
It's a Friday night early in the semester, and on the warmly lit fifth floor of the Student Organization Center at Hilles (SOCH), people are trickling in, embracing, and pouring drinks as Laila Smith '17 and Ben Wetherfield '17 adjust mics and speakers at the front of the room in preparation for the night's music. People scramble for a spot on one of the blue couches crammed into the space. Tonight marks the opening of a new experimental performance venue spearheaded by Smith and Wetherfield, in what was once the SOCH Penthouse Café.
Smith and Wetherfield, both accomplished musicians, came up with the idea to establish the still-nameless venue last spring while wandering through the SOCH, a former library and current student center in the Radcliffe Quadrangle, in search of a good study spot. The acoustics were ideal, and "There were various spaces we thought could work for performing," Wetherfield recalled.
Related
During the summer, in Amsterdam, Smith conducted thesis research, and Wetherfield developed musical instruments at the Studio for Electro-Instrumental Music (STEIM), an electronic music center founded in 1969. STEIM's place at the center of the musical community in Amsterdam helped shape Wetherfield's ideas about the space at Harvard. "I liked the way people organized around [STEIM]. Everyone had independent interests and working methods. But they were all orbiting something kind of stable," he said.
Drawing inspiration from STEIM, Amsterdam, and the Edinburgh Festival Fringe, Smith and Wetherfield drafted a proposal for a performance space that would "support independent artists who want to experiment in a low-stakes environment" and be open to everyone on campus, Smith explained.
The new space invites artists of all kinds to "curate an experience" — a new set list, a spoken-word project — any kind of performance they want to share with an audience but would like to test-run first. It's not an open mic, where anyone can sign up to sing a song or perform a poem, and it's not a known venue, like the Queen's Head or Barker Café, but something in between.
"We want to give every performer the chance to be an experimentalist," Wetherfield explained. The venue aims to be a safe environment that encourages artists to think through an out-of-the-box idea they're drawn to but have not had the ability to try. While Smith and Wetherfield are musicians, they are open to a variety of artistic performances, as long as they are premeditated. Regular performances by members of the community are being sought for the semester, and the limit is the imagination. "We hope people get into it and bring themselves to it as listeners, viewers, and performers, and bring something palpably new."
They invite people to be bold and risky, the low barriers to entry attracting artists who might otherwise pass up the chance. Essentially, the venue is like a friend who believes in your latent creativity, and just wants you to go out on a limb.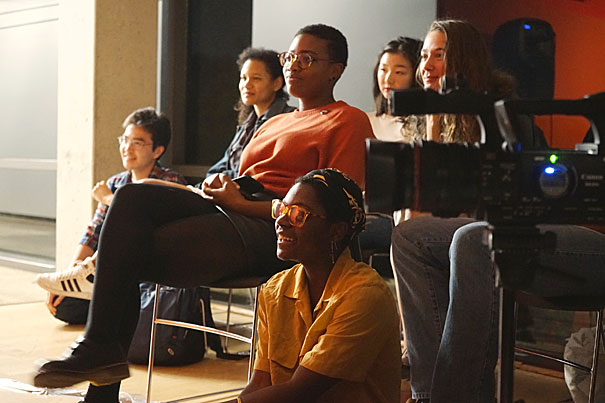 Eden Girma '18 opened the venue's first event casually, relating stories about a Thanksgiving break and inviting audience members to participate in the music. The room was packed, people lining the walls despite the extra chairs being brought in. Alex Graff '17 accompanied Girma on guitar as they covered songs from Lianne La Havas and Emily King. A sense of kindness and intimacy permeated the space as people snapped and swayed and called out encouragement to the musicians.
Each song was introduced by a personal anecdote from other students, ranging from vulnerable to humorous to poignant. Students reflected on overcoming the ghosts of their past, piecing together childhood memories, making mistakes, and feeling caught between life stages. Despite the crowd, the intimacy made it feel like everyone knew each other.
The casual mood of the event matched the humility of its creators, who are not overly forthcoming with their impressive accomplishments.
Smith, who concentrates in social studies and women's and gender studies and is enrolled in the dual-degree program at the New England Conservatory, is a California native who worked the Bay Area music scene throughout high school as a self-managed jazz artist. Since then, she has performed worldwide with her band and jazz orchestras. At Harvard, Smith is vice president of the Signet Society and sings with VoxJazz, Harvard's premier co-ed vocal jazz septet. She is also largely involved in student life, liaising on behalf of the student body with administrators through the Undergraduate Council and the BGLTQ Office.
Having been a performer for so long, Smith sees creating the new venue as a natural development. "There are a lot of people who make art, which is amazing, but it's also quite admirable to take the position of making that possible, which is the dream behind this," she said.
Wetherfield, who is originally from London, studies math with a secondary in music, and has played piano and composed music since around age 7. He has written music for the Harvard Composers Association and was the principal composer for the National Youth Orchestra of Great Britain. In 2010 he was a winner of the BBC Young Composers Competition for his piece "Word in Edgeways." As a technician, he worked with Radcliffe Fellows Reiko Yamada on her sound installation "Reflective," which was later installed at the Met Breuer in New York, and Mauricio Pauly on developing music-notation software. Wetherfield is passionate about giving artists the chance to grow their performance skills, forging connections like those he experienced in Amsterdam. "I like the idea that this might draw some community," he says.
Smith and Wetherfield remain refreshingly genuine and unassuming, invested in giving back to the undergraduate community. Though they have parameters around what they want the venue to be, they are dedicated to the innovation such a broad idea invites. "You talk to people, and they really want and need this," Smith said excitedly of the project. "I thought there wouldn't be interest. But people are really excited!" Wetherfield, too, looks forward to the possibilities, adding that "We're all just trying to learn."
An openness to learn is characteristic of the enterprise. Both Smith and Wetherfield work on the fringes of what they've already done, looking for ways to expand and experiment with what they know, and they encourage prospective performers to just try something new. Over the next few months, Smith and Wetherfield will be "piloting the venue in order to get more insight into what we need for this." With the new space, the duo hopes to open the dynamism of artistic experimentation and the community of creativity to many participants.
If you would like to perform at the venue at the SOCH, email Smith and Wetherfield at thevenuecambridge@gmail.com.
SOCH will have a concert at 8 p.m. Saturday with graduate students performing. Thursdays at 8:30 p.m. the Queen's Head hosts College Night with undergraduate bands.
Save
Save
Save
Save
Save
Save
Save
Save
Save