There may well be wisdom in wine, as Benjamin Franklin once noted, but when you really need to get stuff done, coffee is the midnight oil that many students choose to burn. It's tasty, it's cheap, and, around Harvard, there is no shortage of cafes at which to fuel and refuel that satisfy styles, tastes, budgets, and schedules.
Coffee drinkers may even be healthier and less guilt-ridden than wine connoisseurs. A study by Harvard's T.H. Chan School of Public Health last year found that people who drink three to five cups a day may be less likely to die prematurely from some illnesses, such as cardiovascular disease and Type 2 diabetes, than those who do not. Famed Harvard nutritionist Walter C. Willett says that coffee poses little to no health risk and may even confer benefits.
The imminent arrival of fall also fuels thoughts of warm coffee. To that end, here are some of Harvard Square's more noteworthy outlets:
OFF CAMPUS
Algiers Coffee House (3)
40 Brattle St.
An iconic landmark of old Harvard Square where people used to pretend to read Camus while savoring small pots of fragrant Turkish coffee, today it's a quirky café that's retained its international flair, but is mostly a Moroccan-themed lunch spot for the grad student and faculty set or artist-types spread out at corner tables writing their novels. (There's even a recent novel set in part there called "Harvard Square" by André Aciman.) Yes, they still serve Turkish coffee and those delicious frappes, and if you need to stay awake for two days, try the Algiers special mint tea. There are backgammon and chess sets that procrastinators can borrow and a cool little roof deck overlooking Brattle Street.
Café Pamplona (15)
12 Bow St.
Just around the corner from Adams House, this quiet, Hemingway-inspired nook has remained unchanged for decades and is ideal for leisurely sipping and people-watching from a clutch of umbrella-covered café tables out front. Limited menu, but there's a large selection of teas if that's your thing. A no-frills little hideaway best for reading a book, working on a paper, or just avoiding people for a bit.
Related
Clover Food Lab (13)
1326 Mass. Ave.
Known for its inexpensive vegetarian takeout rather than its coffee (there are no frothy cappuccinos or frozen coffee drinks to be had), this is a hot spot for students who want a change from dining-hall fare and are fans of "pour over" coffee. The new location at Holyoke and Mass. Ave. is much smaller than the old Smith Campus Center site, so expect it to be loud and throbbing day and night. While minimalist and bright, with some old College tiles on the walls from a long-ago restaurant, it's cozy but, with its fun atmosphere, you're probably not going to get much work done. Electronic boards on the wall tell the Order Muppets and the time-challenged among us exactly how long it will take to get the food or coffee.
Crema Cafe (6)
27 Brattle St.
Everyone seems to love this place. Arrive at dawn if you want a table, and be ready to wait, as there is almost never a time of day when there's not a line. The café caters to coffee freaks ("crema" being the rich froth on a proper espresso), and serves a variety of single-source, direct-trade beans from roasters like George Howell Coffee and high-quality baked goods made in-house. With two levels of seating, it's a fashionable place to meet for lunch, but don't expect too much if you need quiet or are in a rush, as the space is raucously loud.
Darwin's Ltd. (1)
148 Mt. Auburn St.
A little hike from the Yard and the Houses, this crunchy hipster hive is worth a visit if you're over by Radcliffe, the American Repertory Theater, or Harvard's Graduate School of Education. There are lots of small tables and benches with bearded patrons pecking away on laptops enjoying a bespoke $5 cold-brew. If you get hungry, Darwin's takeout counter next door sells "comestibles," a haughty way of saying tasty gourmet sandwiches, salads, and other lunch items. The staff is more likely to be overheard discussing the music reviews they're writing on spec for Pitchfork than talking about customers. Warning: There's a strict "no cell phones" policy, so don't be that guy/gal.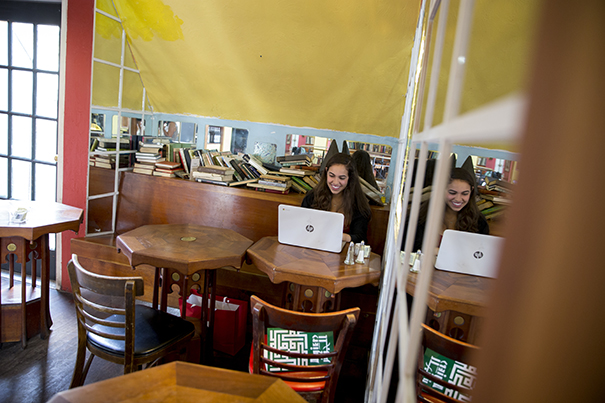 Dunkin Donuts
61 Church St. (4)
65 JFK St. (20)
Harvard MBTA station (lower level) (11)
1001 Mass. Ave. at Bow St. (14)
The fastest way to sound like a local in Boston is to discuss the weather, the Red Sox, or Dunkin Donuts. The ubiquitous, blue-collar chain originated here and is the great social equalizer around these parts, offering mild-tasting, workaday joe and doughnuts for those on a budget or who simply don't care about the terroir of the Guatemalan soil where their coffee beans were grown. There's a distinctly franchise feel here, as one might expect. The JFK Street location is a favorite of Kennedy School students and the River Houses, while the Church Street one is a little hallway by the Ed School that will get you through in a pinch. The T station outlet works well when the overhead sign says it'll be "5 minutes" for your train to arrive.
Flour Bakery (opening Oct.) (2)
114 Mt. Auburn St.
Harvard alum Joanne Chang's insanely popular bakery empire comes to the Square this fall. Noted for its friendly and homey vibe, Flour features Kava coffee for those who prefer a toasty taste to the sweet, dark roasts served elsewhere. The baked goods range from whole pies and cakes to offbeat gourmet sandwiches, soups, and salads delivered by a fun, attitude-free staff. If it's true to form, expect to wait for everything. It'll be loud, and finding an empty table may require jujitsu, but that's because you'll want to stay all day. Be green by bringing your own cup, and the coffee is half-price. Don't miss the life-changing pecan sticky buns and the breakfast egg sandwiches.
Peet's Coffee
100 Mt. Auburn St. (5)
24 JFK St. (inside Capital One retail) (8)
The San Francisco-based chain has a strong following, and the centrally located Mount Auburn location is constantly bustling. The place was just remodeled with added picnic tables and window benches that overlook historic Winthrop Park and some limited outdoor tables, if you can snag one. Peet's makes a strong iced coffee, and offers a very limited selection of bagels and scones from Iggy's, a fine local bakery. The other outlet is inside the new Capital One digital banking lounge — there are no tellers or loan officers, but there are a couple of ATMs and super-secure Wi-Fi so you can do your online banking or surfing without worry. Sure, it's a bit dark and sterile, but it's clean and rarely crowded, and there's fresh-ground nutmeg on the condiment bar. Who does that? Student groups and nonprofits can reserve a small private conference room at no charge. Capital One cardholders get 50 percent off drinks any time. For night owls, Harvard students with IDs get coffee half-price between 9 p.m. and 11 p.m. that's free (!) if they pay with their cards.
Starbucks
1380 Mass. Ave. (9)
36 JFK St. (inside The Garage) (7)
31 Church St. (21)
468 Broadway (not pinned)
Inside Harvard Coop Upper level (10)
You'd think five Harvard locations would be overkill, but no: Cambridge loves its Starbucks. The Mass. Ave. store is a tourist hotspot where you can easily spend 20 minutes waiting for a tall cappuccino, so if time is an issue, order ahead on the app. Upstairs is a "reserve bar," a very cool perch for studying or meeting that offers dramatic views of the Square, and baristas serving "coffee flights" from a special menu of exotic beans are within reach. The Garage location, in the former Coffee Connection space (a 1970s precursor to Starbucks), is less crowded and offers lots of large wooden booths and tables for camping out. This spot shares an HVAC system with the Indian takeout place next door, so get ready for the coffee/curry odor blend.
Petsi Pies
31 Putnam Ave. (16)
Renee "Petsi" McLeod makes old-fashioned, Southern-inspired pies worth every tasty calorie. No surprise, then, that this charming little storefront is a cute food place with good coffee rather than a traditional coffee house. Expect to see lots of Mather House residents and those living in nearby graduate-student housing. It offers lots of small tables and seating, free Wi-Fi (the password is a directive we can fully support: "Eat more pie"), and they serve breakfast that even late risers can catch (12:30 p.m.). Sandwiches are generous, and who doesn't love being able to order PB&J all day? Don't miss the fresh scones or the chorizo-and-egg sandwich.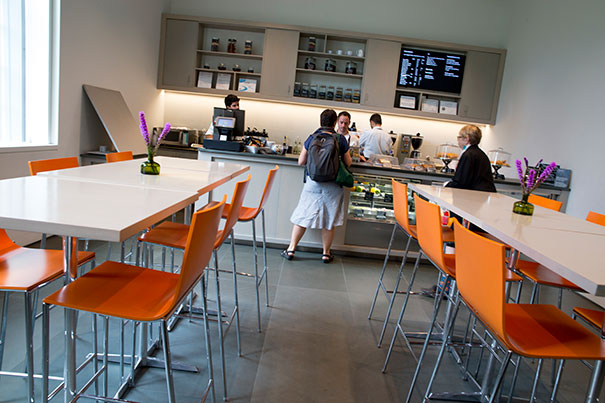 ON CAMPUS
Café Gato Rojo
Lehman Dudley House (12)
This garden-level café is student-run, but open to the public and feels like you're off campus without actually leaving the Old Yard. It's adjacent to the freshman Houses, which is a nice bonus for those not yet familiar with Cambridge's unforgiving winters. There's good coffee and locally made bakery items at very reasonable prices to enjoy as you park yourself in one of the cute little study cubbies. Lots of grad students drop in, and many undergraduates work the counter, so chances are very good you'll spy a friendly face.
Café Lamont
First floor of Lamont Library (17)
You must have your Harvard ID to enter. To quote one student, it's "always, always, always crowded." There are lots of cozy armchairs, Macs, and color printers to use in a pinch. Great for working on group projects, meeting up for a problem-set check, and doing interviews, though the vibe can be a little intense and high-stress. A favorite for those cramming or pulling all-nighters since it stays open until 2 a.m. most nights.
The Arts Café
First floor of Barker Center (18)
Tucked in a gorgeous, soaring rotunda inside the Barker Center off Quincy Street, this alcove feels decidedly more upscale and adult than others on this list, so maybe change out of the dirty sweatpants before you come here. Not a ton of tables, so scoring one may be a tall order. Either way, there's a brief menu of breakfast and light lunch options from Hi-Rise Bakery, a popular, high-quality Cambridge bakery, and the coffee is from the nationally award-winning roasters Counter Culture.
Jenny's Café
First floor of Harvard Art Museums (19)
Not a big College student crowd (you can't pay with Board Plus, and the prices are on the higher end), but this café off the Calderwood Courtyard is sleek, super-clean, and has that big-city museum feel. It offers a sophisticated seasonal menu of baked goods, sandwiches, fresh juices, and fine coffee. This is a hidden gem that's very popular with museum visitors and staffers in the know, though it maintains museum hours (10 a.m. to 5 p.m.). Still, there is no cost to get in and it's open to the public.
Additional reporting provided by Amanda Beattie '17.
Save
Save
Save