Visionary scientists will discuss new research on therapies derived from stem cells that could help cure diabetes in the next decade. Prominent physicians will examine the many ways that medicine benefits from both the study and the practice of music and the arts. And a celebrated political philosopher will lead a discussion panel about the future of democracy.
These creative thinkers will be among the featured participants in HUBweek, the civic festival of ideas and innovation that returns to Boston on Sept. 25 and runs through Oct. 1 for its second year.
Harvard is one of HUBweek's founders, along with Massachusetts Institute of Technology, the Boston Globe, and Massachusetts General Hospital. The week aims to celebrate the interplay of science, technology, arts, and ethics by showcasing scholars and their cutting-edge research in public forums, discussions, hands-on demonstrations, and lectures.
"Harvard's legacy as a leading research and educational institution means that we are equipped not only to innovate, but to create, to connect, and to solve," said Harvard Provost Alan M. Garber. "Boston and Cambridge are communities that support that work by fostering opportunities to convene and collaborate, and we are excited that HUBweek will further advance that tradition. From using technology to strengthen communities to using music to improve medicine, HUBweek at Harvard will showcase the ways in which we interact to improve and innovate in the communities we share."
Harvard will host 14 of the 100-plus events, including the acclaimed Faneuil Forum with Michael Sandel, Harvard's Ann T. and Robert M. Bass Professor of Government. Last year, close to 1,000 people packed Faneuil Hall for a lively discussion led by Sandel about ethics and new technologies. This year, Faneuil Forum will be held on Sept. 26, hours before the first scheduled presidential debate. Sandel will lead a discussion on the future of democracy as the nation dives deeper into election season.
Known inside and outside Harvard for his course "Justice," in which he poses moral questions that stir discussion of civic values, Sandel will lead the audience in a debate around issues such as whether it is just to tax the rich to help the poor and whether rich countries have the right to restrict immigration.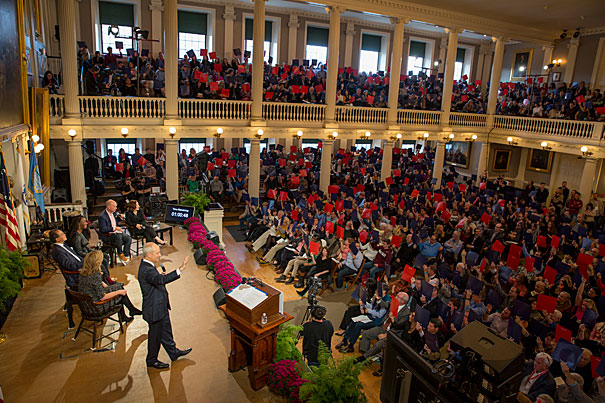 The week's schedule also will feature a day of panels and presentations around the Emerging Worlds of Augmented and Virtual Reality (AR/VR) that showcase the emerging changes in the way that people can look at the world.
The event will feature 25 ventures at the Harvard Innovation Labs (i-lab), which will sponsor the session. The fast-growing field cuts across disciplines and industries as varied as education, sports, retail, and science.
Jodi Goldstein, the Bruce and Bridgitt Evans Managing Director of the Harvard Innovation Lab, hopes the panel will foster fresh ideas on how to use virtual and augmented reality technologies in different fields. Some Harvard professors already are using virtual reality in their classrooms, she said.
'As a scientist, if you don't understand the humanities and the ethics behind them, you can't be creative. We want people to understand how important it is to be balanced.' — Lisa Wong
"We want to inspire and educate the community," she said. "If people are trying to bring Shakespeare to life in an innovative way, if they're trying to solve problems in the developing world in terms of delivering health care, we'd like them to think about using virtual and augmented reality within whatever innovation they're considering."
Stem cell research and its broad impact in gene therapy and precision medicine will also be featured during a three-part series that will examine the use of stem cells in regenerative medicine. The talks — "Ageless Aging," "A Quantum Leap in Diabetes Treatment," and "Honey, I Shrunk the Patient!" — center around stem cell use in technology, in therapy, and as a tool to understand and treat degenerative diseases.
"Stem cells open a window on diseases, treatment, and aging," said Brock Reeve, the executive director of the Harvard Stem Cell Institute (HSCI).
Panelists will share their latest research in diabetes treatment, which could lead to a cure that restores the body's own ability to produce insulin. One group of scientists will talk about how they're building human organs in miniature to advance medical research; another will share tips on how to live to be a healthy and happy centenarian.
Related
"The more we understand about how stem cells behave and how our bodies repair, especially when they are young and they lose that ability over time, the more that gives us a whole new window into aging," said Reeve.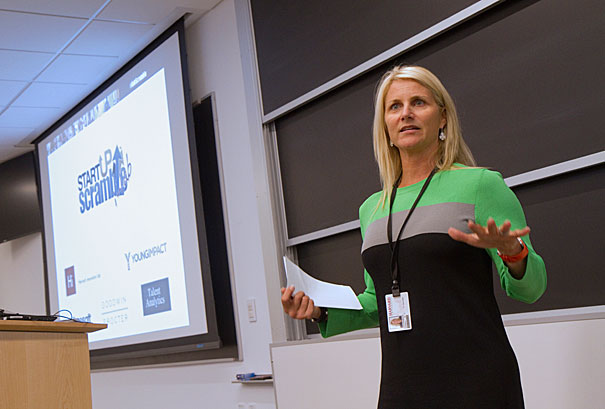 To showcase the junctures between medicine and the arts, and the benefits that those intersections can elicit, there will be a series of events organized by a group of local physicians who are also musicians, writers, and artists.
From "Michelangelo to Van Gogh: Connecting Medicine and Disease to Art and Artists" to "Leadership: Finding Your Voice in Music & Medicine" to "Mozart to Aerosmith: Connecting Medicine and the Performing Arts," the talks highlight how medicine and art go hand in hand, said Lisa Wong, M.D. '79, an MGH pediatrician and founding director of the Longwood Symphony Orchestra.
"Art and science are part of each other," said Wong. "Both of them inform each other. As a scientist, if you don't understand the humanities and the ethics behind them, you can't be creative. We want people to understand how important it is to be balanced. Science informs our music, and our music informs our medicine."
Another HUBweek session will feature the Biopolis program, a transnational effort between Boston and Paris that uses biological principles to engage citizens in coming up with ideas to foster better cities, demonstrating ways in which technological innovations can be used to improve urban living.
"There are really creative ways in which biology can be applied to the problems of urban living," said Rob Lue, professor of the practice of molecular and cellular biology, the Richard L. Menschel Faculty Director of the Bok Center for Teaching and Learning, and faculty director of HarvardX.
Titled "The Biopolis: Creative New Ideas for a Smarter City," the event aims to generate ideas that could be put into practice in Boston and Paris. "In a way, it's almost like a hackathon," said Lue, "where folks come together to look at problems and brainstorm about what's the most exciting way of going forward."
The expectations for events at Harvard, and others throughout Greater Boston organized by HUBweek partners, are high as organizers and attendees look forward to collaborating around big ideas and deep thinking about issues that matter.
"We want to be an inspiration for innovation," said Goldstein. "If we can bring the community together in a meaningful way so that people can make connections, we can augment the value of what's going to happen."
Save
Save