During the first Morning Prayers of the new academic term, Harvard President Drew Faust outlined her hopes for the future by turning her eye to the past and calling on her listeners to do the same.
"A concern for the future requires us all to commit to exploring the past — to in some measure be historians," Faust said Wednesday morning.
In keeping with tradition, Faust delivered her comments at the opening service of the year, a daily ritual of reflection, prayer, scripture, and song on Monday through Friday during the fall and spring semesters. At the dais, Faust stepped back from her role as president, instead speaking as a scholar of the past.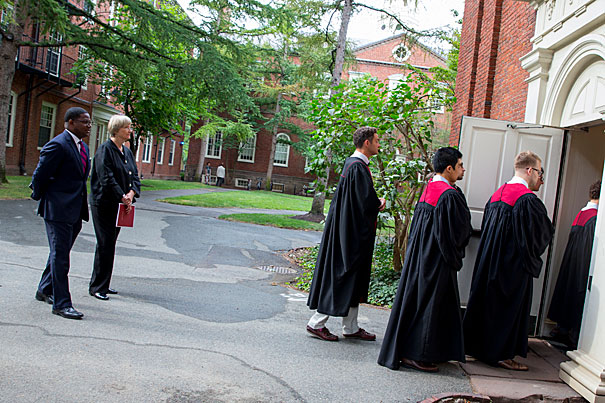 Studying history has made her a better leader, said Faust. She called her academic work "in many ways the ideal training for leadership," helping her understand what makes change happen, who embraces it, who doesn't, and why. History has also helped her understand that "things could have been otherwise" and that "we have the power to make things otherwise." Faust said she also has gained from her field of study and research a "profound humility," and empathy.
"Studying history has diminished my eagerness to judge or condemn people — in the past or present — and has enhanced my desire, and I hope my capacity, to understand, to see the world through others' eyes."
With renovations in progress at the Memorial Church, the ceremony was moved from Appleton Chapel to Holden Chapel, which is nestled in the Old Yard behind Harvard Hall and the freshman dorm Hollis, once barracks for George Washington's troops and later the site of Harvard Medical School.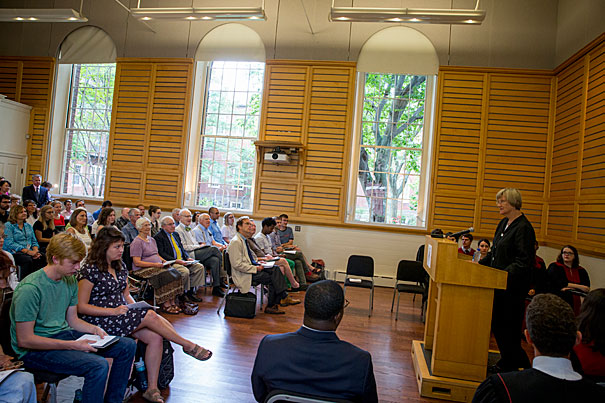 Faust reminded listeners that Harvard, like many other universities across the country, lately has been examining its own, often painful history. In March, Harvard Law School, with approval from the Harvard Corporation, dropped from its seal the family crest of a slaveholder. In April, Faust, accompanied by congressman and Civil Rights icon John Lewis, dedicated a plaque on Wadsworth House in honor of four slaves who worked in the households of two Harvard presidents. In March 2017 the Radcliffe Institute for Advanced Study will host a conference on slavery and universities.
"We must understand how our narratives about the past have shaped and continue to shape the present in order to be able to transform that present into a better, juster future. We must seize the agency that the insights of history can provide us," said Faust.
"We must all be historians. Who we are is indelibly shaped by who we have been. In William Faulkner's oft-quoted words: 'The past is never dead; it's not even past.' It is instead the essential material with which we can build a better future."
Jonathan Walton, Plummer Professor of Christian Morals and Pusey Minister in the Memorial Church, closed the service with a benediction that included his own nod to history. He told the crowd, "The way forward is often back through with our God that has kept us in ages past."
Morning Prayers will be held at Holden Chapel through the academic term.
President Drew Gilpin Faust - Wednesday, August 31, 2016 | Morning Prayers
Morning Prayers service with speaker Drew Gilpin Faust, President of Harvard University, on Wednesday, August 31, 2016.
Save
Save
Save
Save
Save
Save
Save