When Matika Wilbur and her fellow teachers at Tulalip Heritage High School in Washington state reviewed their curriculum, what they found was crushing.
"We could not find one single source that represented our people with dignity and honor and integrity and respect," said Wilbur, a photographer and a member of the Tulalip and Swinomish tribes in Washington.
So she decided to do something about it. In 2012 she sold most of her belongings, jumped in her RV, and set out on a mission to abolish negative stereotypes and to "raise awareness about contemporary Native America."
The result, titled Project 562 in honor of the number of federally recognized tribes in the United States when she began, is an effort to tell the stories of members of each of those tribes through her camera. Almost four years, many thousands of miles, and thousands of photographs later, Wilbur has arrived at Harvard with a selection of her ongoing work.
"Seeds of Culture: The Portraits and Stories of Native American Women" is on view through May 28 at the Radcliffe Institute for Advanced Study's recently renovated Johnson-Kulukundis Family Gallery. The exhibit features 25 photos of Native American women, along with interviews, written narratives, and Native American music and song.
In an interview in the gallery, Wilbur, a striking 30-something with a force-of-nature personality, stood amid her portraits and described the show's beginnings. Last summer she visited close to 30 tribes, and heard heart-wrenching stories. One woman told of being sterilized without her consent. Another said she had been raped while in the Army and rejected by her own community when a mixed-race child resulted from the attack. Wilbur heard about women who had lost their property to oil tycoons eager to exploit the land, and even watched as "white men in suits with stacks of money" tried to convince women from the Navajo Nation to sign papers to test their land for oil.
She called the sexual assault and domestic abuse of Native American women "an epidemic."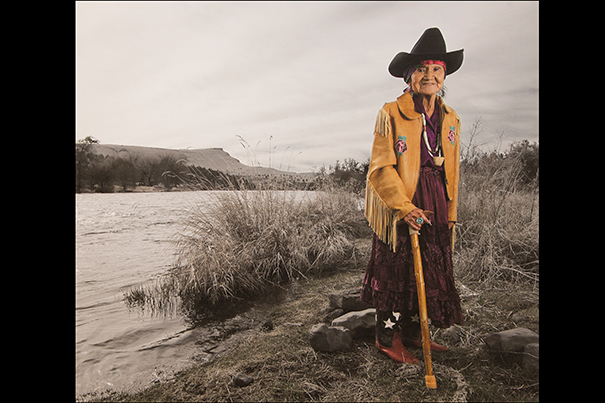 "I couldn't not talk about what's happening to our Indian women," said Wilbur, who said her subjects are "so much more" than victims. They are activists, artists, grandmothers, daughters, Ph.D.s, and professionals. "Despite all of the turmoil that they've experienced, they endure, and they radiate and thrive and become these incredible women who are proponents of change and advocates of something resilient."
Her portraits illustrate her point. Dana Eldridge stares at the camera, her shadow falling on snow on the side of the road. From the Diné (Navajo) in Arizona, Eldridge was photographed on a 1,200-mile trek to the Navajo Nation's four sacred mountains to protest fracking on their land.
Nearby, Ramona Peters, director of the Historic Preservation Department for the Mashpee Wampanoag in Massachusetts, looks out candidly at the viewer, her eyes smiling. As a child Peters said she was ashamed of being part of a tribe that welcomed the Pilgrim colonizers. "I used to feel that we were the ones who made the big mistake and caused this big problem. No. We should never be ashamed of being friendly. That's how we were created. That's a big part of our culture, even today," Peters remarks in the show's accompanying booklet.
So far, Wilbur has visited roughly 350 tribes for Project 562, a Kickstarter-funded effort. She expects to spend about two more years on the road before she's done. Yukio Lippit, faculty director of the arts at Radcliffe, said the exhibit highlights Radcliffe's research theme ­for the 2015-2016 academic year — the study of indigenous peoples — as well as Wilbur's drive and determination.
"She hasn't stopped," Lippit said. "[Project 562] is attempting to convey the richness and diversity, the lived experiences of native peoples all across the United States, and what you will see here is a small selection."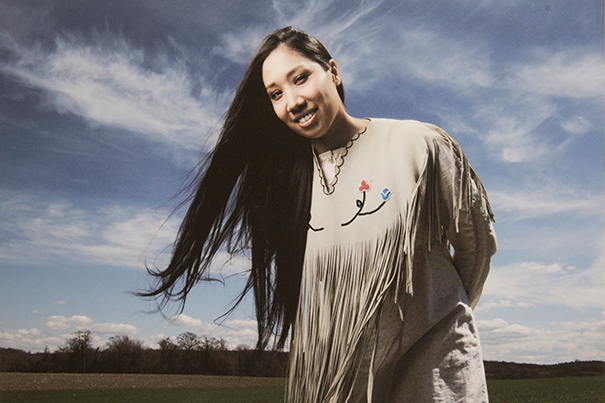 Wilbur's subtle use of color in many portraits draws in the viewer. She often shoots with black-and-white film, prints the images, and then colors in sections with oil paint. If she uses color film, she frequently manipulates the pictures in Photoshop to "de-saturate the background or bulk up the color in the front" of the image.
She also lets her subjects choose where they would like to be photographed. Initially, Wilbur planned to pose her subjects against a white background framed by perfect lighting, but quickly opted instead to "photograph people in the environment." Instead of asking herself how she can get the best shot, now she asks her subjects if there is a place they would like to have their picture taken, if they have something special they would like to wear, or if there's a story they would like her to tell with her lens. She calls it "the indigenous photography method," and says it forced her to become a better photographer. "Now I shoot when people are ready, not when I feel like it, or when the sun is right," said Wilbur. "It's a shift in the way I see what I am doing."
Sometimes that means forgoing a portrait on Utah's dramatic salt flats for a shot taken on an 84-year-old grandmother's porch. More important than the best possible background, Wilbur said, is leaving her sitters "with the feeling that they were heard."
The exhibit is part of the Initiative on Native and Indigenous Peoples and is presented in collaboration with the Harvard University Native American Program. The Johnson-Kulukundis Family Gallery is in Byerly Hall at 8 Garden St., Radcliffe Yard, and is open Monday through Saturday from noon to 5 p.m.