When it became clear in 2013 that she was a leading candidate to chair the Board of Governors of the Federal Reserve System, Janet Yellen turned to her predecessor for advice.
"It's a tough job, I said, and it can be pretty thankless," Ben Bernanke '75 recalled telling Yellen, who was his second in command. But the comment didn't dissuade her. With the U.S. Senate's approval, she became the first woman to head the nation's central banking system the following year.
Addressing the Radcliffe Institute for Advanced Study's annual post-Commencement gathering, known as Radcliffe Day, Bernanke said today that Yellen had several motivations for accepting President Barack Obama's nomination to the post. Top among them was her "lifelong commitment to using what she had learned as an economist to improve the lives of average people."
"I think Janet well understood that by taking this position and applying her considerable talents, she could provide a valuable role model for future generations of young women who might otherwise not engage with economics or economic policymaking. That is in itself," said Bernanke, "a great contribution on top of all the others that she has made."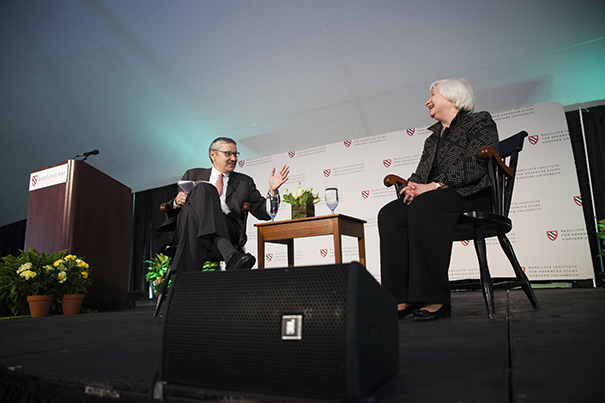 Those contributions were honored at the gathering. Yellen received the Radcliffe Medal during a luncheon in Radcliffe Yard for 1,300 attendees that included Radcliffe alumnae and fellows, recent College graduates, Harvard President Drew Faust, and U.S. Attorney General Loretta Lynch.
"She unites scholarship and leadership for the public good. She brings candor and collegiality to solving complex problems. She strives to build an economy in which all Americans can thrive," said Radcliffe Dean Lizabeth Cohen, who bestowed the medal with "the deepest admiration for a lifetime of visionary and principled service."
The afternoon's festivities included a wide-ranging conversation between Yellen and Harvard's Gregory Mankiw, Robert M. Beren Professor of Economics and former chair of the President's Council of Economic Advisers. Offering her the chance to move markets, Mankiw asked Yellen the question on many people's minds: Where are interest rates headed? The Fed chair treaded carefully with her answer.
Yellen said she expects the economy and the labor market to continue to improve and that, as it does, interest rates will "probably" rise. "It's appropriate — and I've said this in the past — I think, for the Fed to gradually and cautiously increase our overnight interest rate over time. And probably in the coming months, such a move would be appropriate."
Still, she urged caution.
"If we were to raise interest rates too steeply and we were to trigger a downturn or contribute to a downturn, we have limited scope for responding, and it is an important reason for caution."
Yellen grew up in Brooklyn, the daughter of a teacher and a family doctor. She excelled in school, becoming the editor-in-chief of her high school newspaper and her senior class valedictorian. She went on to Brown University, where during a class, she told Mankiw, she got hooked on economics. "I saw that monetary and fiscal policy were tools that could be used to address unemployment and improve people's lives, and that attracted me, and it's continued to be my motivation."
That message was reinforced by her graduate school mentor at Yale University, the Keynesian economist James Tobin, "who had the passion for social justice," said Yellen, "and a moral compass that pointed straight north."
After earning her degree in economics from Brown in 1967, she received her Ph.D. in 1971 from Yale. She became an assistant professor at Harvard from 1971 to 1976 and later a lecturer at the London School of Economics and Political Science. She served on the Federal Reserve System's Board of Governors from 1994 to 1997 and as chair of President Bill Clinton's Council of Economic Advisers from 1997 to 1999. From 2004, until 2010, Yellen was president and chief executive officer of the Federal Reserve Bank of San Francisco.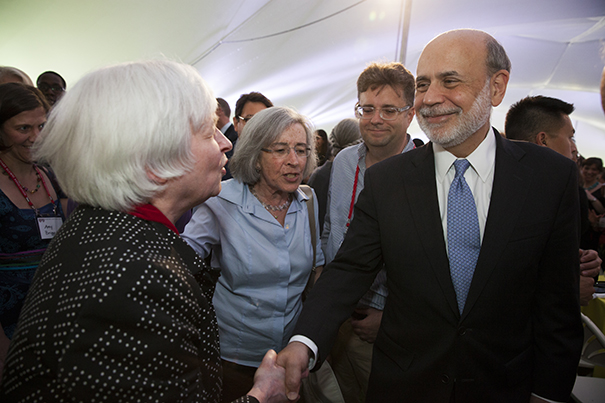 During her remarks, she praised Bernanke for his leadership during the 2008 financial crisis and his "inventive and innovative" approach to getting credit flowing back into the American economy, as well as for the Fed's programs, asset purchases, and other efforts to get the economy back on its feet.
Yellen said she, along with other regulators, economists, and the private-sector analyst, had seen warning signs on the economy a few years ago, but they missed the bigger picture and the systemic failings that led to the financial meltdown in 2008. "We really didn't see that coming. And in that sense, I would say we are really trying to do a better job of that."
Today, the Fed is much more focused on systemic risk and financial stability, she said, and on identifying conditions that could trigger another crisis, as well as on large firms and financial institutions that have been forced to produce "living wills that would show how they could be safely dismantled using tools at our disposal."
Asked by Mankiw for advice to students in the audience, Yellen encouraged them to work in a field that they are passionate about and to do so in a place and with people who believe in the mission.
"I certainly felt that way at the various universities I've been at," said Yellen, "and I've felt that way very much working in the federal government."