Harvard's annual daylong Commencement ceremony welcomes alumni, confers degrees, and presents speakers who strive to make sense of a complex world. Those are major and meaningful aspects of a long-awaited day. But the festive spirit is also evident in the smaller, personal moments among the thousands of graduates, alumni, family, friends, and workers attending. Here is a sampling of the joyful and wistful moments in Tercentenary Theatre.
Reflections from the oldest, a JFK classmate
The oldest Harvard alumnus in attendance was 97-year-old Leon Starr from Rye, N.Y., who matriculated in 1940, the same year as the late President John F. Kennedy. "The place has changed incredibly, the mix of students," said Starr as he waited to process into Tercentenary Theatre for the Afternoon Program. "The women," quickly added his wife, Jacqueline, who was seated next to him in the Old Yard.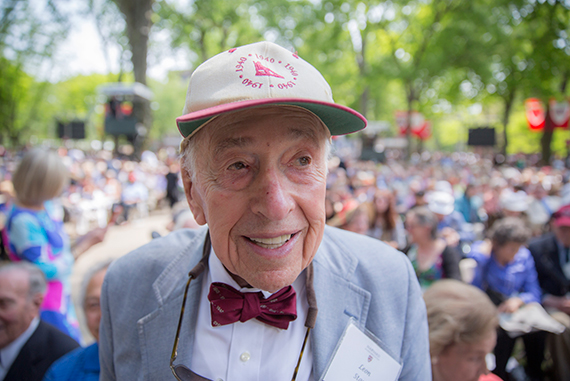 In a letter last year to President Drew Faust, Starr recalled that when he arrived on campus, then-President James Bryant Conant was "trying to make it into a national university instead of a parochial New England-, New York-, Philadelphia-oriented academy. Now when I come here, I see 17 percent of people from all over the globe, women taking classes … the world has changed, much for the better."
Starr's favorite Harvard memories involve lots of tennis and squash, and a standout tutor, Daniel J. Boorstin, who became a famed American historian and the 12th librarian of the United States Congress. "He was terrific. He had just come from Oxford, and he gave me a lot of time, challenged me, and really helped me in many ways."
An afternoon tea with the president
As she processed through Harvard Yard for the Afternoon Exercises, Harvard Marshal Suzanne Skipper '86 recalled how she was pranked as an impressionable freshman living in Pennypacker Hall.
Told by an upperclassman that it was tradition for the younger students to invite Harvard's president to tea, she and her friends did just that, asking Derek Bok to join them for an afternoon. Bok accepted, and she and her classmates enjoyed tea and conversation with the University's top official. Only afterwards was she told, "That was a total joke, no one ever does that" — until they did.
A mother's joy and pride
On the day that Ivie Tokunboh, Empress Elabor's only daughter, graduated from Harvard College, the mother was overwhelmed with joy.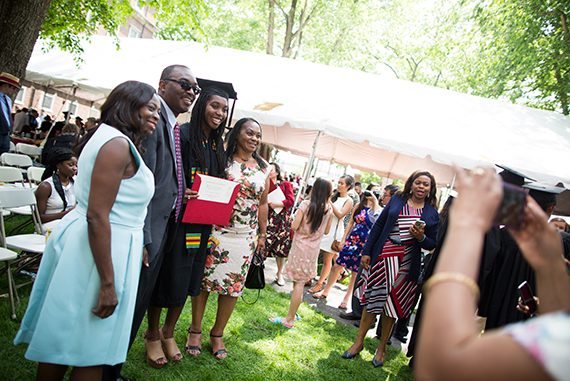 "It's the happiest day of my life," said Elabor, who hails from California.
Tokunboh, who lived in Winthrop House, studied human developmental regenerative biology, with a secondary in global health and policy. While at Harvard, she joined Expressions, a student-run dance company, volunteered with Alzheimer's Buddies, and helped organize a dance marathon to raise money for a local hospital.
"She's so dedicated, hard-working, and loving," said Elabor. "She's a blessing for me and for those around her."
'So much pride in the boys'
After receiving his College diploma at the afternoon ceremony at Eliot House, Asante Gibson received a heartfelt hug from his brother Stanley, who just a few days before had graduated as well.
"It's a blessing," said Stanley after their father snapped their picture. "It's all my parents' hard work. They always took good care of us. They made sure we did everything we needed to do to succeed."
Gibson's mother begs to differ. For Adriana Gibson, who works as a Navy intelligence officer, seeing her two oldest sons graduate — Asante, with a degree in neuroscience; Stanley, in biology and psychology — in the past two weeks has been overwhelming.
"Everybody says that I did a good job," she said emotionally. "I didn't. The boys did a good job. They are good athletes and hardworking, and they have stayed away from negative things. I have so much pride in the boys."
Khurana looks back, and forward
At the end of the academic year, as administrators, faculty, and students reflect on the most memorable events of the academic year, Danoff Dean of Harvard College Rakesh Khurana was not shy about confronting issues that stirred disagreement on campus, including those involving racism, sexual assault, and membership policies around the finals clubs.
"You've not always seen eye-to-eye with each other — or with me — on how we can best shape this community that we love," Khurana told seniors during Class Day celebrations Wednesday afternoon. "These notions of inclusion and belonging that have occupied us this year are not part of some technical exercise confined to Harvard or college campuses. They have real implications for the world we live in. … Not too long ago, many of us who are here today would not have been welcome on this campus or at this event because we were born the wrong gender, worshipped the wrong God, or loved the wrong person.
"The path Harvard as an institution has taken and we as individuals have taken to reach this moment has oftentimes been rocky, complicated," and has resulted from "decisions made by people who were seeking to balance tradition and change and by people … who stood up and insisted that this community, along with the world around it, take a step into the future.
"The reality of our world is our destinies are intertwined," Khurana told students, and referenced the words of his former college neighbor, the late astronomer Carl Sagan: "'What we share here on Earth is so much greater than what divides us,' and what we share here at Harvard is so much greater than what divides us."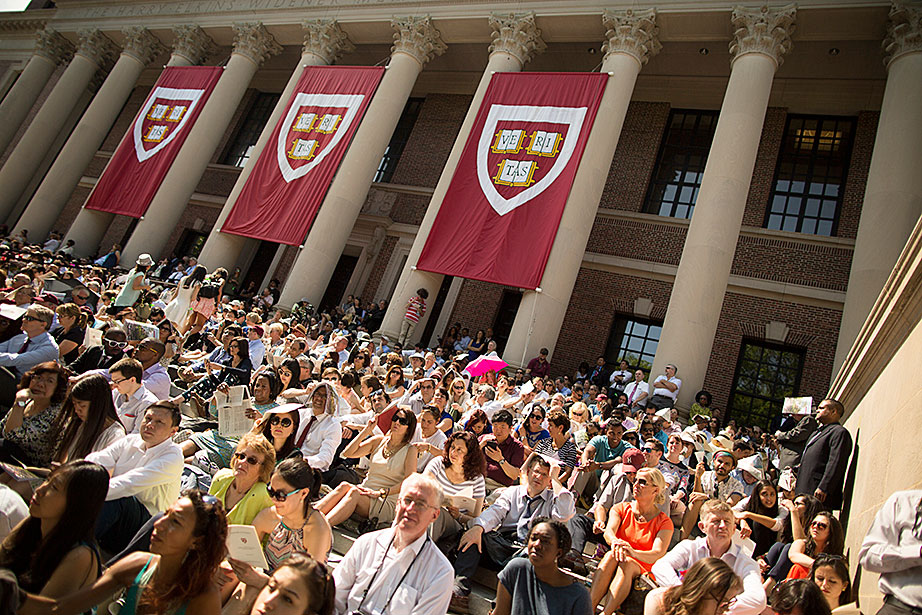 Sister lessons
Mather House senior Michelle Lee was at the end of the line of soon-to-be College grads filing from the Old Yard into Tercentenary Theatre. From her vantage point near Hollis Hall, though, she could look backward at the future, sort of. Her sister Sophia, standing nearby with their parents, will enter Harvard as a freshman in the fall.
"It's definitely bittersweet," Lee, a social anthropology concentrator, said about finally reaching Commencement. She and a group of friends stayed up late knowing their days together were numbered. "I'm a bit tired. … We knew we had to get up early but we also knew that the moments left to spend time with friends are few."
And with Friday move-out looming, their last night at Mather will likely be another long one. "I do think we plan to stay up all night tonight," Lee said.
The younger Lee is excited to get her own Harvard experience going. Her sister, set to begin work at a local health-care nonprofit in August, will be close enough to visit and offer advice about negotiating freshman year, but far enough to give her space to make the experience her own.
"It's really exciting, it's sort of a snapshot of what's ahead for me," Sophia said.
British smiles
England's Massey family came a long way to sit under some trees near Houghton Library, seeking shelter from the heat. Still, Ray and Christine Massey were overjoyed to watch their son, Tim, graduate from the Business School. (Tim's wife, Jen, took a much shorter journey, from the couple's Cambridge apartment.)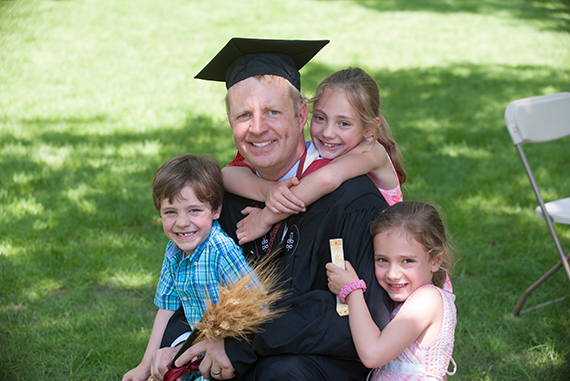 While it was fun to see the tradition and how Harvard's ceremonies compare with those in England, Ray said that the scenery was of course just a sideshow to Tim's achievement and its reflection on those who love him.
"It's a proud moment for the family," Ray said.
A for effort
David Enriquez Flores, who received a master of liberal arts from the Harvard Extension School, has to be in the running for students who logged the most air miles in obtaining their degrees.
Flores earned a degree in sustainability and environmental management over four years. He spent a year and a half taking classes on campus — while working on another master's at Boston University — and then completed the degree requirements over the past 2½ years while working in the U.S. embassy in Mexico City.
He took two classes online and, while working on his capstone project, returned to campus once a month. He said it was nice to have finally completed the program, which was a challenge despite its flexibility.
"Working a full-time job, planning my wedding next month, and working on the capstone and coming once every three weeks here, it's been a challenge," he said. "And so being able to finally graduate is an accomplishment that I'm really looking forward to."
Crimson-speak
Each year, the Latin Salutatory gives a graduating senior a chance to dust off her or his Latin. This year Anne Power offered a humorous take, not on language but on words.
The translation printed in the program allowed students and family to follow along and laugh at the appropriate times. In it, Power reflected on the unique Crimson jargon that suffuses the University — from "Harvard time" (late) to "Pinocchio's" (pizza) to "concentration" (what you lack on a Friday morning … or your major) to "New Haven" (home of the enemy).
But Power also gave classmates a fearful peek at the new lingo they're going to have to know, like "rent" and "job."
"'Oh Jupiter,' you want to cry: 'Why is there no shopping week for life?'"
That's what we think she said, at least.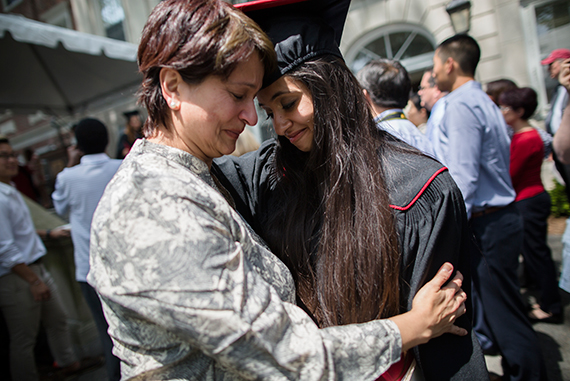 Inequality in a spider bite
Can the problem of global inequality be seen in a spider's bite? Jiang He thinks so.
He, who grew up in a village in rural China, described in the Graduate English Address his mother's reaction to a poisonous spider bite when he was a child. She used folk medicine that involved wrapping his hand in a wine-soaked cloth and setting it on fire.
He, receiving a Ph.D. in molecular and cellular biology, knows now why that remedy worked on the poison, but questions why it was necessary.
Modern science should not only engage in the pursuit of new knowledge, he told students and family members gathered in Tercentenary Theatre. It should also communicate those findings to places like his hometown. Thousands of villages, he said, are not just poor, but lack the knowledge that would offer alternatives to treating spider bites with fire.
"Fifteen years later, I'm happy to report my hand is fine," He said.
Golden opportunity
Even as the Yard brimmed with University officials, dignitaries, distinguished alumni, and honored guests, easily the most popular people on campus were Joe Devlin and Tom Michienzi. That's because on a steamy, summer-like Commencement morning, the pair controlled access to eight kegs of frosty and refreshing golden goodness. That's right, the beer.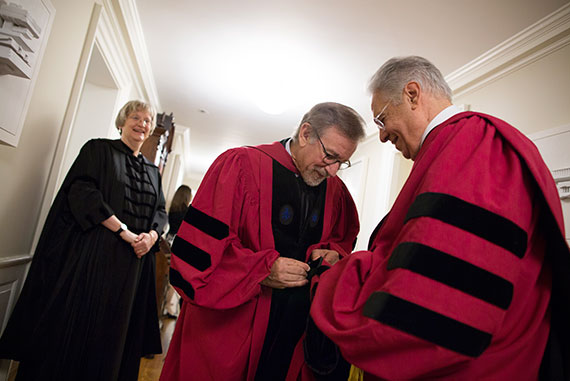 Veterans of the last few Harvard graduations, the two manned the free beer stand that's set up in front of Grays Hall each year. As Morning Exercises began winding down, they stood among 30-lb. bags of ice, gently fielding anxious appeals from a stream of hot, thirsty visitors eager to get the taps flowing even though it was barely 11 a.m. Finally, as filmmaker Steven Spielberg received his honorary doctorate, Devlin and Michienzi took pity on the crowd forming around their table. Heeding advice from Class Day speaker Rashida Jones, they "pulled the levers," swiftly filling cups with Sierra Nevada Summerfest and Pale Ale for a very grateful Harvard community.
Proud to be here
Elizabeth and Rudolph Olivier were asking passersby for directions to the Widener Library to be near their son, Gerrel, who was graduating from the Business School.
The Randolph residents, who had never been to campus, were a bit lost among the huge crowds in the Yard. When they arrived at their destination, having breathed a sigh of relief, they were eager to talk about their son's accomplishment.
"I'm the happiest woman today," Elizabeth said. "My son is so much to be proud of."
Gerrel's father, who works at Home Depot, shared the sentiment. "It's the best day of my life," he said.
'Be strong and of good courage'
Fans were whirring, programs were waving, and more than a few heads were nodding at the service for seniors at Memorial Church, the first official event of Commencement day. Just after 8 a.m., Professor Jonathan Walton, the Pusey Minister in the Memorial Church, welcomed the crowd to the "beautiful ritual of senior chapel," joking that Harvard officials pick "the balmy, muggy time of year to bring you in in extra clothes, to welcome you and pack you inside of this chapel so that you can feel sweltering heat; to remind you that when you leave this place … we expect you to live a quality, good, and righteous life."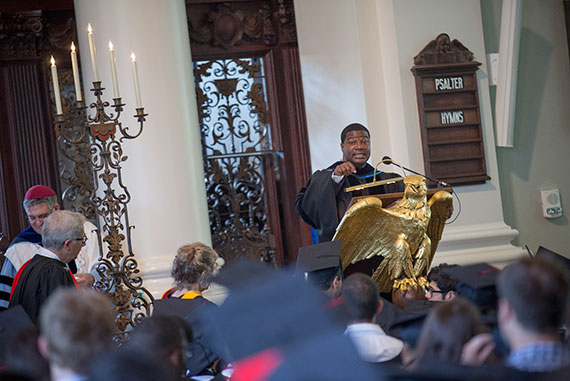 Keeping with his annual tradition, Walton snapped a selfie with the crowd before Rabbi Jonah C. Steinberg offered the graduating class some parting thoughts.
"You have beheld a universe of wondrous complexity, and amazing possibility in this University, and now it is for you to share with the world some scintilla of what you have seen, and imagined, and created here," said Steinberg. "Be strong and of good courage. Humility and reverence have their place, but on the verge of a world so very much in need, if there is a proper prayer for you in this moment, it is that you will dare to be upstanding and that you will be generous and courageous in imparting far and wide something of your vision from this place."
In and out of class, an education
Pforzheimer resident Nabil Daoud '16 was a little late for the Memorial Church service, having stayed up into the wee hours to socialize with friends and family. He was tired, he admitted, but excited for the day ahead. His proud parents were among the thousands in Tercentenary Theatre waiting for Morning Exercises to begin and celebrating his graduation as a first-generation college student; they emigrated from Ethiopia in 1987. An economics concentrator with a secondary concentration in African studies, Daoud will volunteer with Phillips Brooks House this summer and hopes to work in finance in the fall. Daoud said some of his favorite Crimson memories were formed not in class but in the dining halls, where he reveled in making friends laugh. As he leaves campus Daoud said he would keep two key lessons from his College career in mind: "Don't be afraid of the unknown," he said, and "resiliency through struggle."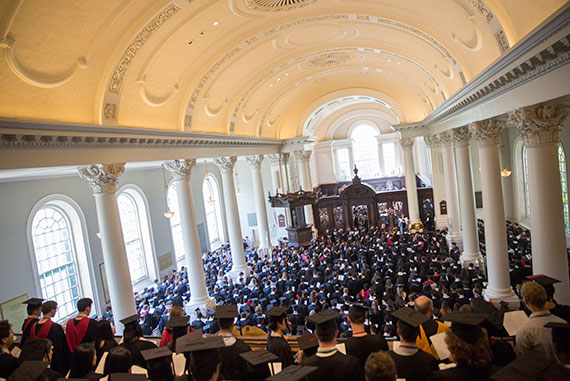 Strike up the band
Daniel Rhodes graduated from Harvard in 2001 and he, and his trumpet, haven't missed a Commencement since. Each year former players help fill out the ranks of the Harvard University Band, which puts in a full day at morning and afternoon events. "I always love this day," said Rhodes, a Watertown resident who works as an actuary in health care consulting. "I just love all the pomp and ceremony and it brings back good memories." One of those memories involved reactions to media mogul Oprah Winfrey, who spoke at Commencement in 2013. "We have all these professors who were almost giggling at the sight of her … people that have probably met heads of states and celebrities. They were melting in front of Oprah."
Chaos management
Asa Gray Professor of Systematic Botany Donald Pfister was at the podium in front of Harvard Hall bright and early as the Commencement Day caller, tasked with corralling the crowd of dignitaries, alumni, students, and families swirling through the Old Yard on their way to Tercentenary Theatre. "President's division, we need you in order," Pfister called politely, later urging them a little more firmly to line up. "Madame President, Sheriff, we need order in the president's division." Pfister took up the position two years ago from longtime caller Frederick H. Abernathy, Gordon McKay Professor of Mechanical Engineering and Abbott and James Lawrence Professor of Engineering. The "champion" caller, said Pfister, was Mason Hammond, a classics scholar who held the post for half a century.
"It's order out of chaos," said Pfister as he prepared to make his way into Tercentenary Theatre. "Now we do the next part, see if we can get them seated."
Mixed emotions
It was a bittersweet moment for Hendriawan Selamat's family.
Selamat, who hails from Singapore, graduated with a master's in human development and psychology from the Harvard Graduate School of Education. He and his family will go back home in early June.
Sitting near Widener Library, his wife, Shifaa Mohamed Amin, reflected on the time passed.
"We don't want to go," she said. "We made so many good friends who have become family."
Witness to change
Making her way through the Old Yard into Tercentenary Theatre was Mary Lothrop Bundy, from the Radcliffe class of 1946. In her 70 years since graduating, Bundy said she has seen welcome change on Harvard's campus.
"I was an Overseer, the second woman to be elected, which is pretty exciting because Radcliffe couldn't vote for Overseers in my day, they were women and they didn't count," said Bundy, whose late husband, McGeorge Bundy, served as dean of the Faculty of Arts and Sciences.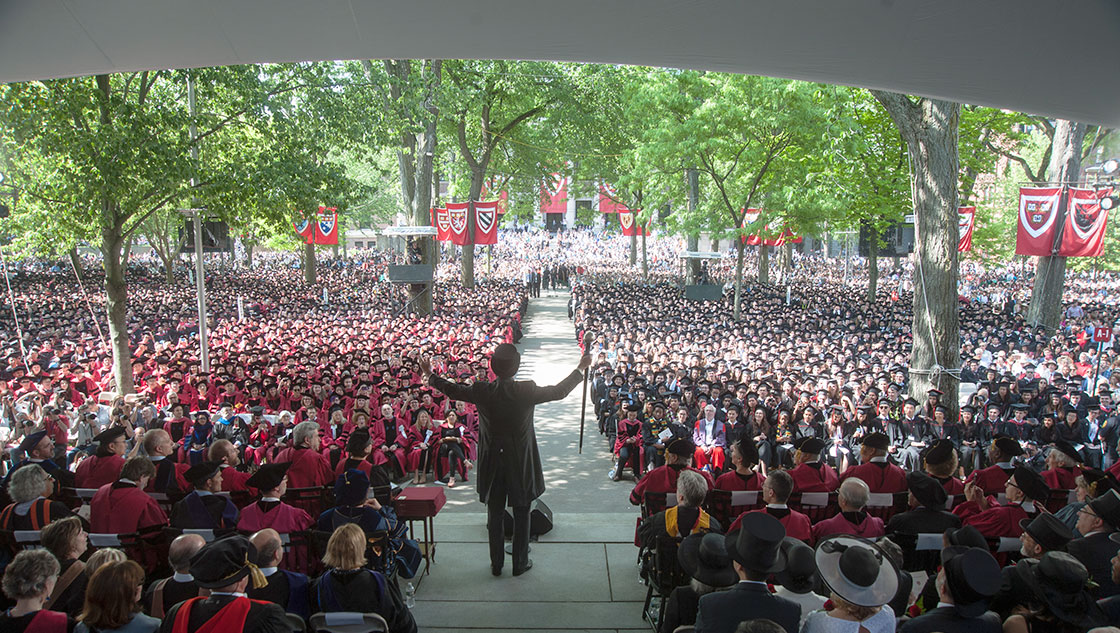 One of the greatest changes in recent years, said, Bundy, is "Harvard's wonderful spirit of inquiry. Drew Faust has done such a fantastic job of getting different disciplines to work together. I think that is a huge thing she has done for the University."
Keeping things tidy
On regular days, Harvard landscaper Tiago Pereira cuts grass, mulches plant beds, and trims trees. In the wintertime, he spends most of his time cleaning snow off campus.
But on Commencement Day, Pereira was busy picking up trash in the Old Yard while the graduation ceremony was taking place at the Tercentenary Theatre. He didn't mind.
"I love it," said Pereira, who on his own typically fills about 50 heavy-duty bags on Commencement Day. "It's fun. It's crazy. It's like a party.