"As you embark on your real-world journey and leave behind the ivy-covered, serial, stock dorms of Harvard, I do feel it's my responsibility to tell you something meaningful, something that will not only inspire you but also arm you with a key to unlocking future opportunities," comedic actress and writer Rashida Jones '97 told members of the Class of 2016 as they basked with families and friends in a gloriously sunny Tercentenary Theatre this afternoon.
"As Harvard graduates, this Commencement is literally the only time anyone will be rooting for your success. America loves an underdog, and you are not underdogs. You are now the opposite of underdogs."
Tongue firmly in cheek, Jones joked about her college days rife with hangovers and hookups and lovingly mocked the students for not going to Stanford as "idiots" who "actually chose" to graduate.
"No one successful graduated from Harvard! Matt Damon. William Randolph Hearst. Bonnie Raitt. Bill Gates. Mark Zuckerburg: dropouts! Can you name anyone cool who graduated from Harvard? No! I looked it up, and there's not a single example of a successful person who graduated from Harvard," she quipped.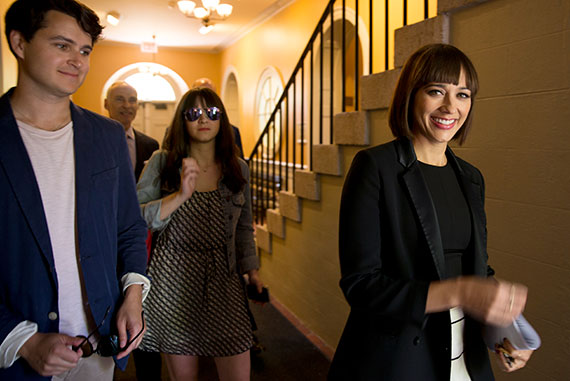 While an undergrad, Jones studied comparative religion and resided in Eliot House. She was active in the College's arts and cultural scene as a member of the Harvard-Radcliffe Dramatic Club, Signet Society, and the Harvard Black Students Association. She also served as musical director of the co-ed a cappella group the Harvard Opportunes and was a member of the Hasty Pudding Club and Hasty Pudding Theatricals, co-writing the music for the group's 149th annual production, "Me and My Galaxy."
Since graduating, Jones has appeared in many of this era's signature quirky, smart TV comedies such as "Parks and Recreation," "The Office," and "Freaks and Geeks," and in 20 films, including "I Love You, Man" and "The Social Network." She currently stars in "Angie Tribeca," a police detective spoof co-produced by "The Office" star Steve Carell. In addition to work as a screenwriter (the upcoming "Toy Story 4," 2012's "Celeste and Jesse Forever"), Jones also has stealth musical talent, singing background vocals for Maroon 5 and performing songs about Thanksgiving on "The Tonight Show Starring Jimmy Fallon."
Beyond the laughs, she imparted three genuine bits of wisdom she hoped would help to "stave off" any future midlife crises: "Don't count on the system; protect your instinct to care; and choose love."
As a fellow "rule follower," Jones relayed her own difficulties trying to make it as an actress and budding screenwriter in show business and how it was only after going outside the system and launching her own independently financed productions that she found lasting success and fulfillment. And while doing what's required, following the rules, or waiting to be recognized by others might have been good strategies in high school and even college, it won't deliver a satisfying adult life because "the hard fact is this: The real world doesn't reward rule followers … and the real world is not always merit-based.
"Outside of what's expected from you, what path do you really want to take in life? What are you prepared to tolerate to realize that path? Or are you waiting for someone else to define that path for you?" Jones asked the audience. "I spent my younger years hoping and praying that someone would give me a break, that someone more successful and knowledgeable than I would show me the way and save me from making mistakes," but none ever had the answer.
"Here's the simple truth: You are the only one who can create the life you want, and you may have to break some rules to do that."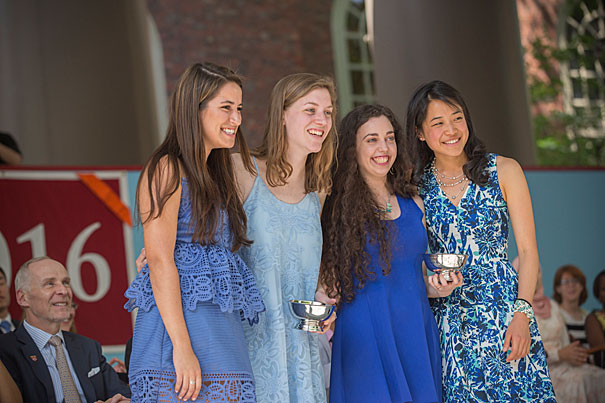 Jones, 40, has never fit predictably into anyone's neat little boxes. Some might not expect that the privileged daughter of celebrities (Actress Peggy Lipton is her mother, and legendary music producer, film composer, and arranger Quincy Jones, Mus. D. '97, is her father) who was raised in tony Bel Air, Calif. (where Michael Jackson was a close family friend), and who went to school with Kim Kardashian and Paris Hilton would turn out to be a self-described "chubby nerd" from the high school math team who was following her lifelong dream to attend Harvard College and become a doctor, a lawyer, or maybe even president.
Biracial and raised Jewish, Jones has spoken candidly over the years about the difficulties she has encountered dealing with those who want her to live up to their preconceived notions of race, gender, and sexuality. As a teenager, she publicly slammed rapper Tupac Shakur for his criticism of her and her father's interracial relationships. (She later become friends with Shakur and wrote a paper about him at Harvard.) Jones has also talked about how difficult it was to find acceptance among some black student groups as an undergraduate, and then later in Hollywood as a beautiful and funny woman of color working in comedies with predominantly white casts and writers.
During her speech, Jones also challenged graduates to have compassion and to avoid the toxicity of indifference that can come with the information overload of the modern, atomized world.
"In the face of all that noise, it's harder than ever to stay committed to do the things you really care about. But don't be distracted. Do not be dissuaded. Do not be discouraged. Keep caring. It's not enough to talk among your friends about the problems you see in the world," she said. "As a college-educated, worldly young person, you are obligated to be loud, to rise above the fear mongering and bigotry and misinformation, to make yourself heard through all the noise. There's too much to fight for."
Lastly, drawing on advice from her father (they are now the only parent and child to deliver Class Day speeches), Jones urged students to "choose love," even when it feels scary.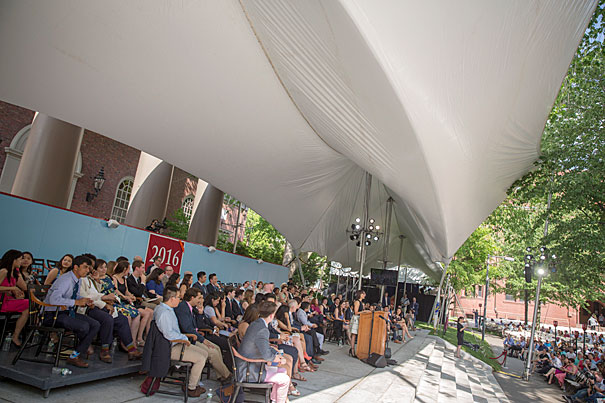 "When big decisions pop up, get quiet, real quiet, and listen," she said. "Turn off your phone, turn off your computer, and listen to your true heart. Hear the thing that makes you feel sick with excitement, that scares you because you know you'll learn. And do that thing."
Class Day speakers are chosen each year by a committee of the College's seniors. They are typically well-known figures from the arts, politics, journalism, government, or business, and often — but not always — graduates of the College. Past speakers include former President Bill Clinton (2007), baseball legend Hank Aaron (1995), Nobel laureate Mother Teresa (1982), and Coretta Scott King (1968), who spoke in place of her recently slain husband, Martin Luther King Jr.
Also as part of Class Day, seniors Gabrielle E. Milner and Allison E. Torsiglieri received the Ames Award. The honor is given annually to students who demonstrate exemplary leadership and passion for helping others without fanfare or acknowledgement. The award is given in memory of Harvard alumni Richard Glover Ames and Henry Russell Ames. The brothers perished while trying to save their father, who had fallen overboard during a storm off the coast of Newfoundland in 1935.
Harvard Orators Mariam Jalloul and Min-Woo Park spoke to the class about the Harry Widener Library and the joy in procrastinating, while Aaron Henricks and Christina Teodorescu poked some self-deprecating fun at achievement and post-college ambitions as the Ivy Orators.