It was a celebration worthy of two Harvard presidents.
President Drew Faust and President Emeritus Derek Bok kicked off celebrations of the 40th anniversary of the Derek Bok Center for Teaching and Learning on Thursday with a dynamic conversation at the Harvard Art Museums in which Faust praised the center for having been "transformational for higher education and certainly for this institution."
"There has been a culture change in higher education in the years since the Bok Center was founded," she said. "There is an ongoing conversation and engagement with teaching here that excites people because it's a mode of discovery on the same level of excitement as the mode of discovery of research" in whatever an individual's field is.
Addressing a crowd of nearly 300, Faust and Bok, who restructured the undergraduate education framework while president and has written six books on higher education, discussed a range of topics, from teachers embracing active or experiential learning to the challenge of getting students to think beyond grades and rubrics.
"A lot of employers don't look as deeply at grades as once they did," said Faust, who implores students to stretch themselves as soon as they arrive on campus as freshmen. "Don't waste your four years never taking a risk, never having an adventure."
The two-day event, titled "Celebrate the Future of Learning," was moderated by Robert Lue, the Richard L. Menschel Faculty Director at the Bok Center. Lue cited the center's three-point mission — discovery, cultivation, and research — as critical pillars "at a moment in time unmatched in history."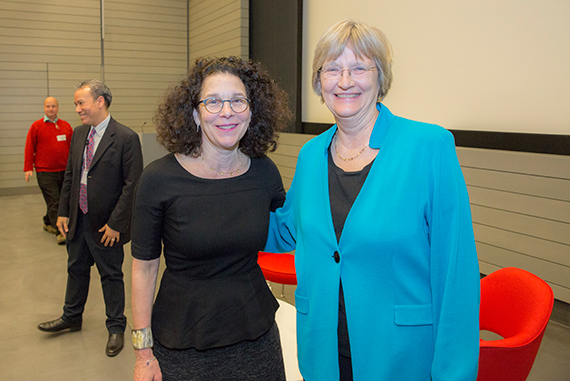 "It is a place and a space where many discoveries remain to be made," he said. "Increasingly there is an energy here at Harvard and indeed in higher ed that is really inspired by the understanding that we can now explore human learning in truly exciting ways. We can do this with cognitive science, through the critical intersections of the arts and theater with deeply emotional ways of engaging individuals to want to learn more. And we can use media in ways that Hollywood and television can't even imagine."
The celebration continued Friday with innovative thinkers from different backgrounds engaging across disciplines during three panel sessions at the Knafel Center.
Jill Lepore, the David Woods Kemper '41 Professor of American History at Harvard, and Michael P. Lynch, professor of philosophy and director of the Humanities Institute at the University of Connecticut, headlined the discussion on how to cultivate excellence in teaching, while Richard J. Light, the Carl H. Pforzheimer Jr. Professor of Teaching and Learning at the Harvard Graduate School of Education, and Benjamin Castleman, assistant professor of education and public policy at the University of Virginia, talked in the afternoon discussion about research.
The morning session, called "Discovery, Exploration and Creativity," drew an enthusiastic crowd to hear Alyssa A. Goodman, Robert Wheeler Wilson Professor of Applied Astronomy at the Harvard-Smithsonian Center for Astrophysics, Rosanne Somerson, president of the Rhode Island School of Design (RISD), and Curtis Wong, principal researcher at Microsoft Research.
Somerson began with the idea that hands-on learning is rooted deeply in the past, noting that primates' brains made their biggest leap in size with the evolution of the opposable thumb.
"The hand was learning more than the brain could process, so the brain had to grow," she noted.
Fast-forward to present-day RISD, where students weave on a jacquard loom similar to ones found in industrial manufacturing. The RISD loom, however, is slowed to a quarter of industrial speed "so students can interfere along the way," she said, pointing out that downtime and even boredom play essential roles in critical thinking.
"When creative minds have free space, they fill it with new ideas," she said.