Harvard President Drew Faust encouraged graduating seniors this afternoon to tell their own stories as they venture into the world, new ones informed by their campus years, their passions, and their embrace of the uncomfortable and the unfamiliar.
"Telling your own story, a fresh story, full of possibility and a new order of things, is the task of every generation, and the task before you," Faust said during the Baccalaureate Service, an annual ritual and a final opportunity for Harvard's president and clergy to meet informally with the seniors and offer them parting thoughts before Commencement.
"Telling a new story isn't easy," Faust said. "It can take courage and resolve. It often means leaving the safe path for the unknown."
Dressed in their caps and gowns, seniors crowded into the Memorial Church with cellphones in hand, ready to tell immediate stories with Snapchat photos and videos. One of Harvard's oldest traditions, dating back to 1642, the Baccalaureate ceremony included songs from the Commencement Choir and readings from Hindu Scriptures, the Hebrew Bible, Confucianism, Taoism, the New Testament, and the Quran.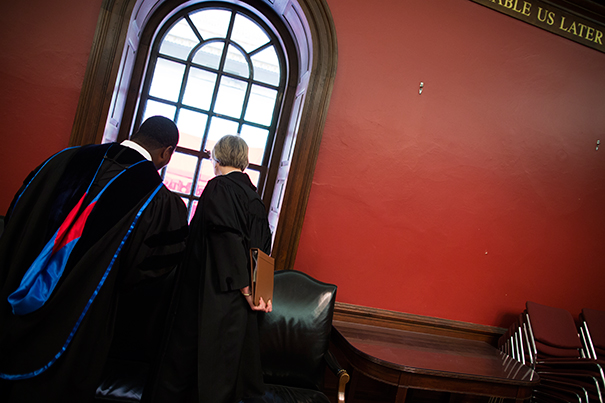 In her address, Faust walked students back through their own Harvard history: four years of adventure, adversity, and academic achievement. They faced fierce weather during their tenure, including a hurricane and historic snowfalls that shut down Harvard more than once. The Boston Marathon bombing drew them together and bonded them to the city "beyond Harvard Square," she said. There was even an outbreak of the mumps.
"For four years," Faust said, "you have distinguished yourselves with dazzling variety." Among its many accomplishments, the Class of 2016 produced six Rhodes Scholars, prize-winning senior theses on sea-level change and a water crisis in Michigan, and the play "Black Magic," written by five African-American Harvard students and mounted at the Loeb Drama Center. The class also produced standout athletes, including six headed to the National Football League, and students eager to help combat malaria, battle global warming, fight for social justice, and change the world.
Faust returned to her message from Harvard's rainy 2012 convocation when she and others urged the then-incoming freshmen to connect, and make Harvard part of their narrative. "Take risks, we told you. Don't always listen to us."
On another cloudy afternoon just two days before their graduation, she urged them to continue to push past their comfort zones, to look beyond Harvard's long and successful narrative in order to "locate the discomfort, to act on the restless spirit of that legacy."
Frame your own narrative, Faust told them, something for which their Harvard education has uniquely prepared them. Be "mindful of others," but never allow others to dictate your story, she said, calling to mind the words of the late Rev. Peter J. Gomes, who was Plummer Professor of Christian Morals and Pusey Minister in the Memorial Church: "Don't let anyone finish your sentences for you."
"Telling our own stories is not just about us," Faust said. "It is a conversation with others, exploring larger purposes and other worlds and different ways of thinking. Only by knowing that other stories are possible," she said, "can we imagine a different future."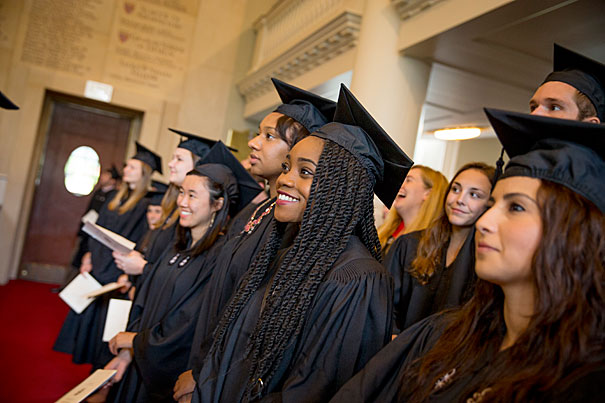 As with any great story, the historian and author said revision is key to the process. "Keep revising," Faust urged her listeners, encouraging them to rely on their liberal arts education to rework their story lines beyond Harvard's gates. "The best education prepares you because it is unsettling, an obstacle course that forces us to question and push and reinvent ourselves, and the world, in a new way.
"So congratulations, Class of 2016," Faust concluded. "Don't forget from whence you came. Change the narrative. Rewrite the story. There is no one I would rather trust with that task."
Afterward, Allejah Franco, a history and literature concentrator, said Faust's call for seniors to write their own stories helped him to feel more confident about his future. The Winthrop House resident said he eventually wants to attend law school, but his immediate plans point toward something else entirely.
"I want to take a detour," said Franco. "I am going to go to Japan for at least a year, work as a translator, and just explore that route of life, and write my own story that way."
Baccalaureate Service — May 24, 2016 | Memorial Church
Professor Jonathan L. Walton and Harvard President Drew Faust speak during the Baccalaureate Service for the Class of 2016 inside Memorial Church.