Popular cartoonist, children's book writer, and songwriter Sandra Boynton will present a fast-paced audiovisual retrospective of her work on Tuesday. This talk, titled "The Pursuit of Hipponess," is part of the Harvard Graduate School of Education's (HGSE) Askwith Forum series.
Originally known for her offbeat greeting cards — one of which ("Hippo Birdie Two Ewes") may be the best-selling birthday card of all time — Boynton has gone on to create more than 50 best-selling books, many of them for young children. She is also a Grammy-nominated record producer, with three of her albums certified gold and "Philadelphia Chickens" recently certified platinum.
Boynton grew up in Philadelphia, and attended kindergarten through 12th grade at Germantown Friends School, a Quaker school where her father, educational publisher Robert W. Boynton, M.A.T. '47, taught English. She received her bachelor's degree in English from Yale in 1974, and went on to study drama at the University of California at Berkeley and the Yale School of Drama. Boynton has four children with her late husband, writer Jamie McEwan.
Her talk will take place at Longfellow Hall from 5:30 to 7 p.m. The event is open to the public, and will also be live-streamed.
Boynton spoke with the Gazette about her career and the upcoming talk.
GAZETTE: Could you summarize what you'll be speaking about at HGSE?
BOYNTON: I'll try! It will be a somewhat free-form slideshow of my work over the past 40 years. I'm also going to preview two tracks ("Rat Race" and "Tyrannosaurus Funk") from "Hog Wild," the new record album I'm working on. No one anywhere has heard these songs yet, so this will be a sort-of world premiere. And I'm going to also show a musical short film that I wrote and directed in 2009: "One Shoe Blues," starring B.B. King, and attitudinal sock puppets. After my talk, I'll be sitting down with HGSE senior lecturer Pamela Mason, and we'll talk more directly about questions of education and pedagogy. And then I'll take hostile questions from people in the audience who are angrily opposed to cartoon hippos.

GAZETTE: How did a Quaker upbringing influence your art?
BOYNTON: It can't really be quantified. It's just how I grew up. The things that I think of being at the heart of Quaker education are non-violence, and a sincere valuing of the individual. I hope these are also at the center of the upbeat and kind of offbeat work I do. I'm certainly grateful — beyond grateful — for the school I went to, and for the wonderful family I grew up in.
GAZETTE: Why do you think your work is so popular?
BOYNTON: I don't really know. I just make things that I like making, and that have value and interest to me. I'm delighted that what I create resonates with other people. I'm so lucky to be able to do this for a living. I'm pretty much a professional kindergartner.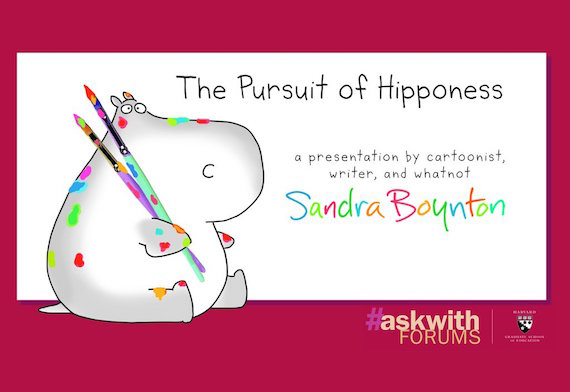 GAZETTE: Your breadth of work hits all the marks — writing, illustration, music, video director/creator. Was this a planned path, or one that simply evolved as your interests grew?
BOYNTON: Much to my parents' dismay, I was never much of a "planned path" sort of person. I pretty much go where my curiosity and my cheerfully contrarian nature lead me.
GAZETTE: Your music projects have featured such varied artists as Meryl Streep, Brian Wilson, Darius Rucker, Kevin Kline, Blues Traveler, Alison Krauss, Ryan Adams, B.B. King, Brad Paisley, Kacey Musgraves, Neil Sedaka, and Dwight Yoakam. You even wrote and produced a duet with "Weird Al" Yankovic and Kate Winslet. How did you first approach all these artists, and what made them agree to be part of a children's album?
BOYNTON: I tend to write each song with a particular performer in mind. With my music production partner, Mike Ford, I create a tight demo, and then I send it off to the artist's manager. When artists like a song, they say yes. Admittedly, though, it can take a long time to get an answer at all!
GAZETTE: With your many talents, what would you consider your current passion?
BOYNTON: Absurdly dark chocolate.