The venomous tenor and bewildering twists and turns of this presidential election have led observers inside and outside politics to call it a historic, sea-change race that will be studied for decades. Long-held assumptions about how to win have been upended as celebrity businessman Donald Trump and Sen. Bernie Sanders, a self-described Democratic socialist, sit at or near the top of their primary fields.
When it comes to the business of reporting on politics, however, some things haven't changed. Every four years, complaints about the media's coverage of presidential elections routinely bemoan a perceived decline in substantive reporting and an abdication of journalism's watchdog role.
With roiling anger and distrust of the powerful animating voters in both parties, attacking the media has become an easy and effective political strategy. Every Democratic and Republican candidate still in the 2016 race has accused the political press of some sort of malfeasance: unfairly advocating for an opponent, pushing grossly inaccurate or misleading reporting, failing to challenge false statements or vague assertions, being overly solicitous of some while ignoring others, or focusing on food fights rather than policy ideas.
But some longtime political journalists say that while the profession certainly has its share of lapses, good and important work still is being done.
"I detect a real feeling of press failure in this election cycle," said Jill Abramson '76, a former investigative reporter and executive editor at The New York Times until 2014, during a recent talk at the Shorenstein Center on the Media, Politics and Public Policy at Harvard Kennedy School (HKS). "Why, when I turn on CNN, isn't there on-the-ground footage, more talking to voters, rather than just another set of people arguing? We can do better."
Abramson, who started in politics in 1976 covering the New Hampshire primary campaigns of former Ambassador Sargent Shriver and Sen. Fred Harris for Time magazine, now teaches journalism writing as a visiting lecturer in the English Department at the Faculty of Arts and Sciences.
"Especially in political reporting, a lot of what we the media focus on just … doesn't touch people, it isn't part of their daily concerns," she said. "Like many institutions in the country, the gulf between the citizenry and the press has become wider. I am telling you I've traveled quite a bit around the country. I went to many, many towns in New Hampshire: No one is talking about Hillary Clinton's email."
This is "maybe the most interesting presidential election I've ever seen," said CNN Washington bureau chief Sam Feist, who leads the network's political coverage. "There's something happening in this country that has caused an interest among Americans in this election. I'm not going to pretend to know what it is, but it's not restricted to the Republican side."
Feist batted down the idea that political journalism is withering during a separate Shorenstein talk about political news coverage last week. "There are a lot of people who think that journalism in America is broken, that we don't do our jobs. I would argue that we're actually doing our jobs as well or better than we've ever done," he said, later adding, "I honestly believe that political journalism has never been more important, and this election is a perfect example of why that is."
CNN's job is to provide the best information possible about the candidates to the public so voters can make informed decisions, not to foment or bridge the nation's growing partisan divide, he said. "It's not to push the country apart or to bring the country together — that's up to the country and to the voters," he said.
Feist countered criticisms that the network unfairly gave too much time and attention to Trump by airing lengthy phone interviews with him or showing his daily pep rallies live and uninterrupted, often at the expense of other candidate news. The extensive Trump coverage, he said, is a result of his unique willingness to do as many interviews as requested, unlike other candidates. ("We call; he says yes.")
"I think that taking candidate rallies unedited is actually a valuable service," giving voters who do not live in early caucus and primary states a chance to see them speak at length. "I don't think we should interrupt them in the middle of it to annotate what they say," he said.
Sam Feist: Media Coverage of the Election | Shorenstein Center

Sam Feist, who leads the production of CNN's campaign coverage and debates as Washington bureau chief and senior vice president, discussed the network's coverage of the 2016 election.
Turned off, yet still tuning in
While surveys find that public trust in journalism has steadily eroded in recent decades, the appetite for political news hasn't diminished. In fact, television ratings are up sharply this election cycle, especially for what are often predictable events: the debates between candidates.
The Republican primary debate last August on Fox News garnered 23.9 million viewers, an audience three times larger than the previous highest-rated Republican debate back in 2011. Several others have since eclipsed that high-water mark. Interest is also fueling ratings for the Democratic debates, with CNN's October discussion racking up 15.5 million viewers, up from the previous high of nearly 10 million. Even the so-called "undercard" or "kids' table" debates for second-tier Republican candidates had twice the ratings, with between 4 and 5 million viewers, of regular debates in previous election cycles, Feist said.
Over the last two weeks, CNN has hosted one Democratic and two Republican "town hall" events and will air three more primary debates in the next three weeks.
"The audience interest in those events will be higher than anything we've ever done in any previous election cycle, cable or network," said Feist, a 25-year CNN veteran. "So there's something happening with our politics; there's a fascination with this campaign, an interest in the candidates."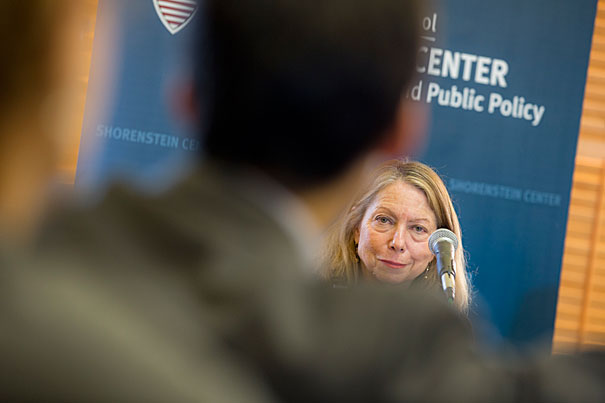 While the nature and metabolism of political coverage has changed dramatically in the digital age, there are some bright spots.
"I'm certainly not saying there's not quality political journalism," Abramson said, noting that some digital native organizations, such as BuzzFeed, cover politics in a serious and aggressive way. But she said that too many outlets still delight in the superficial — the horse race, poll numbers, gaffes, and other incremental, insider minutiae — over doing the kinds of deeply reported stories she loves, as contained in Richard Ben Cramer's classic book "What It Takes," which went behind the scenes of the 1988 presidential election.
Nowadays, the high cost to finance investigative reporting, and the increased competitive pressure to be first with the "news of the day," means most news organizations chase low-hanging fruit, she said. And as political campaigns have become more self-reliant and sophisticated about communicating with voters, it has become harder for political reporters to do exemplary work because operatives view journalism as a "gotcha culture" looking only to embarrass their candidates. "There's no trust."
"I'm an optimist about journalism. I just am frustrated because I think … journalists have a very protected place in our society, and giving the highest-quality information to the voters is the most important thing we do every four years," Abramson told the audience. "I would just like to see this deeper layer take hold."
Jill Abramson: Election 2016 – Is There Enough Quality Coverage? | Shorenstein Center
Jill Abramson, lecturer at Harvard and former executive editor of The New York Times, discussed the 2016 election and its coverage in the media – both problematic and promising.