At a critical point when the United States and other world powers are grappling with how best to halt the savage military and terrorist campaigns of the Islamic State of Iraq and the Levant, also known as ISIL and ISIS, Defense Secretary Ashton Carter was crystal-clear during a Harvard appearance, saying, "We have to defeat ISIL. We will defeat ISIL."
Carter returned Tuesday evening to the Harvard Kennedy School (HKS), where he was a faculty member from 1984 to early 2011, to talk with Graham Allison, director of the Belfer Center for Science and International Affairs, about the conflict in Syria and to pitch Harvard students on the many public service opportunities available in the military.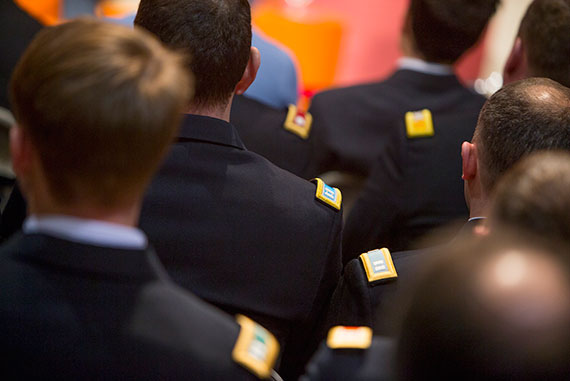 Earlier in the day, Carter appeared before the House Armed Services Committee to discuss new steps to combat ISIL that the U.S. military has taken in the weeks since the Paris terrorist attacks.
In addition to ramped-up airstrikes, Carter said in explaining those actions, a new "expeditionary targeting force" will operate on the ground, conducting raids throughout Syria and in Iraq where permitted by the Baghdad government.
"The objective there will be to take out ISIL leadership, to capture ISIL leadership, to rescue hostages as we've done, to collect intelligence, and to make ISIL wonder … when they go to bed at night, who's going to be coming through that window."
Stressing the importance that the war against the Islamic State be multinational, Carter said he had sent letters to his counterparts in various countries Monday seeking support and suggesting ways they can help in the effort. While France is "galvanized" by the Paris attacks and Britain just approved action against ISIL, support is a "decidedly mixed picture" across Europe and in the Gulf states, he said.
"The United States must lead in this fight, but we need others to go with us; we need others to do more."
During the session's question-and-answer period, Carter was asked how the United States would hope to remove Syrian President Bashar al-Assad without risking further escalation of tensions with Russia. Carter said that Russian airstrikes against various groups that oppose Assad, rather than ISIL, are "doomed to fail."
"The Russians got off on the wrong foot on this. They were doing something not only that was wrong-headed, but backwards," he said.
And while it is "pivotal that there be a political transition in Syria" that "must involve Bashar al-Assad moving on," Carter said, that must be done quickly and in a way that preserves whatever is still "decent and structured" in Syria so ISIL's defeat doesn't leave a political vacuum.
"We've learned from our 14 years in Iraq and Afghanistan that in order to have a lasting," positive effect following regime change, local forces must be involved early on, he said.
Carter was not asked by questioners to detail the proposed deployment of expeditionary forces or to comment on last week's announcement by a top NATO and U.S. commander that the Oct. 3 bombing of a Doctors Without Borders hospital in Afghanistan, which killed 30 civilians, was the "direct result of avoidable human error."
In thinking ahead to the next generation of military leaders and personnel, Carter made a strong pitch to Harvard students about the value of military service and the lesser-known opportunities open to those who don't see themselves on a battlefield but want to work on global issues of consequence.
A former physicist, Carter recalled that most of the technology breakthroughs that followed World War II originated in the United States and from within the Defense Department.
"Now, neither of those are true anymore. We still do a lot … but it's not like it used to be," he said. "Lots of things came out of defense. I can't recreate those days, but I can try to rebuild that bridge."
Carter hopes to find ways to get today's technology community interested again in partnering with the government, though he acknowledged that Edward Snowden's revelations about the U.S. surveillance program has hurt that effort. "We have to face up to that and try to rebuild trust, rebuild those relationships."
There's much work to be done in vital areas like cyber defense, where the United States is "still groping" for a better understanding of how to protect itself against attacks and espionage. There is also work to be done in managing and defending against violent extremism, and in the biological sciences, where Carter expects revolutionary advances will play a major role in the decades to come.
"Violent extremism is with us to stay — and I don't mean ISIL," he said. As power becomes more and more decentralized globally, he said, smaller and smaller groups will be able to cause far greater damage than ever before. "And if they're able to get their hands — even in small numbers — on hugely destructive weapons, that is a problem for society as a whole. I think that's part of our future, far into the future."