Much has been written about the value of second chances; do-overs offer great promise. Now here's more proof: a second plan for the renewal of Winthrop House, a do-over responding to the Winthrop House community, the Cambridge community, and the many people connected by heart and history to one of Harvard's oldest residential Houses.
The original plans, unveiled in February, called for "Winthrop East," a five-story, contemporary addition to Gore Hall. The revised plans still include the addition, but the contemporary shell has been replaced by a more traditional design in response to what the architects heard from the community.
"What came across clearly to us is that people don't think of this as a dormitory or a residence hall. They don't even use those words," said Elizabeth Leber, a partner at Beyer Blinder Belle, the project architects. "They think of these as houses, and more than anything else, they consider them homes. The architecture needs to convey a sense of home."
The challenge, said Leber, is "to maintain what you love about the past but still look forward to the future … to define what the student of today needs and what the student of tomorrow needs. … It's a delicate balance."
Stephanie Robinson, co-House master of Winthrop, describes it this way: "The architects did a phenomenal job of dancing with us, making beautiful music, hearing what we were saying, and really making it sing."
Winthrop House consists of two buildings, Gore and Standish halls. Both were built more than a century ago as freshmen dorms. "Winthrop East," the addition, will rise at Mill and Plympton streets. The new design envisions Winthrop East in brick, reflecting the style of the historical halls next door, but clearly facing the future.
"We don't want people to think this building was designed in 1910 or 1930," Leber said. "It is a building of our century."
The addition will bring home Winthrop House students now living in overflow housing on DeWolfe Street and provide additional space for House programs and social activities.
Within Gore and Standish halls, as in other renewed Houses, the redesign meets the "slipper rule," meaning students will be able to move across and between floors without going outside. Traditional vertical entryways, requiring students to go downstairs and outside before going back upstairs to the opposite side of the House, will be connected across floors.
Marissa Segala '17 said: "The idea that you can get anywhere in the House in your slippers without having to get dressed means I can just go downstairs and eat breakfast in the dining room as if I were home."
The dining hall will be bigger, so that every House resident can find a seat. Expanded terraces will be built at both Gore and Standish halls, and living quarters will be reconfigured to relieve pressures that have turned common rooms into bedrooms. Both Gore and Standish halls will have new front entrances with special touches such as gas fireplaces.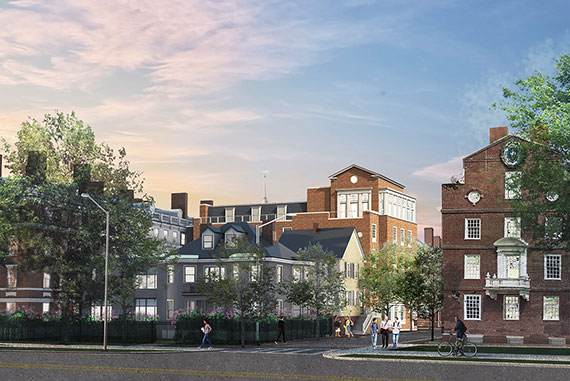 "Winter here can be such a huge bummer," said Segala. "It's freezing outside and I have a room on the fourth floor. When I imagine walking in my front door and sitting down in front of a three-sided fireplace, instead of going all the way upstairs to get warm, it's a comforting thing, and not something you think you'd be able to do in college."
Plans also relocate the residence of the House masters to a renovated and expanded 11 Riverview, with a large terrace connecting the residence to Winthrop East. The architects also are proposing a rooftop balcony with a Charles River view that Leber calls "the rooftop common room."
Student input is helping direct how the renewed spaces will be used for socializing, fitness, programs, and everyday living — including high-tech spaces, music practice rooms, and a new grill and café.
"The architects have been so awesome, really responsive to all the feedback," Segala said. "It's so promising that future students will have exactly what we need and want to use."
Co-House Master Ron Sullivan said: "There's been a healthy back and forth between the House masters, the students, the architects, and the University."
Jacob Carrel '16 praised the architects, House masters, and House and University staff, including Merle Bicknell, assistant dean in the Office of Physical Resources and Planning.
"Not only did they listen to our feedback, but they kept it feeling like Winthrop, which we really like."
If there have been different views on design or division of space, there is strong consensus around what shouldn't change at Winthrop House.
Robinson said: "What Winthrop has and always will have is spirit, a sense of community, feeling it's a home. There's great pride that's taken in living in that space. It's important that we keep the character and what is traditional and what is Winthrop and what is Harvard and be able to update that."
The students who live in Winthrop now, but who will graduate before construction even begins, are already plotting their return, via graduate school or another endeavor, to a renewed House where what they love remains.
"It's going to be amazing," said Marlee Ehrlich '16.