Promoting a global society that celebrates both its common humanity and its differences is the antidote to the world's deepening divisions, the Aga Khan — the worldwide spiritual leader of Shia Ismaili Muslims — said in a visit to Harvard Thursday.
"In every corner of the planet, the word 'fragmentation' seems to define our times," the Aga Khan told a packed house at the Memorial Church, citing "a more fragile European Union, a more polarized United States, a more fervid Sunni-Shia conflict, intensified tribal rivalries in Africa and Asia, or other splintering threats."
But the Aga Khan, a 1959 graduate of Harvard College who resides in France, said embracing an approach he terms the "cosmopolitan ethic" offered a way out of mounting polarization.
"A pluralistic, cosmopolitan society is a society which not only accepts difference, but actively seeks to understand it — and to learn from it," he said. "In this perspective, diversity is not a burden to be endured, but an opportunity to be welcomed."
As the 49th Imam of the Nizari Ismailis — a branch of Shia Islam — the Aga Khan leads a multi-ethnic community with members in Asia, the Middle East, sub-Saharan Africa, Europe, and North America.
Since assuming the hereditary role in 1957, when he was a 20-year-old College junior, the Aga Khan has engaged in global efforts to bolster the economies and the quality of life in developing nations, working through his Aga Khan Development Network.
"Leadership in the spiritual realm — for all imams, whether Sunni or Shia — implies responsibility in worldly affairs," he said.
His Harvard talk was part of the Samuel L. and Elizabeth Jodidi Lecture Series presented by the Weatherhead Center for International Affairs. This year's event was co-sponsored by the Prince Alwaleed Bin Talal Islamic Studies Program.
The Aga Khan's visit marked a return to a school where he has deep ties.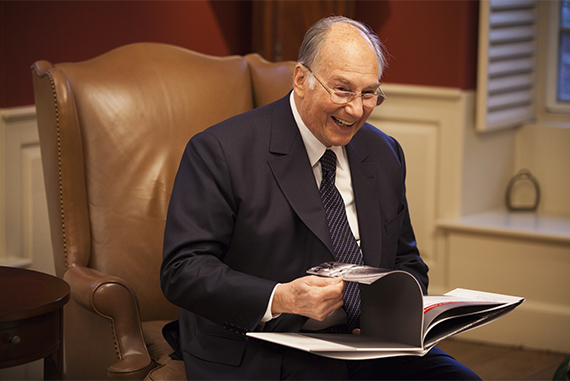 In addition to his bachelor's degree, he received an honorary degree from the University in 2008. He endowed the Aga Khan Program for Islamic Architecture at Harvard and MIT, and Harvard's annual Aga Khan Award for Architecture. His brother and daughter are Harvard graduates.
The Aga Khan said that since its inception, his development network has worked to expand opportunity through a "truly pluralistic outlook" that seeks to leverage the best experiences of local communities into an international program.
He said the network's early efforts coincided with a surge of international cooperation in the industrialized West, and a feeling that technological change "would bring us more closely together."
But while becoming more interconnected, the world "has also become more fragmented," he said, linking the increased pace of human interaction with wider conflict.
The Aga Khan suggested that the concept of globalization has compounded the discord by advancing a "superficial view of homogenized, global harmony."
But by following a cosmopolitan ethic, he said, "We can address the dysfunctions of fragmentation without obscuring the values of diversity."
His talk was peppered with references to his days at Harvard, including having been part of two Ivy League champion soccer teams. He also noted that the Jodidi Lecture Series began during his freshman year, though he could not recall attending one.
"I was probably having too much fun at Wigglesworth — or Leverett House — to venture out to something so serious," he joked.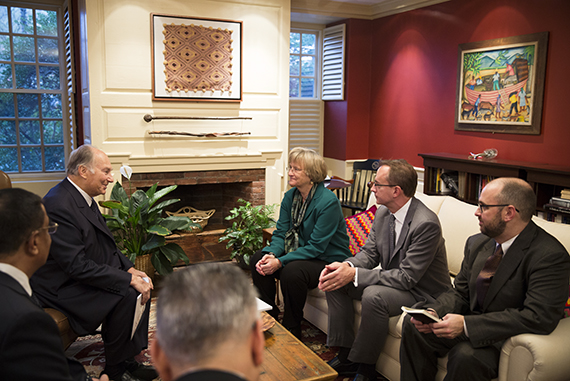 Michèle Lamont, director of the Weatherhead Center, said prior to the event that the Aga Khan's lecture "could not be better timed," noting that the center is shifting to a broader agenda that encompasses comparative global and transnational themes, with a focus on inequality and social inclusion.
She observed that it also came in a U.S. presidential election season that has seen a leading contender, Ben Carson, say that a Muslim should not be elected president.
"To the extent there is a lot of fear among the American population about Islam, his message is very much an antidote," Lamont said of the Aga Khan.