Death rates from heroin overdose nearly quadrupled in the United States between 2002 and 2013, when the number of people reporting past-year heroin abuse or dependence rose to 517,000, a nearly 150 percent increase from 2007. In 2014, the use of heroin and other opioids killed 1,256 people in Massachusetts, an increase of 34 percent over 2013 and 88 percent over 2012.
The Gazette sought insights across several disciplines for a three-part report on the crisis and new ideas for responding to it. Read the first part, on the science of addiction, here.

No more business as usual. As the death toll from overdoses rages on, a coalition of voices ranging from law enforcement to public health to academia is pushing policymakers to support aggressive new steps to boost intervention, prevention, and treatment for heroin addiction.
It's a regional commitment with much wider resonance. Last week during a Boston event, Democratic presidential candidate Hillary Clinton joined Massachusetts Attorney General Maura Healey and Boston Mayor Martin Walsh, himself a recovering alcoholic, to discuss strategies to halt the heroin epidemic.
Similarly, speaking Friday at a conference in Waltham on the public health and law enforcement response to opioid abuse, U.S. Attorney General Loretta Lynch '81, J.D. '84, promised that the crisis is on the Obama administration's front burner. She noted a new plan to monitor the dispensing of prescription drugs, stepped-up federal interdiction of drug trafficking, and a heroin task force that will provide Congress with a far-reaching plan to curb distribution by year's end.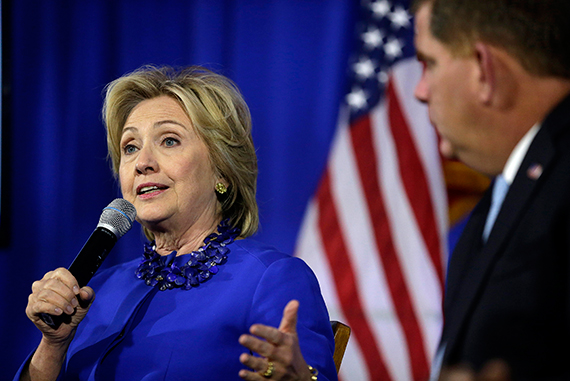 By and large, U.S. drug policy in the last 20 years has focused on disruption of the drug trade by law enforcement and punishment for users who commit crimes to support their habits. The surge of heroin overdoses across the country has prompted many police departments to reconsider how they deal with addicts. Once seen as a purely criminal problem, heroin addiction more and more is being treated as a medical issue, with police and prosecutors steering addicts into treatment rather than jail. Many public-safety officials now carry naloxone, an opioid antidote, to administer to addicts overdosing on the scene.
Efforts around addiction research and prevention, however, receive far less attention and financial support. Some say that's because prevention hasn't shown meaningful results. Others say that effective prevention efforts have been stymied by insufficient funds and misspending on flawed initiatives.
Of the tens of billions of dollars the United States spends annually to fight drug abuse, "only 5 percent goes to prevent — and it's crazy because it should be 80 percent," said John R. Knight, an associate professor of pediatrics at Harvard Medical School and director of the Center for Adolescent Substance Abuse Research at Boston Children's Hospital.
"What we've learned in the last 10 years about human brain development has been astounding, and that's that the brain continues developing through age 25," he said. "During this period, it's experiencing rapid growth and any kind of exposure to a psychotropic drug will influence the structure and function of the brain as it's developing, and the younger the age the exposure begins, the more profound the changes will be."
Annual screenings by pediatricians for alcohol, tobacco, and drug use during adolescence — when addiction usually takes root — can be "highly effective" in heading off future abuse, Knight said.
"The question is, from a policy standpoint, where do you want to put your emphasis? Do you want your emphasis to be at the top of the cliff, preventing people from joining the flow of lemmings going over, or do you want to be at the bottom of the cliff picking up the carcasses and patching them?"
The emphasis on treatment rather than prevention largely stems from the more tangible nature of treatment, he said.
"When you're preventing needless addiction and death, you can't count the numbers, you don't know how many you prevented from starting, and so it doesn't pull at your heartstrings in the same way" that treatment success stories do.
"Treatment tends to be glaring and it's right in front of us, and we've got to do something to stop the damage. People forget that for every one person who has a fatal overdose there are another hundred or thousand that are just starting to use," he said.
"There's got to be emphasis on prevention or we'll be doing cleanup forever."
Vicious cycles
Until very recently, the high cost of private treatment and the scarcity of state-provided beds have been significant barriers for addicts seeking help. But new changes to national health care laws are beginning to make some inroads.
"The Affordable Care Act and the Medicaid expansion, between them, paired with the [Mental Health Parity Act] from 2008, represents the largest increase in financing for drug abuse treatment in the history of the country, and that is well timed for heroin, which is the one drug we have a treatment for," said Mark A.R. Kleiman, M.P.P. '77, Ph.D. '83, a specialist in drug abuse and crime control policy at UCLA's Luskin School of Public Affairs.
Difficulty getting treatment combined with heroin's pernicious hold on users means that addicts often end up cycling in and out of the criminal justice system, committing nonviolent crimes such as burglary to support their habit, getting arrested, and then being placed on probation. When they re-offend or are caught using, most are given repeated warnings about jail time, a threat that rarely materializes, experts say.
"Traditionally, the criminal justice system has been completely backwards," said Kleiman. "They take heroin or other opiate abusers and they send them to drug-free counseling. There's a remarkably low success rate with that population. The standard of care scientifically is substitution, and yet most drug courts don't even allow methadone," even though it's proven to be effective, he said.
Although it's long been known that many heroin users can control their addiction through medically assisted treatments of buprenorphine or methadone, those approaches are often "underutilized" in favor of abstinence-based 12-step programs, said Knight.
"One of the reasons is that within the treatment industry you have a lot of counseling professionals who are themselves in recovery… and they're very well-intentioned, but some of them look at medication-assisted treatment as like a substitute addiction … and that's very unfortunate," he said.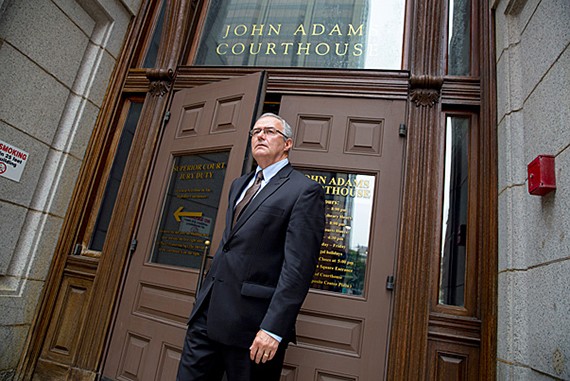 Among the options now being used more aggressively in Massachusetts to help addicts is "Section 35." Under state law, family members or law enforcement officials can seek to have users civilly committed if they are deemed out of control and refusing treatment. It's a strategy that has been around, but one that the state trial court system, which operates 22 drug courts, did not promote until the crisis onset.
"That has become an increasing book of business for the [trial] court as families are encountering their kids that are so deeply involved with heroin," said Massachusetts Commissioner of Probation Edward Dolan. "They haven't committed a crime, but there's got to be some level of intervention. They're not going to go voluntarily and so they petition the court, and the court is ordering people into treatment."
While the state Department of Public Health (DPH) maintains residential treatment beds, the trial court — which includes the probation department — is the pathway to half of the state-run beds. Dolan said the two agencies have been working closely during the crisis to better coordinate delivery of treatment and match addicts with available service options. The DPH conducts ongoing analyses of the state's flow capacity of addicts and treatment to help anticipate the heroin epidemic's scope, and directs resources to areas where they are most needed.
Glimmer of HOPE
One experimental initiative that appears to offer great promise to chronic heroin users is Hawaii's Opportunity Probation with Enforcement (HOPE) program. Launched in 2004 to reduce methamphetamine use in Hawaii, it's a coercive approach being tested by the National Institute of Justice in four jurisdictions, including Massachusetts. The program requires addicts to submit to unannounced drug screenings twice a week under the strict direction of the Probation Department.
Addicts must call in and if told to report, they must immediately appear to submit a urine sample that's tested for drugs. If they fail a test, don't show up, or are late for any reason, they are put in jail. So far, the program appears to reduce the number of days addicts spend behind bars and the number of repeat offenses. It shows signs of significantly curbing drug use much more effectively than standard treatment.
"So if you're late, you might spend the afternoon in the dock; if [a urine sample is] dirty, you're going to spend overnight in jail; if we chase you, you're going to spend a week in jail," said Dolan. "What we've observed site after site [is that] with the right kinds of controls — the randomized drug testing and the immediate response to noncompliance — it's stunning how people can stop."
Results from the state's use of HOPE with high-risk offenders over the past 2½ years support Dolan's sentiment. In Salem Superior Court, for example, 569 drug tests from April through June yielded only 44 positives, for a rate of 7.7 percent. In Worcester, 473 tests from May through Aug. 15 yielded 26 positives, a rate of 5.4 percent.
"It's stunning, it's stunning," said Dolan, who noted similar results in other courts around the state. He called this approach "the way to go."
"It turns out it's not the weight of the sanctions, it's the surety, it's the proportionality."
Kleiman, who is studying the efficacy of HOPE, which is based on pioneering research by criminologist David Kennedy, a former senior researcher and case writer at Harvard Kennedy School, agrees.
"The problem with most drug abusers is not that people can't restrain themselves, it's that they can't restrain themselves today for a benefit that's indefinite and somewhere in the vague future," he said. "They're plenty capable of restraining themselves to not be in jail tomorrow night. And once you've spent a year or so in your neighborhood not using, you've got new habits.
"I think it will be the standard of care 10 years from now."
Stepped-up testing and the readiness to swiftly execute sanctions come with increased costs and demands on probation staffing and training, Dolan cautions. And it's not an approach that works for every addict — some need heavier interventions and greater accountability.
But he sees promise for this and other probation actions against the epidemic in new funding in the state court budget for mental health services and more specialty courts, and in the $27 million plan unveiled in June by Gov. Charlie Baker to bolster the state's capacity to treat heroin and opioid addiction.
"It's all hinged on our ability to respond immediately," said Dolan. "That's all part of our social contract here. That's what makes it effective: There's a direct link between [an addict's] behavior and the system's response to it and it's guaranteed."
The third article in the series, on treatment and recovery, will appear next week. The first examined the science of addiction.