In April, thousands of protesters flooded Guatemala City demanding the resignation of President Otto Pérez Molina and Vice President Roxana Baldetti after both were implicated in a wide-ranging customs corruption scandal.
The march sparked a wave of nationwide demonstrations and signaled a watershed moment for a country scarred by civil war, violence, and corruption. Among the protesters was Claudia Escobar, a former appellate judge who joined the diverse group of students and seniors, business professionals and union workers calling for change.
"It was really something that you cannot imagine," said Escobar on a recent afternoon in a bright office in Radcliffe Yard. "You cry because you see all these people [saying], 'We don't want corruption anymore … justice now!' It was the most emotional moment for me."
Escobar missed the culmination of those demonstrations, in September, when Molina and Baldetti were arrested, and she will miss the election of a new president on Sunday. After criticizing the selection process of Guatemala's appellate and supreme court justices and going public with evidence of corruption late last year, she eventually decided to leave the country with her family for the safety of the United States. But her actions, many agree, were key in helping further expose corruption.
And she is still pressing for change. In Cambridge, as part of Harvard's Scholar at Risk chapter, Escobar will use her experience in her home country as a case study for a research project that explores how corruption is directly linked to lack of judicial independence. "I am very excited to have time to investigate that," said Escobar, the Radcliffe Institute for Advanced Study's Robert G. James Scholar at Risk Fellow.
Escobar knows significant change can take years and sacrifice. She watched her mother, a family court judge, lose her appellate position after refusing to rule for the son of a powerful official in a divorce case. "She knew that that decision was going to cost her her post," said Escobar, adding that she sensed that one day she too would have to choose between serving "justice or some other interest." It didn't stop her.
In 2009, Escobar and a group of colleagues began pushing for greater transparency and independence in the judicial system. They urged officials to overhaul the selection of judges, a process, they argued, that had become corrupted by special-interest groups. Five years later, the problem became more personal.
In 2014, with the selection process approaching, an old classmate stopped by Escobar's office with a politician from the ruling party and a proposal. Wary of their intentions, Escobar recorded the conversation. Their offer: If Escobar agreed to back the current vice president, Baldetti, as secretary of the party — illegal according to Guatemala's constitution — they would back her own nomination for the appellate court.
Escobar refused and was shocked when she was re-elected to her post a few days later.
"I was trying to understand what was going on. How did they elect me if I didn't grant them what they wanted?" said Escobar, who ultimately decided she was reappointed because "they didn't want me to talk."
But Escobar knew she couldn't keep quiet. She turned the tape over to the International Commission against Impunity in Guatemala, a U.N.-backed body tasked with investigating and prosecuting crime in the country. She then took her case to Washington, D.C., and the Inter-American Commission on Human Rights, a panel of the Organization of American States, and later to Europe, where she met with U.N. representatives. (Her protests even drew the attention of a Vatican official, who organized a meeting with Pope Francis last month.)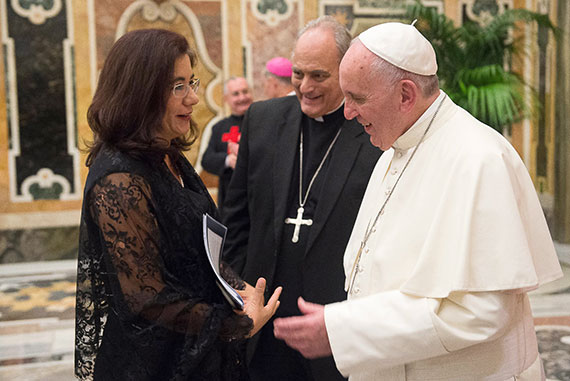 But despite her efforts, a high court in Guatemala ruled the elections fair at the end of 2014. Escobar stepped down from her appellate position in protest. She planned to continue as a judge in a lower court, but she was intimidated at work, she said, and feared for her family's safety.
"I realized I could not work [or live] in that environment."
With her in Cambridge during her fellowship are her 14-year-old and 5-year-old sons, her 21-year-old daughter, and her husband, an American who periodically travels back to work in Guatemala as a legal tax consultant. Her three other children, all in their 20s, live in Louisiana, which is also where Escobar went to school, at Louisiana State University.
Leaving Guatemala meant saying goodbye to her ailing parents and three sisters, and Escobar hopes to return someday. Still, she knew she had to speak out. When debating whether to release the tape, she couldn't stop wondering how she would feel in 10 years if she did nothing.
"To think that I could have helped make this change and kept it to myself."
Escobar is hopeful, but she knows that her country needs large-scale change. She told the pope during their meeting in September: "It's not only about a president that has to go to jail, this is a system that needs to be reformed."