"Looking into the eyes of someone facing death is one of the most powerful things a person can do," said Annette Nicolas, a Boston Theological Institute student enrolled in a hospital chaplaincy course at Harvard Divinity School (HDS).
Working with the elderly, Nicolas said she once locked looks with a dying woman in her 80s. "I didn't know what she was seeing in my eyes, but I knew she wasn't going to let go of my gaze, and I wasn't going to let go either."
Nicolas said that to be with someone in death is a beautiful, profound, and almost biblical experience. "I feel blessed to be in that position, and to also study spiritual caregiving at HDS."
Over the last three years, an increasing number of Harvard and Theological Institute students have studied at HDS with the vocational objective of caring for the spiritual needs of the sick and dying.
Chris Berlin, a hospital chaplain and HDS instructor in clinical chaplaincy, said there is a growing need today — especially as modern technology has prolonged the act of dying — for well-trained chaplains who can speak to the emotional and spiritual needs of the sick and dying in institutional settings. Berlin said that HDS prepares students to meet those needs by teaching them to befriend, listen to, and simply be with the sick and dying. "The human presence is a very healing thing," he said.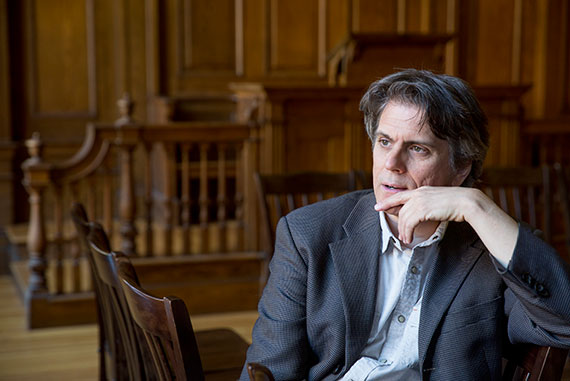 HDS students and their instructors also insist that facing death doesn't have to be gloomy or depressing. Instead, it can be emotionally rewarding, life-affirming, and even wondrous for both patient and chaplain, they said.
"Many of my patients have told me how they find gratitude in spite of their illness," said Sophia Lufkin, a first-year HDS student who recently completed an intern chaplaincy program in a cancer ward of a Boston hospital.
Walking past the gothic, hewn-stone buildings of the Divinity School, Lufkin explained that having a serious disease often prompts a person to step back from a hectic life and discover what is really important and meaningful ― usually his or her family and friends.
The 26-year-old Lufkin said that her experiences with the sick and dying have made her more grateful for the people in her life. "I have seen how quickly life can be taken away, and that has made me appreciate my relationships much more." Lufkin said her goal as a hospital chaplain is to help people find new hope and healing as they walk down an often dark and lonely path.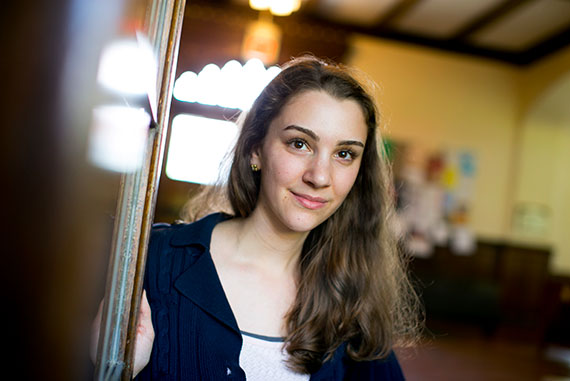 Wearing a full Muslim headscarf, blue-jean skirt, and tennis shoes, and enjoying a bowl of vegetable soup on a patio table in a bustling Harvard Square, Ann Myers, a third-year HDS student, said that her chaplaincy field training has been life-affirming, making her appreciate her friends and family more. But she admits that she might not be what some patients think of as a hospital chaplain.
Nevertheless, Myers — an American convert to Islam — said being a Muslim ministering mostly to Christian patients has not been a problem. "In fact," she said, "a lot of patients even thought that I was a nun. Some even called me sister." Myers laughed and said she usually didn't make a big deal about this until she was asked what convent she belonged to. "Then I had to come clean."
Myers said that as a hospital chaplain her biggest challenge was just walking into a patient's room for the first time. "How can I go into a total stranger's room and say, 'Hi, I'm Ann, a student chaplain, what do you think about God?'" The normally shy Myers said that she usually got through it by giving herself little pep talks before entering. "But sometimes," she admitted, "I just couldn't do it; much of it was rooted in my fear of rejection."
In the end, Myers said she learned that her fears were ill-founded because people were always grateful to talk to her. "But sometimes when I entered the room and told them I was a chaplain, I had to quickly follow it with: 'It's OK, I wasn't sent here because you're checking out soon.'"
Sarah Jabbour, a third-year HDS student, agreed that one of the biggest challenges a chaplain has is making that awkward introduction. "The quickest way to become unpopular with patients is to say you're a chaplain," Jabbour said with a laugh. But the introduction is made and conversation begins, Jabbour said, "It's amazing how much emotional and spiritual progress you can make with your patient."
Jabbour recalled visiting an elderly dying man, Larry, whose disease had paralyzed most of his body and prevented him from speaking. For a while, Jabbour said, Larry could make the thumbs-up, thumbs-down sign to answer yes-and-no questions. On their visits, Jabbour read the sports page to Larry, an avid sports fan. "And I learned more about baseball and football than I ever cared to," she said with a smile.
Jabbour said once when an old song, "You Make Me Feel So Young," filtered over the nursing home speakers, Larry suddenly stopped, pointed to himself, then to his heart, and then to her.
"Larry, are you trying to tell me that you care about me?" Jabbour asked.
Larry gave her a thumbs-up sign.
"I love you, too," Jabbour replied.
Jabbour said the moment made her realize how emotionally and spiritually healing just being in the presence of another person can be. "I learned that being a chaplain doesn't have to be more complicated than that," she said.
Ronald Hindelang, a bespectacled and grandfatherly-looking 73-year-old who is a full-time chaplain at Brigham and Women's Hospital, agrees. "A lot of times, new chaplains think too much when talking with patients," said the sagacious Hindelang, who trains HDS student chaplains at Brigham. "They believe they have to say certain prescribed things, but I tell them that less in more." Hindelang said sometimes it's best to let things speak for themselves, and allow patients to talk and sort matters out for themselves in front of the chaplain.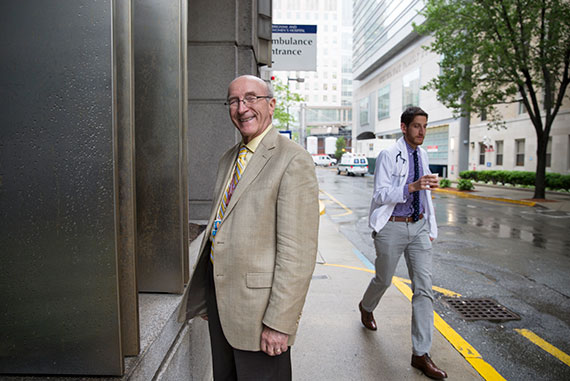 Winding his way down a busy corridor of the hospital, Hindelang said he tells his students that he is less interested in having a heavy theological discussion with a patient, and more interested in having a meaningful conversation. "Because I don't think many of my patients will remember whatever I said, but they will remember that I was there, that I cared for them, that I prayed with them, and maybe even cried with them," he said as he smiled and allowed a patient in a wheelchair to pass. "And in the end, they will hopefully remember that I was just a good companion with them for a while."
Berlin said he agrees that a good chaplain is always a good companion. As a companion to many patients over the years, he said that he has witnessed some pretty amazing things that might even be deemed miracles.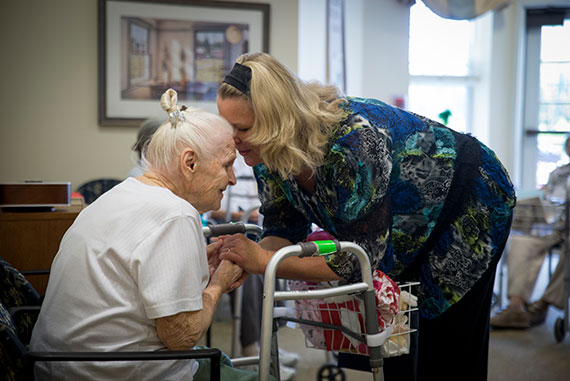 Sipping a black ice tea in the corner of a French Provincial-themed café on Massachusetts Avenue, Berlin recalled when a patient of his, Julie, a devout Christian, became increasingly depressed as her death neared. On his last visit with her, Berlin said her eyes suddenly grew wide and she looked at him in shock. At first, Berlin thought she was having a seizure, but she didn't look like she was in physical distress. Berlin asked her what was going on, and Julie said she was seeing Jesus Christ in the air behind him, radiating comfort and reassuring her that all was OK.
"And she kept on saying, over and over, as tears rolled down her face, 'Thank you, Lord Jesus. Thank you.'" Two days later, she died.
Similarly, Hindelang said he recalled a conversation he had with an atheist woman who was angry when her 4-year-old son, dying of a tumor, said that he had had a dream in which God told him that he was going to die, but he would soon be in heaven. Hindelang said the agitated mother insisted, "How could this happen? We never went to church. We never prayed. We never even used the word God in his presence."
Hindelang said he didn't say much. It's best, as he has told his students, that a chaplain sometimes lets things speak for themselves.
Anthony Chiorazzi, who has an M.Phil. in social anthropology from Oxford University, is studying for a master of theological studies degree at Harvard Divinity School. He has researched and written about such diverse religious cultures as the Hare Krishnas, Zoroastrians, Shakers, and the Old Order Amish.