It took a searing image of a 3-year-old Syrian boy who had drowned and washed ashore on a Turkish beach to put a human face on what analysts and human rights activists have been calling a humanitarian crisis for years.
The flood of refugees seeking asylum in Europe is not new. Over the last decade or so, millions driven from their homelands by ongoing conflicts in Afghanistan and Somalia, for example, have found respite in European nations, with varying success.
But the myriad challenges posed by the massive wave of new migrants fleeing war-torn countries like Syria and Eritrea and seeking asylum in Turkey, Greece, Hungary, and Germany, among others, has prompted widespread disagreement and confusion among European nations over how best to manage the unfolding tragedy and how the nations' actions will shape Europe's future identity.
Scholars discussed the historical antecedents and contemporary challenges this mass migration of refugees poses for the European Union during a panel held Wednesday as part of a two-day summit on the future of Europe hosted by the Minda de Gunzburg Center for European Studies.
Already, there are 4 million documented Syrian refugees who have fled Syria in overcrowded boats or made the treacherous journey over land to escape the brutal civil war between the regime of Bashar Al-Assad and the jihadi terrorist group ISIS, as well as other splinter groups. About 2.1 million refugees are now in Egypt, Iraq, Jordan, and Lebanon, with around 1.9 million registered in Turkey.
Although it's believed that far more people are undocumented refugees, border security estimates that about 500,000 people, more than half of them under age 18, have been displaced since January. At least 2,500 people have died trying to reach the West.
The photo of young Aylan Kurdi "was a wake-up call for everybody; it suddenly galvanized a sort of moral outrage which had been lurking for some time," said Jacqueline Bhabha, FXB Center director of research, professor of the practice of health and human rights at Harvard T.H. Chan School of Public Health, and Jeremiah Smith Jr. Lecturer at Harvard Law School.
Despite the recent recognition by many EU leaders that something must be done, Europe is still "very divided" over how to effectively manage the crisis. Case in point, Bhabha said, is the broad disagreement over which nations are welcoming refugees and which should welcome them, and how many they'll assist.
"The enormity in the disparity in responsibility and humanitarian engagement is, I think, really staggering," Bhabha said.
The idea that Europe needs protection or "fortifying against dangerous outsiders" has led to damaging policies aimed at refugees, including long and harsh detentions, children improperly housed with adults, and limited access to legal representation, she said.
"These are policies which are completely at odds with the principles on which Europe was founded after World War II," said Bhabha.
Also, the chaotic and disjointed response to the refugees has offered political cover for those who seek to fuel rising anti-immigrant hostility in Europe.
"Clearly, the ripple effects on the increased popularity of far-right parties in Europe are just going to be absolutely horrible," said Michèle Lamont, director of the Weatherhead Center for International Affairs and Robert I. Goldman Professor of European Studies and professor of sociology at Harvard.
"What is ongoing now in Europe is a collision of three different crises all at once, and to move forward you must deal with all three," said Jytte Klausen, Lawrence A. Wien Professor of International Cooperation at Brandeis University.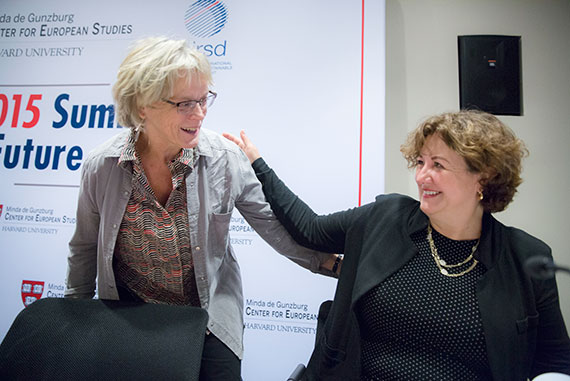 First, there is the immediate humanitarian crisis to grapple with — registering new arrivals, determining their precise status and needs. It's a tough task made even more difficult by the sheer size of the influx and the reality that no one truly has a firm grasp on the precise numbers of refugees, where they're coming from, or even why. Further, while the flow of humanitarian aid has been "extraordinary," it's still "insufficient" to deal with the volume of people arriving daily, said Klausen.
Second, there's a strategic crisis, in large part because there is no strategic doctrine to deal with global mass terrorism or other national security failures that cause this kind of global migration; no legal framework to capture, detain, or prosecute the 10,000-plus Westerners who are joining terrorist groups such as ISIS; and no process to coordinate a response within Europe so that nations aren't duplicating efforts or letting aspects fall through the cracks, she said.
"Meanwhile, everybody is sitting back and waiting for the United States" to take the lead, leaving a "vacuum" caused fueled by "a lack of imagination," Klausen said, referring to the term first used by the 9/11 Commission report to explain the failures that led to that terrorist attack.
"There was a complete failure to understand what the disruptions in the Middle East would mean in terms of the stability for Europe," she said. "We cannot stabilize the Middle East if the entire Middle Eastern middle class moves to Europe. Who will be left? The extremists, the peasants, the poor people who can't come out?
"The effort to put up borders right now is displaying a terrific degree of myopia. All you do is push people into another country, and then that's obviously in the long run not going to work out." Klausen said.
Lastly, because of the forces of globalization, the mass migration of refugees is a structural crisis many years in the making, she said. "I don't think it can be prevented. There is only adaptation and adjustment.
"Europe is faced with an urgent necessity to do exactly what most of the small countries in Europe do not wish to do — namely, to increase collaboration on the military front, to increase policing and domestic capabilities, [to create] an integrated police force [and] an integrated immigration and assessment of policy for the distribution of quotas," Klausen said.
Bhabha rejected the excuses proffered by some that sorting out the legitimate political refugees from the economic migrants and determining the nationality of stateless migrants is so monumentally difficult that relative inaction is justified.
"These problems are solvable," she said. "I do feel there's a whole political-will issue here about the resources we allocate, about the creativity we invest in solving the problems."