A week turns the Yard into a theater
It took a week to prepare Tercentenary Theatre for the thousands of people who gathered there for Commencement Exercises. Following detailed maps, staffers from the Office of Campus Services (OCS) staked and erected the white tents and began the elaborate process of assembling more than 21,000 folding chairs into rows laid out across the grassy expanse between Widener Library and Memorial Church for graduates, parents, and guests.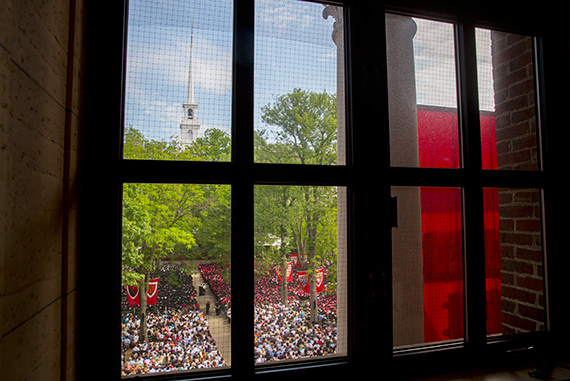 Beginning at about 3:30 a.m. Commencement morning, workers ran through one final check, counting and recounting, making sure all was in order. Most importantly, to ensure that all of the graduates had a place to sit, 10,000 more seats were stacked and stashed in various spots around the Yard, ready to be accessed at a moment's notice, an emergency cache that thankfully appeared unnecessary this year, said OCS staffer Paul Remeika.
Event staffers weren't the only ones out and about this morning at 3:30. Because tickets to get into Tercentenary Theatre are strictly limited, and many more family members, friends, and loved ones want to experience Commencement in person than can be welcomed into the finite space, every year some eager and enterprising attendees look for ways to improve their odds. Some scout out the Yard days in advance, buttonholing Harvard staff to ask how they can snag a better view.
— Christina Pazzanese
More-intimate ceremonies in the Houses
As graduates and their families cooled under the trees of Lowell House's graceful interior courtyard enjoying a light buffet luncheon of grilled chicken and cold salads, House Masters Diana Eck and Dorothy Austin talked about how Lowell is "not just a dorm," but a special, intergenerational community that they have all been privileged to call home.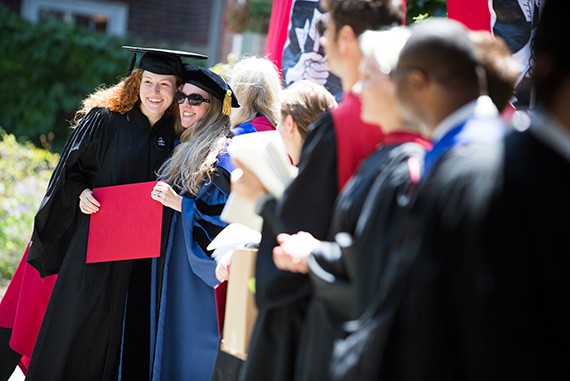 Following a single toll of a bell, the masters welcomed and conferred diplomas to each resident graduate, citing their concentrations and special achievements. In closing, Eck, the Fredric Wertham Professor of Law and Psychiatry in Society, read from a verse written for a recent graduating class. "We are waiting for you to do what you are going to do, and it is going to be wonderful. Stay young forever in the wild fields of your minds," Eck said. "And [Dorothy and I] would add: Come home again and again."
Clutching their Crimson-clad diplomas or handing them over to parents who insisted on gazing at them, many students smiled, looking a little dazed as they greeted their families after making their way through receiving line of House tutors and administrators.
"I'm completely overwhelmed," said Anna Hagen '15 of the swirl of Morning Exercises. "I thought it was a beautiful ceremony. I was in tears half the time." An English concentrator, Hagen is one of two Harvard students awarded a prestigious Marshall Scholarship this year. She will pursue a master's degree in contemporary English literature at the University of Cambridge and a second master's degree at the Royal Academy of Dramatic Art in England. Looking at her name on her diploma, Hagen said she hadn't been entirely sure the day would ever arrive. "I had a moment when I thought back to freshman year when I thought, 'I don't know if this will ever happen,' " she said, smiling. "And now it's real."
Related
"It's pretty awesome. I don't really know what I'm feeling right now," said Ariel Camperi '15, who will work as a software engineer at LinkedIn in New York City. Camperi said the strong sense of community and belonging at Lowell House has been especially meaningful for him. "It has absolutely shaped my experience here. It would not have been the same without it," he said. "I've met so many amazing people — amazing tutors, amazing friends. It's been an integral part of the experience."
Emotional after congratulating his son Ian, proud father Rick Hassett also confessed to feeling a bit overwhelmed. "It is just joyful — a beautiful day, amazing kids," he said gazing across the Lowell House scene. "I'm so proud of my son."
Unlike the soothing and familial atmosphere of Lowell, at nearby Winthrop House it was more about celebration. Resident graduates marked their diploma conferral with raucous joy as parents and students jammed together, snapping group photos, while onlookers relaxed under a big white tent, grateful to be shielded from the hot sun. Graduates breezed past the silver Straus Trophy, a cup marking Winthrop's longstanding dominance in intramural sports that was displayed prominently on the courtyard railing. As 2 p.m. arrived, the crowd rallied in preparation for a return to Tercentenary Theatre for the Harvard Alumni Association's Afternoon Program.
— Christina Pazzanese
And the oldest shall be first
One tradition of the Afternoon Exercises is the alumni parade, which features those representing the oldest classes at the head. This year, as last, out front for Harvard College was Robert F. Rothschild '39 of New York City, who turned 97 in January. "I'm going to keep on it," said the onetime physics concentrator of leading the long parade of alumni. Age has its advantages, said Rothschild, since "I don't have to go to the back of the line."
Representing Radcliffe College's oldest class at Commencement was Evelyn Kravitz Richmond '41 of Nashville, Tenn., who turns 94 on Saturday. She studied psychology as an undergraduate and holed up in in her own top-floor office in Boylston Hall to write her thesis. During World War II, she worked in a radar research laboratory. She later helped the anthropologist Margaret Mead research contemporary cultures in Manhattan, and won county political office in New Jersey.
One thing that hasn't changed over the years, Richmond marveled, is "that college feeling people have, that feeling about Harvard," inspired by band music and "the men in high hats" — the marshals — and even her own son's 40th class anniversary. When was she last at a reunion? "I don't remember the last time," said Richmond.
— Corydon Ireland
For mother and son, a clarion moment
At the Leverett House ceremony after Morning Exercises, new graduate Martin Santiago Molina Hernández received his degree and beelined for his mother, Nina. Amid the clamor, the two of them sobbed, clutching each other. Commencement is an emotional moment for parents and graduates alike, but especially so for immigrant families like the Molina Hernandez clan, who came to the United States 11 years ago and now reside in Wisconsin. "He has grown so much," Nina said proudly. "He really wants to make a difference and help out."
— Sarah Sweeney
From Hawaii to Cambridge to Disneyland
Families from around the world convene at Commencement, but sprightly Kulia and Hihimanu Montgomery traveled to Cambridge from perhaps the farthest point in the United States — Oahu, Hawaii — to see their sister Paoakalani graduate.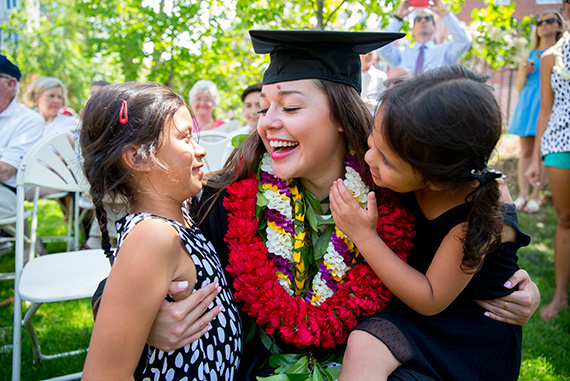 "I'm happy for her," said Kulia, 6, in between big bites of pastry.
"We haven't seen her in a long time," echoed Hihimanu, 4.
"But getting here was so boring!" declared Kulia.
There were some exciting parts, however — seeing Paoakalani's room in Leverett House, for one, said Kulia.
"Now we're going to Disneyland!" screamed Hihimanu. And nothing beats that.
— Sarah Sweeney
For a Sudanese father, a milestone
"Indescribable," is how Omar Mubarak felt seeing his daughter Fatima graduate from Harvard College. "It's a milestone," he said, standing outside Adams House. "I'm an immigrant, of course. I came here from Sudan, and it was my dream to have her go to an Ivy League school."
Fatima leaves Harvard now, but her father is keeping a reserve of emotion for his other daughter, a student at Princeton. "This is what I call the American dream," said the lawyer, who now lives in Virginia. "It's not a big house … It's how to succeed with your kids."
— Sarah Sweeney
Goodbye from a Quincy staff member
At Commencement, graduates are of course at center stage. But behind the scenes are the unsung heroes like Wilmar Henriquez, a custodial staffer inside Quincy House. He watched Quincy's courtyard ceremony during a quick respite in the shade.
Over the graduates' three years living in the House, he has grown to know quite a few. "I just said congratulations to everyone," said the native of Honduras. "I feel a little like their parent."
Henriquez did not attend college. Now the father of one, with another on the way, he hopes his children eventually attend Harvard. Asked what advice he would tell himself at 22 years old, the average age of Harvard seniors, he replied, "I would tell myself to continue studying."
— Sarah Sweeney
Commencement through city manager's eyes
During the morning's festivities in the Yard, Cambridge City Manager Richard C. Rossi reflected on the history and tradition of Harvard's Commencement ceremony, and lauded one of the University's forward-looking, environmental initiatives. As photographers waited in front of Massachusetts Hall to capture the annual group picture of the honorary degree winners, Rossi took a moment for another kind of photo op, striking a quick pose on one of the Harvard University Police Department's electric, three-wheeled vehicles.
The Daily Gazette
Sign up for daily emails to get the latest Harvard news.
"This is great," said Rossi of the T3 Patroller, which has a maximum speed of 20 mph and can go up to 12 hours on a full battery charge. "It speaks to some intelligent ways to conserve energy."
Rossi praised Harvard's "wonderful tradition" of Commencement, full of energy and feeling, and the special guests from around the world. During his daughter's graduation from Harvard in 1995, he said he and his son met that year's Class Day speaker, baseball legend Hank Aaron. Despite being a long-suffering (at that time) Boston Red Sox fan, Rossi said that meeting Aaron, who played most of his career with the Atlanta Braves (and was originally signed by the old Boston Braves) "was amazing."
— Colleen Walsh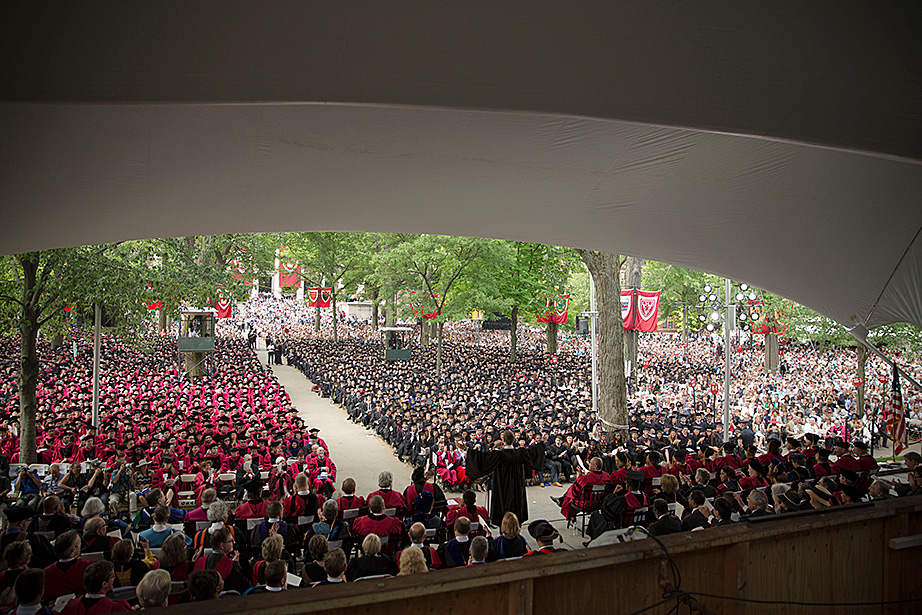 Learning to tend all creatures, great and small
After studying environmental science and public policy, Camara Carter '15 has what might seem like an unexpected path ahead of her: veterinary school. Carter will head to the College of Veterinary Medicine at the University of Georgia after graduation. But the Quincy House resident said her Harvard education offered her the perfect training to become an international wildlife veterinarian. She focused on environmental science, she said, because "you have to learn about the environments in which [the animals] live," to understand them.
Like many graduating seniors, Carter had the words "Black Lives Matter" taped to her graduation cap. "That's a part of speaking up for what has been going on in our country," she said. "I am supporting that effort." As she cheered for the dignitaries making their way into Tercentenary Theatre for Morning Exercises, Carter reflected on her four Harvard years. "I've learned a lot here," she said. "I've enjoyed my experience. It will definitely help me move forward in life."
— Colleen Walsh
Side by side by side by side
Twin brothers and Harvard graduates Christopher and Mark Fuller, both from the class of 2010, both history concentrators, both Adams House residents, and both members of the crew team, took a break from their duties, both as class marshals, for a quick bite to eat.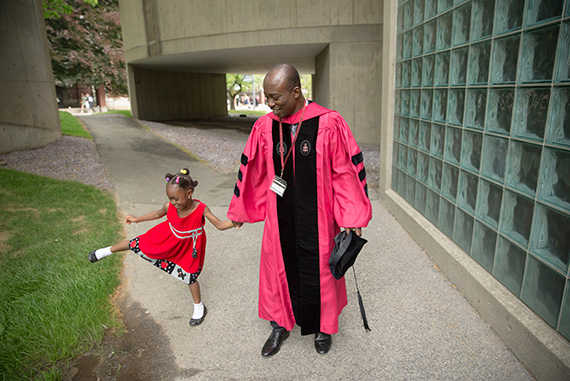 "Well, they give the fifth-year reunion folks almost no responsibility because we are young and impressionable, so we basically help direct people to their seats," said Christopher of their marshal role. "We are effectively air traffic controllers" added Mark.
"I have distinct memories of my father being a class marshal, growing up, and I always thought it was incredibly cool, so it's fun to continue the tradition somewhat," said Christopher. "The square has changed so much since we've graduated … but the feeling of the place really hasn't, and the excitement of Commencement really doesn't change."
One of their day's biggest challenges was keeping track of the conical top hats that come with the marshals' formal gray tailcoat attire.
— Colleen Walsh
For basketball player, four years in a blur
Steve Moundou-Missi, a graduating senior from Dunster House, could scarcely believe Commencement had arrived as he stood in line with his classmates in the Old Yard waiting to march into Tercentenary Theatre for graduation ceremonies.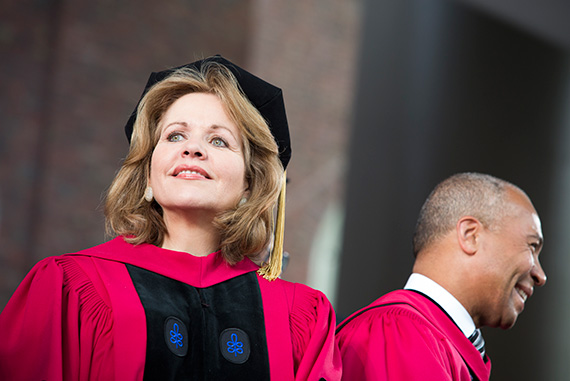 Though he is an athlete, Moundou-Missi said the week has been tiring, and exciting, with events that gave him a chance to socialize with members of his class for the last time — and even for the first time. "It's funny, I met a lot of seniors this week," said Moundou-Missi, a forward on the Harvard men's basketball team who plans to play professionally in Europe next year. "I'm overwhelmed. I'm excited. It seems like I was a freshman two days ago."
— Alvin Powell
A committed class with an activist streak
During Tuesday's Baccalaureate Service, Harvard President Drew Faust said the past year has been one of the most activist at the University in recent memory. Some students fighting for racial equality and against unwarranted police violence took their demonstration to the Commencement Exercises.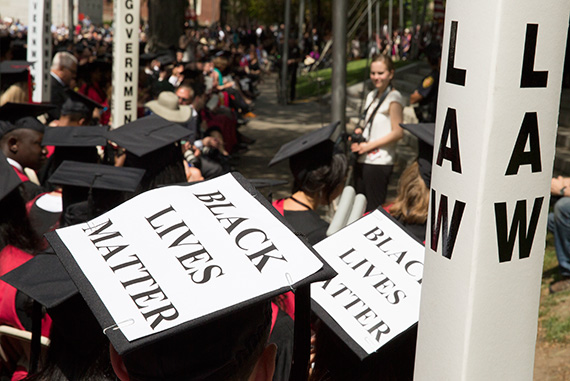 Among the thousands of students seated during the conferring of degrees were many whose mortarboards bore the message that "Black Lives Matter." Drew Scott, an Eliot House neurobiology concentrator, said she paper-clipped the message to her cap to make a statement that even students in a safe and somewhat privileged environment like Harvard's know the issue is important. It's a message that people in the Commencement Day audience should hear, she said, and one that shows solidarity with those far away.
"I felt it was necessary to make the statement that students here … sympathize with other members of the black community elsewhere in the U.S.," Scott said. "We wanted to make our voices heard here on campus."
— Alvin Powell
Mortarboards become billboards
Draped in traditional cap and gown, it's hard for individuals to stand out in the sea of graduates. One way is to decorate mortarboards, which during the morning festivities displayed an array of objects, from the whimsical — pipe-cleaner halos (for Divinity School students), a folded dollar bill, and Mickey Mouse ears — to the socially conscious, to the symbolic plastic Lego building blocks for Graduate School of Design students, to the seemingly random, like the red sign that said "You Are Here."
— Alvin Powell
So what's that smell, already?
The last business of the morning Commencement Exercises each year is the conferring of honorary degrees, which include short biographical sketches delivered by Provost Alan Garber, followed by poetic intonations offered by Harvard President Drew Faust as she confers the degrees.
Each year, a few of those descriptions are playful, typically those of honorary degree recipients who are members of the Harvard community or are from rival Ivy League schools. This year was no different.
"What's that smell?" asked Garber, setting the audience laughing as he began one introduction. He then told them they should ask Linda Buck, a former Harvard Medical School professor who shared the 2004 Nobel Prize in physiology and medicine for her studies of the olfactory system, and through which "she discovered the sweet smell of success."
Faust picked up where Garber left off, intoning: "Aficionada of olfaction, pioneer in the perception of common and uncommon scents; her research on receptors has revolutionized what science knows of the nose, Linda Buck, doctor of science."
— Alvin Powell
The deans' Decembers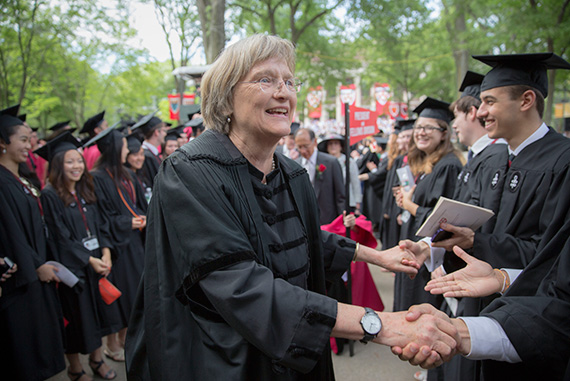 Harvard's Commencement Exercises hew to a strict script, with tradition and ceremony offering little wiggle room for personal notes or asides. But sometimes a little space is all that's needed. Part of the ceremony calls for the deans of Harvard's Schools to introduce their graduating students, which can allow for final public thank-yous to those who are departing.
Provost Alan Garber gave a verbal hat tip to a trio of outgoing deans: Julio Frenk of the Harvard T.H. Chan School of Public Health, who is beginning a new adventure as the president of the University of Miami; Harry Lewis, who served as interim dean of the School of Engineering and Applied Sciences, adding to his prior service as dean of Harvard College from 1995 to 2003; and David Ellwood of the Harvard Kennedy School, who will step down on June 30, ending his tenure as the University's longest currently serving dean.
— Alvin Powell
Crashing the party, with cymbals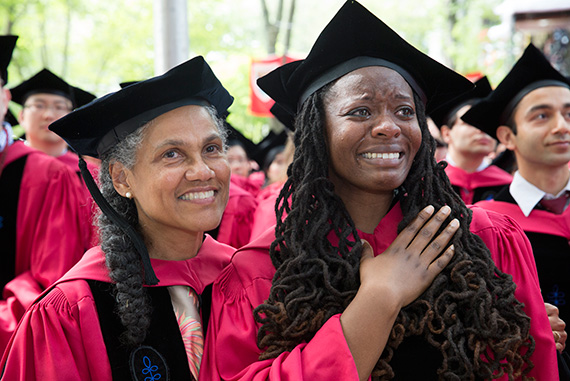 Latonya Wright of the Class of 2000 doesn't let the distance between Harvard and her home in North Carolina, where she works as a grant manager at a community foundation, stop her from making a big bang during Commencement. A former member of the Harvard University band, Wright returns to Cambridge regularly to play the cymbals with the group.
"They make it so much fun to come and play," she said.
Though she didn't play an instrument when she arrived at the College, a friend and flutist assured her, "they can find you something." They found her a signature sound. The cymbal flourish is part of all the big songs of the day, including "Veritas," and a particular line of "Ten Thousand Men of Harvard."
"Every time you hear the cymbals, it's me," said Wright, who stands slightly removed from the rest of the players seated under a tent by University Hall. The reason: one year she blew out a microphone with an enthusiastic crash.
— Colleen Walsh
To start, a pensive visit to Memorial Church
As is customary, Harvard's official Commencement ceremonies kicked off for graduating seniors inside Memorial Church with a brief service of prayer, song, and reflection, as well as comments from Plummer Professor of Christian Morals and Pusey Minister in the Memorial Church Jonathan Walton.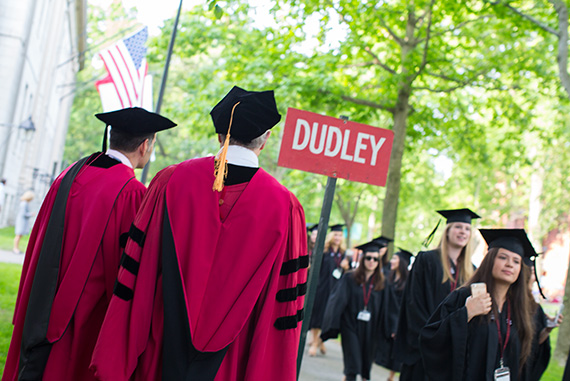 In what has become a tradition, Walton took a minute before his address to take care of "a serious matter," capturing a picture with members of the Class of 2015 behind him. "This is actually pretty good," said Walton of his selfie. "This one would look good on Instagram."
In his remarks, Walton urged the soon-to-be graduates to use their Harvard experience to fuel their careers, goals, and dreams, and to help shape a culture of inclusion and equality.
"We need you to be thermostats not thermometers. We need you to dictate and determine culture as opposed to just reading and reflecting culture. . . . We need you to imagine, imagine a world where we understand that it is not enough to give charity, but rather we assume as our duty to see to it that we build a society where charity will not be necessary, where no sick person will go untreated, no hungry child will go unfed … this is what Harvard College has provided you, not simply a place to learn, but a place to think great thoughts, a place to dream, a place to build air castles furnished with the hopes and aspirations of the future."
— Colleen Walsh
The czar was ready, with hat, phone — and coffee
On the steps of Memorial Church, in the shade of an immense Commencement canopy, Jason Luke '94 — like a sea captain at the wheel — faced a sea of 21,000 chairs. The onetime English concentrator is associate director of custodial and support services at FMO, but at Commencement Luke is better known as the event's czar — the king of chairs, tents, canopies, loudspeakers, grills, water coolers, and trash bags. With Luke were his three seasonal necessities: a crumpled safari hat, a cellphone, and an outsized Styrofoam cup of coffee. "It's a toss-up," he said of the coffee and the phone. "I don't think I could get by without either one."
— Corydon Ireland
A Harvard education "keeps you healthy"
During Commencement 2015, the happiest of occasions, Thomas Everett Black '66 roved through Harvard Yard on smile patrol. He directs the Happy Observance of Commencement Committee, whose members fan out into the crowds on the big day, decked out in tops hats, tuxedo jackets, and striped pants. Smoothing the way for everyone there, he said, includes pointing out where the bathrooms are.
Year to year, not much changes, said Black, who lives in Weymouth, Mass., and is retired from the financial services industry. But older alumni seem spryer than ever. He attended the 25th reunion of his father's class in 1963, the year the Class of 1913 was celebrating its 50th anniversary. They were all "doddering old men," said Black. But look at the Class of 1965, in town for its own 50th. "These guys are all vigorous," he said. "There's something about a Harvard education that keeps you healthy."
— Corydon Ireland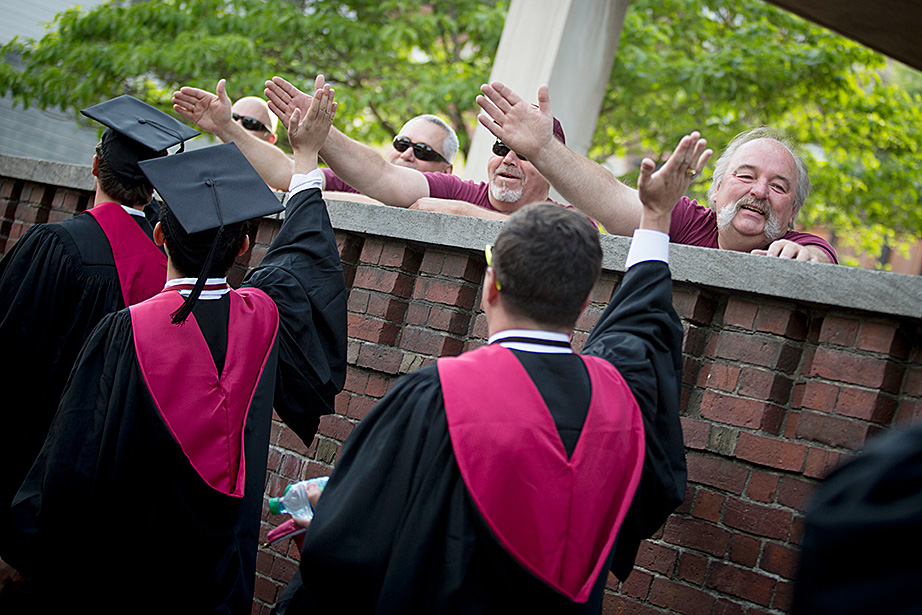 A parade of Houses, with piper and brass
Long lines simmered at the gates by 6:30, and guests were pouring in 15 minutes later. Among the first were about 50 ushers, boys and girls from Boston Latin School. Soon after, residents of each House processed into old Harvard Yard behind banners held aloft. Mather was first, led by a red-faced bagpiper in a kilt. Leverett opted for a jolly brass band. Dunster followed with a New Orleans-style combo: tuba, banjo, clarinet, snare drum, and other noisemakers guaranteed to wake the sleepiest senior.
Tiago Pereira, a five-year staffer with Facilities Maintenance Operations (FMO) and a native of Brazil, stood to one side and watched the Class of 2015 walk past. "They have a lot to look forward too," he said.
— Corydon Ireland
First, make sure there's no harm
Reflecting the realities of the modern age, as with every recent Harvard Commencement, the first visitors admitted through the gates were dogs trained to sniff out bombs. They and their handlers arrived late Wednesday evening, hours before guests start lining up at the gates. (Today's crowd inside Harvard Yard topped 35,000.) "People forget this is an overnight operation," said Francis D. "Bud" Riley, chief of the Harvard University Police Department — and it's a big operation, too. His entire force was on duty. By 6 a.m. most officers were gathered outside Boylston Hall to get their final orders. With them was a knot of paramedics. The crowd in front of Boylston Hall was nearly all police officers. All else was quiet. Even the John Harvard Statue — reputedly the third most-photographed American icon — was alone.
— Corydon Ireland