With the goal of exploring the connections between diversity and civil rights, racism and social justice, a thoughtful conversation has begun.
That conversation, difficult as it may prove to be at times, was the topic of "Ferguson and Beyond: Educational Strategies to Address Racism and Social Injustice," an Askwith Forum held Monday night at the Harvard Graduate School of Education. (GSE). With a panel that included educators, administrators, and a parent activist, a full house at Longfellow Hall examined practical ways to bring this difficult dialogue forward in schools, homes, and institutions like HGSE.
"We are a remarkably diverse country," said GSE Dean James E. Ryan, the Charles William Eliot Professor of Education, in his opening remarks. "And yet our schools are markedly separated." Introducing the forum, which had been postponed from January due to bad weather, he said, "Our hope is that the conversation will help us more fully understand and realize the strength of diversity and to put that strength to work."
Although the recent shootings of black men have made headlines, the topics of race, equity, and social justice have long been central to the work of panelist Tiffany Anderson, superintendent of the Jennings, Mo., school district. Talking about the need to build trust, both with students and with the community, she said, "I believe that social justice is something you talk about all the time." Indeed, it is a subject that has been central to her 18 years as an administrator in Missouri and previously in Virginia.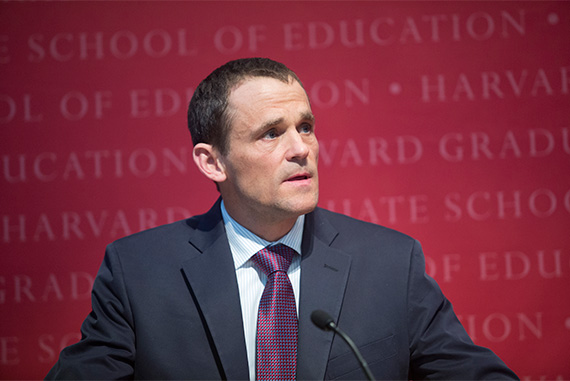 That doesn't mean it's an easy topic, of course. Ni'Cole Gipson, a parent and social-media activist from Florissant, Mo., did not relish having to explain racism to her 10-year-old son (who was present on Monday) — why, for example, "he might be the first in a group of kids to be blamed for something." For Gipson, the focus was on the children left adrift by the crisis in neighboring Ferguson.
With many schools closed, she explained, "Our kids were left at home, watching the news. There were no resources for them." In response, she helped found Parents for Peace, a group that welcomed children, first in the Ferguson library and then in other public spaces, providing educational material, donated food to make up for missed school lunches, and, most importantly, structure. "We needed to find a positive way to love and support each other," she said.
In St. Paul, Minn., they call these discussions "courageous conversations." School administrator Valeria Silva instituted them as a way to approach a systemic problem. "[What] they gave us was a framework," she said, "A vocabulary" that allowed students, teachers, parents, and community members to voice what many feared ― questions like, "Am I racist? How can I change?"
Silva, who emigrated from Chile, presented an unusual perspective on race, one that shows both how mutable and how subjective it is. "One day [in Chile], I was a white person," she said. "And then I came into Minnesota and I was a person of color."
Once the topic of racism has been broached, the panelists agreed, there are many possible approaches.
Anderson talked about focusing student anger, frustration, and confusion. In the wake of the Ferguson violence, she related meeting with students and assigning them homework, concentrating on achievable goals. The practical ideas they came up with — asking for body cameras on police, for example — helped them focus and helped the community, too.
Intervention and awareness also can be called into play against the kind of smaller-scale, subtle attacks known as micro-aggressions. When he was a principal in a Pittsfield, Mass., high school, Tracey Benson said he witnessed and confronted these subtle manifestations of racism.
All of the students, he explained, tended to congregate in the hallways between classes. But when teachers were asked to clear the halls, they invariably moved on the groups of African-American students first. This happened "eight periods a day, every day," he said, noting he himself was guilty of it. The result? "Self-esteem is affected." The singled-out students were "getting more upset, and they're more likely to get more combative." Plus, he added, "You're teaching the white kids that the black kids are up to no good."
Ultimately, the panel agreed, communication is key to bridging differences. "If we don't embrace the new diversity, our kids miss out," said Gipson.
As Silva explained, students "need to be able to see that the conversations we're having are not about the shame and the blame, but [about] giving you tools to talk about what history has developed. We have the kid for 6½ hours a day; let's give them hope."