A Nobel laureate who has been called the conscience of Nigeria told a Harvard audience on Wednesday that ruthless Islamist religious fundamentalism is "the enemy of humanity."
"They do not want to reason — they kill," said playwright and poet Wole Soyinka, urging vigorous international action against Islamist militant groups like Boko Haram, whose campaign of terror in northern Nigeria has included the kidnapping of thousands of women and girls.
"We've reached a state where there's a party of life and a party of death," he said, and those on the side of life must fight for their belief "as ruthlessly" as the foe they face.
Soyinka, a former political prisoner who became in 1986 the first black African to win the Nobel Prize in literature, spoke at the Barker Center in the wake of a historic vote in Nigeria. In a general election at the end of March, opposition candidate Muhammadu Buhari, former military ruler of the country, prevailed over incumbent President Goodluck Jonathan by more than 2.7 million votes.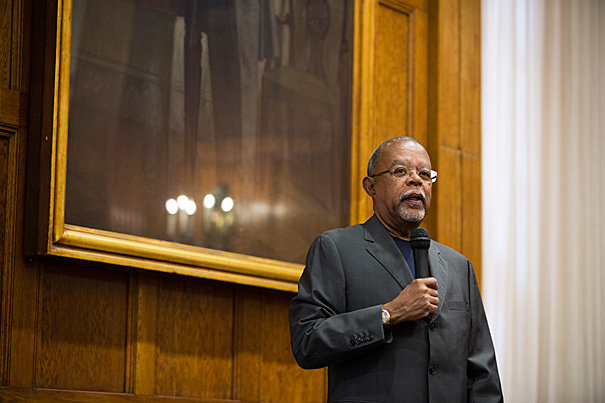 When Jonathan conceded defeat, it marked the first time an incumbent president had been voted from office via the ballot box in Nigeria, Africa's most populous country, with the continent's largest economy.
Soyinka, an outspoken campaigner for human rights as Nigeria's pre-eminent public intellectual, was invited to give his perspective on the political landscape of a nation troubled by a history of military dictatorship, corruption, and civil strife.
His talk, "Predicting Nigeria? Electoral Ironies," was hosted in the Thompson Room by the Hutchins Center for African & African American Research, the Department of African and African American Studies, and the Center for African Studies.
"It will not be easy to enthrone democracy as the norm," Soyinka said. "This [won't] happen in my lifetime, I'm sorry to say, but definitely we must assist the coming generation by reducing the handicap. This happened in Nigeria when, for the first-ever time, an incumbent president was unseated" by popular vote ― "even though," he quipped, "we had to use a dictator."
The newly elected president formerly led the country as a military strongman. Installed by one coup in 1983, deposed by another in 1985, Buhari brought an iron hand to what he called a "war against indiscipline" during a 20-month rule remembered for strict anti-corruption measures but also for human-rights abuses.
From the audience, Walter Carrington '52, J.D. '55, former U.S. ambassador to Nigeria, asked how optimistic Soyinka was at the prospect of Buhari's presidency. Given the former general's "frugality, honesty, and opposition to corruption," Carrington asked, was it possible that Buhari "might become for Nigeria what someone like Lee Kuan Yew became for Singapore," a strong leader who does "what probably needs to be done" yet adheres to democratic principles?
"I'm very, very cautiously optimistic," Soyinka replied. He predicted that Buhari will be pressed by those around him to "keep his nose to the letter of the law," though "in his zeal to absolutely eradicate corruption," he might "take advantage of ambiguous areas" in the law and constitution "to empower himself to deal very ruthlessly and quickly with those who have robbed the nation blind."
In any event, Soyinka suggested, Buhari hardly can do worse than his presidential predecessors as far as posing a threat to the country's nascent democracy.
"I think that Buhari has a sense of history," Soyinka said. "He knows that he must make a mark, a very positive mark, on Nigeria to be able to live with himself, or die with a clean conscience." However, Soyinka stressed, "Make sure that Nigerians are not allowed to forget his past"; they should not "think that the messiah has finally arrived."
"I think we stay on guard [and] continue to do what has needed to be done for the past 20 years or so," said Soyinka, adding his hope that the next time he and Carrington meet, they will have occasion to "celebrate with a little glass of wine."
The Hutchins Center's director, Henry Louis Gates Jr., the Alphonse Fletcher University Professor at Harvard, is a former student and longtime friend and colleague of Soyinka's. He asked Soyinka to expand on a remark that Boko Haram, and by extension the fundamentalist group ISIS, could create a complete redistribution of power and boundary lines in West Africa.
"We will never get rid of Boko Haram," Soyinka replied. He described the jihadists who wish to impose Sharia law and ban Western learning across Nigeria as indoctrinated "fanatics who believe that if they die in the cause, they will go straight to heaven," where they "believe literally in the 77 virgins awaiting their arrival."
He said the "reconfiguration of West Africa could very easily have taken place if the army had not finally been assisted in the acquisition of new weaponry." He called for continued vigorous action against Islamist militants, citing the French destruction of North African al-Qaida arms in Mali. "This is what we do, everywhere," he urged.
"There's a kind of complacency that frightens me about many world leaders," Soyinka said. "Sometimes it's because they're balancing forces, in the Middle East and Africa."
Soyinka was introduced by Biodun Jeyifo, professor of African and African American studies and of comparative literature at Harvard, who said Soyinka's efforts as a champion of human rights had "stricken fear into the hearts of dictators" while inspiring millions of people in Africa and across the developing world who had never read his plays or poems.
Soyinka, who spoke under a large portrait of Theodore Roosevelt in a leonine voice that matched his shock of white hair, was welcomed with a standing ovation.