It's likely no surprise that digital media outlets are quickly capturing the worldwide sports audience. Websites and social outlets such as YouTube, Facebook, and Twitter regularly share the latest great catch or slam-dunk via video, tweet, or "like."
Yet television still has an enormous grip on millions of fans around the globe, in particular during live sporting events with international appeal, such as the Olympics or the World Cup.
"Television is still the best marketing platform for sports," said Marcelo de Campos Pinto during a panel discussion at Harvard Law School (HLS) on Tuesday, "not just because of its reach, but also in terms of the capacity of grabbing the highest percentage of the advertising markets throughout the world."
De Campos Pinto, who works with TV Globo, the fourth-largest media network in the world and the largest media production center in Latin America, said 70 percent of the revenue generated by the most recent World Cup in Brazil and the Olympic Games in London came from television broadcasting rights.
But that landscape is shifting, he added, and TV will have to adapt if it's going to keep up. "In order to survive," said De Campos Pinto, "TV has to live with the concept of TV everywhere. You must be able to channel NBC on a mobile device, in the subway, in the buses, in the taxis, at home, at work, everywhere. And it doesn't matter if you are going to use a laptop, an iPad, a mobile phone, or get access from the TV that is at the airport … we have to carry the signal through all and any kind of ways of transmission that are in existence at a given point.
"The big question mark here is when the shift of the revenues is going to move from the TV to the digital medium," he added. "I think that that will happen when the digital media becomes exclusive rights owners of the important sports competitions."
The discussion on the future of the sports business model was sponsored by HLS's Brazilian Studies Association and its Committee on Sports and Entertainment Law. The panel, moderated by Charles Nesson, the William F. Weld Professor of Law and co-founder of Harvard's Berkman Center for Internet & Society, included Harvard Business School's Richard P. Chapman Professor of Business Administration, emeritus Stephen Greyser, and sports law specialist and HLS lecturer on law Peter Carfagna.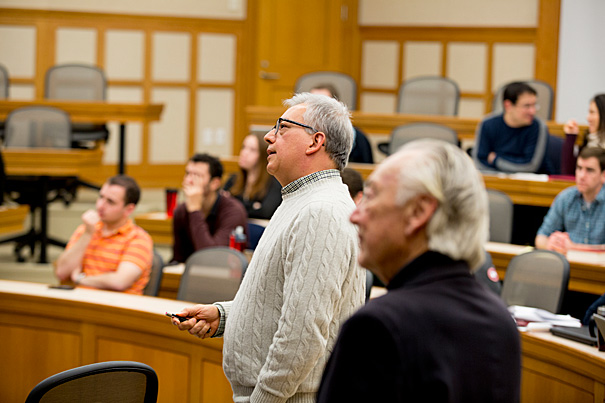 "What we're here for is the recognition that big sports is at a transition point," said Nesson, adding that the Internet's increased ability to follow "what's happening, what's about to happen, and what has happened [means] the question of the sports business model for the future is increasingly critical."
For panelist Marcel Pereira Marcondes, the marketing vice president for Anheuser-Busch InBev, a multinational beverage and brewing company, keeping up with that shifting business model has meant changing the company's approach to sponsoring major sports competitions.
During the 2104 World Cup in Brazil, Budweiser, the official beer sponsor, took over a five-star hotel in Rio de Janeiro adjacent to the famous Copacabana beach. The hotel became a key driver of social media content by hosting Bud-sponsored events and offering visitors access to an on-site Instagram booth and Facebook studio so they could instantly share their experiences with friends.
"We need to reinvent ourselves because suddenly we are not anymore a sponsor, we are not anymore a product," said Marcondes. "We need to become content creators, content producers, content generators, because it's not enough anymore for people to see our logo."
On Twitter, video clips have begun upstaging pithy tweets and are fast becoming a boon for fans and advertisers.
Glenn Brown manages Twitter Amplify, a partnership program with media companies that markets content to advertisers. Twitter launched a video campaign in 2012, partnering with ESPN and Ford. The companies provided embedded clips of college football games in Twitter posts that were introduced by brief Ford ads.
The expanding Twitter program hopes to capitalize on the second-screen trend of consumers who use another electronic device like a mobile phone or computer while watching television so they can instantly shoot a note to a friend after a big play, tapping into the excitement of sharing a sports experience in real time.
The idea is "hey, this big play just happened," said Brown, "and here's something to share with your friends."