The activation of German artist Rebecca Horn's installation "Flying Books Under Black Rain Painting" (2014) in the Harvard Art Museums began quietly, almost without the audience even realizing it.
One minute, the wall alongside the museums' Prescott Street entrance was just a plain white surface two stories high, from which a mechanical "painting machine" and three hardcover books protruded. The next minute, those elements were part of a kinetic sculpture: The painting machine's thin metal arm began moving from side to side, gently spraying black ink across the wall and onto the books, which slowly opened and closed at random intervals.
Approximately 50 observers — two dozen Harvard students among them — watched from the museums' lower level. Above them, on the "bridge" connecting the entrance to the first-floor courtyard, Horn monitored the gestures of the machine during her Nov. 5 demonstration. Throughout the activation, she was in conversation with her technician, who made adjustments as necessary from his position on a lift next to the painting machine.
The entire activation, which lasted about eight minutes, "was a very rare glimpse into Rebecca Horn's artistic process," said Lynette Roth, the Daimler-Benz Associate Curator of the Busch-Reisinger Museum. Horn does not often allow observation of her creative process, Roth said, but she made an exception for the installation of this site-specific work.
An internationally recognized contemporary artist, Horn is best known for her multimedial approach to art-making. Her work has taken the forms of drawings, performances, readymade and kinetic objects, installations, artist books, and films.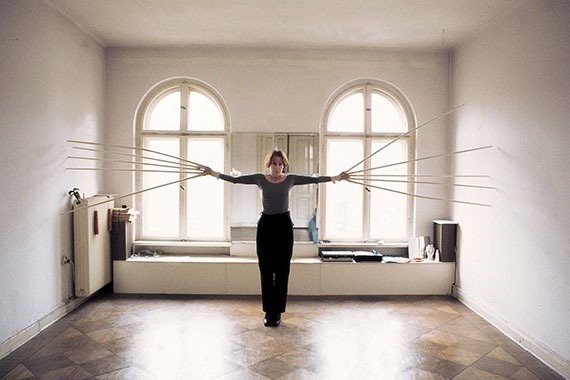 Beginning in the late 1960s, Horn created a series of performance art featuring "body extensions," wearable pieces for her close colleagues and friends that elongated or restrained parts of the body, such as the head and fingers. Examples of some "multiples" of these pieces, along with a selection of Horn's photographs and early films, will be on view in the University Research Gallery through April 2015, as part of an inaugural special exhibition titled "Rebecca Horn: 'Work in Progress.'" In addition, a public program of Horn's films will be shown in the museums' Menschel Hall.
"Flying Books Under Black Rain Painting" will likely draw the greatest number of new eyes to Horn's work at Harvard. The kinetic sculpture — the latest addition to Horn's "painting machine" series — is among the works in the museums' Art in Public Spaces initiative, meaning it may be viewed without the purchase of gallery admission.
Although Horn considered "Flying Books Under Black Rain Painting" complete upon concluding the activation, the work will continue to offer dynamic encounters with those who approach it; motion detectors will enable the installation to regain "consciousness," or resume movement — sans ink. It will remain on long-term display across from Chinese artist Ai Weiwei's video installation "258 Fake" (2011), making an interesting juxtaposition with Ai's digital images.
Students who witnessed Horn's activation said they left with a new appreciation for the creation of art. Robert Fitzpatrick '16, who is concentrating in the history of art and architecture, said it was the first time he had witnessed an artist producing a work for exhibition. "It was such a cool experience," he said, "especially since I usually study art that was made years ago by people who are no longer even alive."
Ege Yumusak '16, a neurobiology concentrator, described the event as "profound."
"To be here when it was created and to witness the work's movements was such a unique opportunity. Even though we'll see the kinetic sculpture continue to move, we'll never be in that inaugural instant again."
Horn was mindful of her student audience when planning the work. She said the three books in the installation — Fernando Pessoa's "The Book of Disquiet," Franz Kafka's "Amerika," and James Joyce's "Ulysses" — were chosen for their resonance both in a university setting and in her experiences as a student in Europe.
"Please read these three books," Horn said to the audience immediately following the activation. "Even though they are baptized now in black ink, they are very important to me."