DALLAS — In the face of mounting concerns about the cost and value of college, higher education continues to be the most effective route to economic and personal success, Harvard President Drew Faust argued during an address in Dallas today to nearly 500 high school students, teachers, and guidance counselors.
"From the earliest days of our country, we have seen education as the foundation for democracy and citizenship, for social mobility and national prosperity. Higher education opens minds and opens doors," Faust said.
In the speech titled "The Case for College," Faust took on some of the frequent criticisms of higher education, particularly the issue of whether the results justify the investment. Her talk was paired with a social-media campaign designed to encourage high school students across America to pursue a college degree.
"To ask 'Is college worth it?' is a fair question," she said, noting that it was being asked by students and families across the country. "To me, the answer is easy: yes. Going to college is one of the best decisions you will ever make. In fact, I believe college is more important than ever."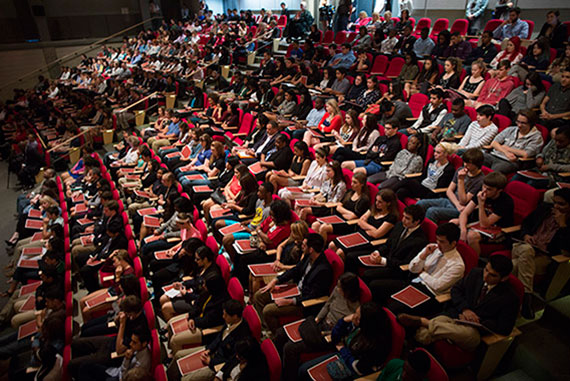 Richard Fisher '71, president and CEO of the Federal Reserve Bank of Dallas and current member of Harvard's Board of Overseers, opened the program.
"We believe that … you 'earn what you learn,'" said Fisher, referring to his colleagues at the Federal Reserve Bank. "You earn more choices in what you wish to do in life — in either the arts, the sciences, medicine or finance or government — the higher you climb the educational ladder. Higher education is the key to advancement in life."
Molly Rooney '11 of Salado, Texas, introduced Faust, applauding her efforts to expand financial aid and acknowledging how Harvard changed the direction of her own life.
"Because of President Faust and the amazing professors, role models, and friends I had in college, I found myself having experiences I never thought possible before I left Salado, Texas," said Rooney, currently a student at Texas Tech Health Sciences Center School of Medicine. "As an 18-year-old going off to college, I thought for sure I would become an Olympic track star and a mathematician, but I ended in Borneo hiking in the rain forest, studying biodiversity, speaking Arabic in a Palestinian village in Israel, taking classes in political philosophy (and somehow actually enjoying it), and inevitably realizing that my real dream is to become a doctor."
Over the course of 20 minutes, Faust took listeners through the many reasons that a college education remains invaluable — some quantifiable, such as long-term financial rewards, and others much harder to measure.
"There is no doubt that college pays off financially," she said. "A wide range of statistics shows the economic advantage of a four-year college education."
As an investment, a college education has a high rate of return, roughly 15 percent a year according to a recent study by the Federal Reserve Bank of New York. Over a lifetime, students who graduate from college can expect to make about 60 percent more than those who do not, well over $1 million more than they would otherwise. Another study says that in 2011 a typical college graduate was not only more likely to find a job than a high school graduate, but also to make $21,100 more as a starting salary. And for young women, a degree makes an even bigger difference in earning power. A 25- to 34-year-old female with a bachelor's degree can expect to make 70 percent more than she would if she completed only high school.
"College graduates also tend to lead more active lives," Faust said; they vote more often, volunteer more often, are more likely to own a home, and are less likely to smoke.
Beyond the measurable benefits, Faust said that college enhances graduates' lives in ways they cannot yet anticipate.
"First, college will take you to places you've never been before," she said. From the building blocks of matter, to the workings of Congress, to the United Nations, to the local school board, to an archaeological dig in Harvard Yard, college is a path of discovery.
"College is one of the best chances many of us will ever have to just follow our curiosity — to take a course on art, or literature, or political philosophy, or to explore life in another century or another culture," she said. "College is a passport to different places, different times, and different ways of thinking."
College also introduces students to new people, literally and figuratively.
"One of the most important ways in which students learn … is by interacting with people who are different from themselves," Faust said. "If you go to a residential college, your roommate might be from Texarkana, or Toledo, or Taipei."
To illustrate the point, she shared the story of an evangelical Christian student from Virginia who was admitted to Harvard but was unsure he would fit in at a school in the Northeast. On a visit to campus, he found himself engaged in conversations with people very different from himself and realized he could learn a great deal from interacting with intelligent people from a wide range of backgrounds and perspectives.
Recounting how Conan O'Brien planned to be a government concentrator, only to find his true passion at The Harvard Lampoon, Faust said that college also helps people discover new dreams. Similarly, the life plans of Zar Zavala from El Paso, Texas, shifted from patent law to neuroscience after he took a biology class his freshman year.
"College opens doors you did not even realize were there," she said.
College teaches students to "think slow," to carefully process and analyze information and questions, amid the hurly-burly imposed by the siren song of digital technology and ever-present cellphones and tablets. While information is everywhere, Faust argued, knowledge and wisdom are harder to achieve.
"In business, huge profits can be made by firms that know more, act first, or connect faster," she said. "But there is a different kind of profit, a more lasting one, available to those willing to slow down and bear down on a difficult problem. College can help you learn how to think, more than what to think. And you will learn, perhaps, the great value of humility in the face of all we still don't know."
Because we can't predict the future — how many predicted the Internet, which is now essential to much of the modern economy? — it is important to acquire the skills that will last a lifetime.
"At its best, college does more than prepare you for your first job. It helps you anticipate, and perhaps even create, your fourth or fifth job, a job that may not even exist yet," Faust said.
After the speech, student Daizjohn Crow said Faust's words had inspired him to continue his education after high school even though previously "I wasn't planning on going to college."
To promote the case for college, Harvard launched the #CaseForCollege hashtag on social media, inviting other colleges and universities to make the case and individuals to post about their own experiences. Brown University, Georgia Tech, the University of Texas, Northwestern University, and Boston University are among the dozens of schools that have engaged in the effort so far. School principals, guidance counselors, elected officials, college-readiness advocates, as well as Harvard's Schools and alumni have also taken up the online campaign by posting their messages and stories.