The dedication of a new book about the radically uninhibited novel "Ulysses" would almost certainly have pleased James Joyce. "For Dad, who taught me about free expression," is how Kevin Birmingham prefaces his compelling "The Most Dangerous Book: The Battle for James Joyce's Ulysses."
And Joyce might have felt right at home during mealtime in the Birmingham household, where lively, unrestrained conversation was the norm.
"Growing up in my family … you said everything that you thought," recalled Birmingham, a lecturer in history and literature and an instructor in the College's writing program, of his childhood in Florida. "Dinnertime was a time for debate, a time for people to argue or to say what they are thinking."
It was also ideal preparation for writing about a book that shocked and bewildered many of its readers, was banned in the United States for more than a decade, and spent years in court battles.
Joyce's "Ulysses" opened the author's mind to the world. Many, offended by his use of vulgarity and frank approach to sexuality, would have preferred it remained closed. To others, the long, circuitous novel that tracks Leopold Bloom around Dublin on June 16, 1904, was a work of genius. By now, of course, "Ulysses" is regarded as a masterpiece, a book that "made everything possible," writes Birmingham.
"What made 'Ulysses' revolutionary was that it was more than a bid for marginally wider freedom. It demanded complete freedom. It swept away all silences."
But that freedom came at a price. In his debut book, published in June by Penguin, Birmingham charts the efforts of Joyce and his admirers as they struggled to set "Ulysses" free.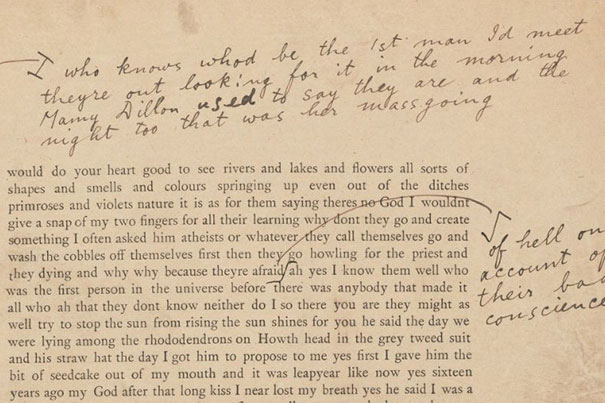 Birmingham's project had something of a rehearsal in his academic career. The first version of his Harvard Ph.D. dissertation centered on the obscenity trial of William S. Burroughs' notorious novel "Naked Lunch." Birmingham got hold of a transcript of the Boston trial, which banned the book in 1962, and was hooked. (The Massachusetts Supreme Judicial Court reversed the decision four years later.)
"It was a way for me to talk both about how the law looked at literature, how the law was changing at the time," said Birmingham. "And it was just fun to see people on the stand trying to describe 'Naked Lunch' and talk about it in legal ways — ways that mattered for a court as opposed to ways that mattered in the classroom."
Eventually Birmingham's dissertation changed course. But years later, when a friend mentioned that his agent would be interested in a book about obscenity laws and literature, Birmingham returned to the theme, this time through the trials and travails of "Ulysses."
Much of his research involved poring over archives at Cornell, Princeton, and Yale, as well as those at the National Library of Ireland. Personal papers, including thousands of letters, were key to his research. In Joyce's time, daily correspondence, said Birmingham, functioned "as a diary for your life."
At Cornell he viewed the "dirty letters" between Joyce and his wife, Nora Barnacle, which inspired some of the most scandalous passages in "Ulysses." What he found were pages surprisingly free of alterations. The discovery was a shock because Joyce was notorious for tinkering with his manuscripts, repeatedly frustrating his printer by drastically altering the galleys sent to him for corrections.
"Printers expected a few changes in the galleys," writes Birmingham, "but Joyce filled them with arrows and inserts, new clauses and sentences. Joyce wasn't proofreading. He was still writing."
Scrutinizing Joyce's writing process is only one of Birmingham's aims in "The Most Dangerous Book." Much of the narrative follows the efforts of a group of fearless women, including Sylvia Beach, the owner of the Shakespeare and Company bookstore, and Margaret Anderson and Jane Heap, founders of The Little Review, who were instrumental in delivering the book to the public.
Birmingham's final chapters, which track the definitive U.S. court battle over "Ulysses," benefitted greatly from a chance encounter. While researching his book, Birmingham bumped into a friend who knew the granddaughter of John Woolsey, the federal judge who heard the case and ruled in Joyce's favor in 1933, paving the way for the novel to be legally imported. After a few phone calls, Birmingham connected with Woolsey's grandson, a man "dedicated to his grandfather's memory." Soon he was watching home movies, reading family documents, reviewing a never-published New Yorker profile on the judge, and taking a private tour of Woolsey's library.
"These [materials] are all still in private hands. I could have gone to every archive in the world and I wouldn't have found them."
Friends and colleagues from Harvard helped Birmingham with his work in less concrete but equally important ways. At a regular Friday night happy hour with faculty from the history and literature department, he got feedback on ideas and shared the particular struggles of bringing a book to life.
"It's a wonderful time to sit back. You can talk casually about the things that you've been working on, or you can talk about what had just happened on 'Breaking Bad.'"
Birmingham has read "Ulysses" five times. His initial reading, in a freshman seminar, left him, like so many other first timers, with "no idea what was happening." A sophomore lecture course put him on firmer ground. "I think I really needed a stronger guiding hand through it. I needed someone first to tell me that it's OK if I don't know everything that's going on."
Birmingham allowed that Joyce's masterpiece is not "convenient" for the reader. "There aren't going to be any explanations … you just have to do the work yourself."
And he added that the greatness of the book often needs time to sink in. Appreciating "Ulysses" can take months, even years. His first reading, he said, was full of frustration and boredom. "When you first read it you are put off by it … but then when you put it aside, you find yourself thinking about your own thoughts. You are never going to be as conscious of the way you think as you will be once you've just finished reading 'Ulysses.' And that self-awareness is illuminating."
This evolution of appreciation is one reason Birmingham decided to include Virginia Woolf in his story. She and her husband politely declined to publish Joyce's early chapters through their Hogarth Press. The book "fails, one might say, simply because of the comparative poverty of the writer's mind," she wrote after her first encounter with it.
But "Ulysses" wouldn't let Woolf go. Two years after she read the entire book, Woolf began transforming a short story she had been working on into a novel. "'Mrs. Dalloway,'" writes Birmingham, "delves into the consciousness of three characters during a single day in London.
"Joyce's tiny bullets had entered Virginia Woolf's bloodstream and felled her from the inside out."