At Harvard's Peabody Museum of Archaeology and Ethnology, thousands of delicate African artifacts line rows of shelves in a tightly climate-controlled storeroom. A floor-to-ceiling window affords curious passersby a brief peek inside, but entrance to the secure space is restricted to staff and researchers, and exhibition space is limited.
The Peabody, the oldest museum of archaeology and ethnology in the Western Hemisphere, is a rich repository of precious artifacts from ancient worlds. But only a fraction of the museum's more than 1.2 million objects are on view in its galleries at any given time.
That situation soon will improve, with help from the University Collections Gallery in the newly expanded and renovated Harvard Art Museums, a space dedicated to the display of works from fellow campus institutions.
"We have a deep interest in building bridges between the Harvard Art Museums and the other great collections at Harvard University," said Thomas W. Lentz, the Elizabeth and John Moors Cabot Director of the Harvard Art Museums. "Objects from the Peabody Museum's extraordinary collections bring an interdisciplinary lens that encourages the kind of fresh dialogue, close looking, and deep thinking that help bring the intrinsic power of visual creativity, ingenuity, and intention to light."
"It's just the opportunity to look at these fantastic collections with new eyes, with an anthropological perspective on culture and context combined with a different art historical perspective" said Diana Loren, director of academic partnerships and museum curator at the Peabody.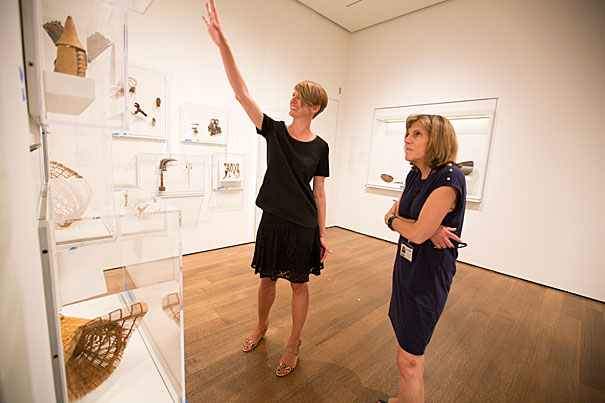 The gallery's inaugural installation, guest curated by Kristina Van Dyke, director of the Pulitzer Arts Foundation, highlights a selection of African art from the Peabody. Van Dyke, who received her Ph.D. from Harvard in 2005 and is a specialist in African art, said the new gallery offered her the chance to "show as much of the depth and breadth of the Peabody collection as possible."
"One of my great hopes is that people will discover that this is the tip of the iceberg and they will want to know more about what's in the Peabody, and not only in African art, but the various areas where they have holdings."
Van Dyke's installation is arranged around the theme of "assemblage," where parts are bound together and "remain readable as a composite as opposed to a synthesized whole." African art can prove demanding for Western viewers, said Van Dyke, "asking them to literally or metaphorically bind parts together, either through the act of attaching two or more elements together or reading disparate formal elements as an aesthetic whole."
The show's centerpiece, a small, wooden Kuba cup from the Congo, illustrates that visual, and at times emotional, friction. The base of the cup is a carved female figure whose extended hands and flexed knees "seem aerodynamic," said Van Dyke, and evoke an "energy moving in all different directions."
"Contrast that movement," she said, "with the item's static top, a perfectly formed, symmetrical vessel that stands in place of a human head. The same artist made these distinctly different parts, juxtaposing the body in motion with the restrained abstraction of the head. Oftentimes in African art, as we see here, the parts won't resolve themselves into a whole."
Other objects in the show reflect a tension between the part and the whole, including the "power bundles," knit bags from Liberia containing medicinal substances such as grave dirt or the leaves of important plants that would have been carried by someone as a type of "protective device." Nearby, an ornate mask and a feather headdress from the Congo would have adorned community members taking part in ritual dances or ceremonies.
The way that assemblage brings objects together echoes the broader experience that museum officials are hoping to inspire in the revamped galleries. By mingling works of art provocatively and creating juxtapositions between objects from various cultures, time periods, and media, curators are eager to foster new dialogue about the merged collections.
"One of the things, of course, we are trying to do is bring different parts of the world together," said Mary McWilliams, the Norma Jean Calderwood Curator of Islamic and Later Indian Art, who curated the Islamic gallery next to Van Dyke's installation. "The gallery for African art is just a wonderful contribution in that regard. For several years now, we will have these works on loan from the Peabody, which will allow visitors to do their own kind of connecting."
For Van Dyke, one of those connections involves a better appreciation of assemblage. From the University Collections Gallery, one can spy a small group of late 12th- and early 13th-century luster tiles from Iran that were once part of a "whole revetment of facets that fit together," said McWilliams.
The formal principles of assemblage that inform African objects, said Van Dyke, "are set against the aesthetic of the tiles, where formal elements are integrated into an aesthetic whole."