Hundreds of students who think they have the seeds of the next Facebook or Twitter in their laptops got to hear from one of the world's best-known — and most provocative — entrepreneurs and investors in technology startups, as he talked about the strategies that he thinks bear the best fruit.
Peter Thiel visited Harvard Business School's (HBS) Arthur Rock Center for Entrepreneurship on Thursday to talk business and venture capital with entrepreneurship expert William Sahlman, the Dimitri V. D'Arbeloff — MBA Class of 1955 Professor of Business Administration.
Thiel co-founded PayPal in 1998 with Elon Musk and Max Levchin, and served as its chairman and CEO. The groundbreaking online payment vehicle was launched to ease transactions for frequent eBay users at a time when eBay was one of the Internet's early destinations with mass appeal.
"The one idea that we did have that was the right one for its time was that you could align money with email," he said. Making that connection helped overcome the "incredible adoption barrier" to getting customers to use a new and unfamiliar payment method. The company was sold to eBay in 2002 for $1.5 billion.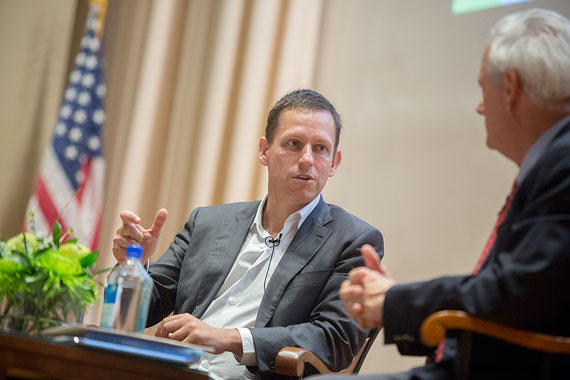 Since then, Thiel has invested widely in a number of startups, including LinkedIn, Spotify, Yelp, and Facebook, where he was the company's first outside investor and still serves as a director.
Thiel urged students to avoid being small fish in big ponds, but instead focus on dominating a new or underserved market.
"Facebook started at Harvard with 10,000 people; you went from zero to 60 percent market share in 10 days — that's an auspicious start. It was such a small market that it wasn't even considered to be a worthy investment at the time," he said. "PayPal started at eBay for 'power sellers,' which was a discrete market [of] 20,000 to 25,000 people who needed an alternative much better than checks. We had a much better solution for a small number of people and got to 30 to 35 percent market share within three months, so I think that's often a pattern that's very good."
Thiel, who was promoting his latest book, "Zero to One: Notes on Startups, or How to Build the Future," said he's not a big believer in luck or chance as a factor in a business's success.
"When you treat it as a lottery ticket, you've already psyched yourself into losing money. I think ascribing chance to things is … symptomatic of being lazy, because if you thought a little more about it, you could figure out that there was something wrong. That's sort of an excuse that stops you from thinking harder."
He said the notion that a failed startup offers a valuable learning experience for entrepreneurs is "greatly overrated" because there are so many reasons why a business fails that it's unlikely someone will avoid them all on the next go-round. Starting a company, he said, is "not some sort of educational thing where we have a … company and we all went bust and then we worked at Starbucks, but it was great because we learned so much. These are preposterous myths that we tell ourselves."
These days, Thiel is bullish on passionate, founder-driven enterprises rather than those led by outside CEOs, and bearish on social or educational entrepreneurship.
"When people set out to do well by doing good, they often end up doing neither," he said. "What I do like to see are mission-oriented companies, where a company has a mission that transcends just making money and gives you the sense that if you don't do this … we will do it anyway.'"
As for where young entrepreneurs should look to work, Thiel referenced Sahlman's study about how HBS students historically enter industries just as the opportunities are about to dry up.
"My thesis on it is that there is this challenge where you have a group of very extroverted people who don't have strong views of what they want to do with their lives, that after two years, there's this tendency for everyone to try and catch the last wave, but that wave's already gone," he said. "You need to start paddling for the next wave."