After spending decades in the news business as journalists and executives for companies such as Time Inc., The New York Times, and Akamai Technologies, John Huey, Martin Nisenholtz, and Paul Sagan came to the Joan Shorenstein Center on the Press, Politics and Public Policy last spring as fellows to piece together a narrative of what they themselves had just lived through.
Their objective was to document and explain how journalism has been fundamentally disrupted and transformed by technology since 1980, and to do so by talking to the key people at leading institutions on both sides of the digital front lines.
"Our questions were simple: What happened? How did we blow it? What could have we done differently?" Huey, former editor-in-chief of Time Inc., told a packed house Monday evening at the Harvard Kennedy School. The event was a panel discussion involving some of those key players, including Caroline Little, president and CEO of the Newspaper Association of America; Arthur Sulzberger Jr., chairman of The New York Times Co. and publisher of the Times; and Tim Armstrong, chairman and CEO of AOL.
The result of the research that began last spring is "Riptide: What Really Happened to the News Business," a multimedia history project launched this month that sets out to capture how sweeping technological changes changed not only the way news is delivered to consumers, but how it is gathered and presented, and by whom and for whom, and what that means for the future of the industry.
Created in collaboration with the Nieman Journalism Lab, the "Riptide" website features a comprehensive 88-page essay, a timeline, dozens of historical documents, and 61 video interviews with an array of top players in journalism, media technology, and business, such as Sulzberger, Armstrong, and Nicholas Negroponte, founder of the MIT Media Lab — all figures, the three fellows write, "who faced the choices, made the decisions, placed the bets, and now have the hindsight as to how it could, or couldn't, have played out differently."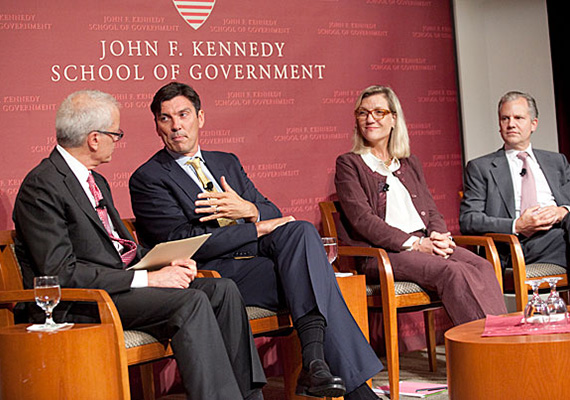 The organizers say they hope the project will continue to grow as they add fresh interviews to the repository in the coming months.
When asked by Nisenholtz during the panel discussion about the current state of the newspaper business, Armstrong said that while there remains cause for worry given the contraction of jobs and revenues, he sees reason for cautious optimism, too.
"I think if you look at the data, you'd be really concerned because you look at the number of journalists has gone down by roughly 30 percent in the last seven or eight years. Newspaper revenue — people think of journalism as newspapers in many cases — is down about 55 percent," said Armstrong, whose company announced last month that 40 percent of its Patch network of community journalists and staffers would be laid off.
"I think if you look forward, though, there's some very exciting things on the horizon," he said. "Consumers like to pay for content, consumers want curated, high-quality content, and I think there's a very large role for journalism in the future."
Sulzberger said the newspaper industry was slow to recognize how computer science would come to drive the future of journalism.
"Engineers, that's what we didn't focus on fast enough," he said. "The need to have engineers building the systems that we are now using, building the tools we are now using."
While many critics have praised the ambitious nature and broad scope of the project, others have taken to Twitter and blogged on The Washington Post, Slate, and Poynter to note its lack of gender and racial diversity. Of the 61 people interviewed thus far for the project, only five are women and only two are not white.
"We're not pessimistic about the future of news," Sagan said, noting that one of their big takeaways from researching the project was: Don't be nostalgic. "Because the truth is … that journalism wasn't always great. There were golden ages with many, many flaws, many, many incorrect stories, many communities that just weren't covered at all before, many voices that weren't heard from, not enough diversity," he said.
"It's one of the things that we encountered even as we went to interview people and didn't find the kind of diversity we'd like to find in every aspect of our lives. It wasn't in journalism before, and digital disruption has exacerbated it in some ways, and improved it in others."