Graduating seniors bid farewell to their Harvard years Wednesday, during Class Day ceremonies that featured light-hearted remembrances, sage advice about not taking advice, and a tongue-in-cheek idea for honoring the college experience.
"When Harvard does come to mind, years from now in all of its 375-plus-year-old glory, we will be acknowledging that younger versions of ourselves now own this simultaneously beautiful, terrible, fun, depressing, fulfilling, and unbearable … home," said Philip Gillen, one of the event's two Ivy orators. "We must destroy Harvard, because this place belongs to us, and it should stay that way."
Former CNN anchor Soledad O'Brien, the day's main speaker, used lessons from her own and her parents' lives as she counseled students to follow their own paths.
O'Brien is the daughter of a black Cuban mother and a white Australian father who in 1958 traveled from Maryland, where interracial marriage was illegal, to Washington, D.C., to wed, against the advice of many people around them.
The couple was then advised not to have children, because mixed race children wouldn't be accepted in the world. They ignored that advice and had six, all of whom graduated from Harvard.
"My parents were terrible listeners every step of the way, and from that I've learned, do not listen to other people's take on the life you should lead," O'Brien said. "By not listening, you can figure out what your heart is telling you to do."
O'Brien took her own advice as a student. Though she came to Harvard interested in becoming a doctor, she switched to English and American literature and language in response to an urge to tell stories. She left in the spring of her senior year, 1988, missing her own Class Day and Commencement, to pursue a job opportunity. In 2000 she returned to complete her studies.
Early in her career, O'Brien worked locally, at WBZ-TV. Then it was on to NBC News, where she anchored "Weekend Today" and the technology program "The Site." She moved to CNN in 2003, anchoring "American Morning" until 2007. Most recently, she anchored CNN's "Starting Point" from 2012 until March of this year, when she left to start her own production company, Starfish Media.
O'Brien won an Emmy in 2011 for "Crisis in Haiti." She was part of reporting teams that won awards for coverage of the BP oil spill, Hurricane Katrina, and the Southeast Asia tsunami. She will serve as a distinguished visiting fellow next year at the Harvard Graduate School of Education.
O'Brien said her travels have shown her that people around the world aren't so different in their dreams. Bad things happen unless good people put a stop to them, she said. Graduates should be those good people and seek to understand others.
"Not taking advice means you can choose to stand up for people who need your voice. You'll have chances every day to say, 'this is not OK,' " O'Brien said, adding that a Harvard education has given graduates opportunities that others won't get. "You have been positioned, Class of 2013, to do great things, but do them in service of others, and you will discover that selflessness, ultimately, is what makes you great."
In addition to O'Brien's speech and the Ivy orations, students heard two Harvard orations from class members, and a brief address from outgoing Harvard College Dean Evelynn M. Hammonds.
"Cherish those memories and those friendships because they are Harvard's gift to you," Hammonds said, admonishing students to heed the words over the Yard's Dexter Gate. "Enter to grow in wisdom and depart to better serve thy country and thy kind."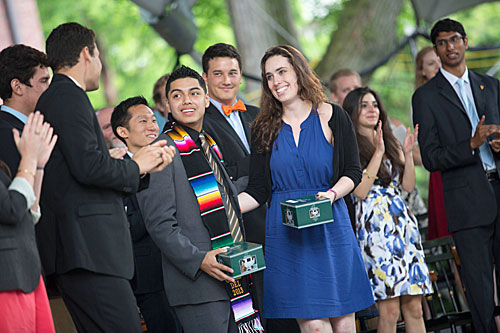 The day also featured a moment of silence in memory of classmate Philip Streich, who died in 2012 in an accident on his family's farm, as well as the naming of the Ames Award winners, Victor Flores and Sara Lytle.
The Ames Award, named after two brothers who gave their lives to save their father after he washed overboard during a 1935 storm off Newfoundland, go annually to "unsung heroes" in the class who have shown heroic character and inspiring leadership in efforts to help others. Flores was active in the Phillips Brooks House Association, helping disadvantaged children through after-school and summer camp programs. Lytle dedicated herself to improving mental health in the Harvard community, working as a peer counselor, and also worked to improve Boston schoolchildren's self-esteem with theater.