In the Harvard Science Center, hundreds of Cambridge eighth-graders gasped in amazement as they watched liquid nitrogen violently and instantaneously transform from a boiling liquid to a frozen solid and back again — all while trapped under the pressure of a bell jar's clear dome.
"You're now among the very few people in this world who have seen nitrogen not just as a gas and a liquid — which is pretty cool all by itself — but also as a solid," said the science lecture demonstrator, Daniel Rosenberg, as the students burst into wild applause.
Rosenberg's demonstration was part of the third annual Science and Engineering Showcase, which brought nearly 400 eighth-graders from Cambridge public schools to Harvard's campus. The students viewed demonstrations by Harvard graduate students and faculty, toured facilities such as the Center for Nanoscale Systems, and presented hundreds of their own science projects under the tent on the Science Center Plaza.
Prior to the showcase, students from the Harvard School of Engineering and Applied Sciences (SEAS) had made regular visits to the young scientists to support their projects and provide feedback, all part of the University's broad support of local schools.
The eighth-graders projects were as diverse as the students themselves, exploring the potential future of solar-powered vehicles and boats, envisioning clay huts strong enough to resist earthquakes, imagining the next level in clean-up solutions for oil spills, and delving into the endless possibilities of Lego robotics.
Later, in the Maxwell Dworkin building, amid dozens of demonstration booths staffed by SEAS graduate students, two girls from Vassal Lane Upper School held a passionate and timeless debate: whether the "gummy worm" in Janessa Alston's hand — the result of a experiment at a booth examining the composition of water — was fascinating or gross.
"It's slimy," Narika Guichette shrieked, recoiling, while her friend remained philosophical.
"It's kind of cool," Alston said, peering closer at the clear, sticky strand in her fingers. "I just like to learn about different things."
Throughout the day, local leaders and Harvard faculty, graduate students, and administrators were on hand to encourage the eighth-graders to continue their adventurous explorations in science.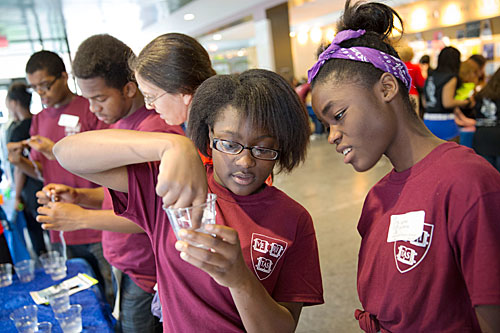 "The creativity, spirit, confidence, and hard work that you've shown in your projects — that's what makes a difference in science and in life," said Jeffrey Young, superintendent of schools for the city of Cambridge.  "It's the kind of thing, frankly, that gets you to a place like Harvard."
Christine Heenan, vice president of Harvard public affairs and communications, congratulated the students on their innovative projects. "I saw many experiments today that I thought could be the forerunners to help make the world a better place, and that is really exciting," she said.
Heenan reminded the students that Harvard isn't just part of their neighborhood; for some, it may also be part of their future.
"This year, we're enrolling 11 students from Cambridge Rindge and Latin," she said. "So as you think forward to high school, think about college and the role that science can play in your acceptance into college. We hope to welcome many of you to the class of 2021."
Cambridge Mayor Henrietta Davis thanked President Drew Faust and other Harvard leaders for being "such great partners," and asked the students to embrace being the scientific leaders of tomorrow.
"Things need to be discovered and changed, and you're the ones that are going to lead the way," Davis said. "Keep being curious. Keep working hard. Even if you don't become a scientist yourself, be scientifically literate, because it's going to be very important in the years to come."
Kathryn Hollar, director of educational programs at SEAS, said the event is one of many ways that Harvard supports science learning in local schools.
"It's exciting for us to have every Cambridge eighth-grade student here to share their great ideas in science and engineering with scientists at Harvard," she said. "School-aged children have a natural desire to invent, and our job is to nurture that interest and keep children curious and inventing.
"The great thing about today is that someone in this room today is going to design something that will change the world," said Young. "I can't wait to find out who that will be."