The essentials of good teaching and learning took the stage at the second annual Harvard Initiative for Learning and Teaching (HILT) conference, a daylong event at the Science Center on Wednesday.
The session examined those issues in three panels: "The Science of Learning," "The Art of Teaching," and "Innovation, Adaptation, Preservation."
Frances Frei, the UPS Foundation Professor of Service Management and senior associate dean for faculty planning and recruiting at Harvard Business School, addressed innovation, saying that in the context of education it means the courage to delineate what you will not address, to address something worthy of you, and to maintain standards while demonstrating deep devotion.
"We talk with educators around the world. We haven't been able to find a single one who doesn't want to produce excellence. We've talked to students around the world, and we haven't been able to find a single one who doesn't want to consume it." Yet it's hard to find, she said.
"What we think is going on is, well-intentioned, energetic people following their natural instincts are a large part of the problem."
Frei said students thrive in what she called "the bookends of human nature," devotion and high standards. But "these things trade off against each other in any single human."
She illustrated her point with a picture of her small son, sitting on a kitchen counter next to a raw egg, a plugged-in blender, and a stove. "I love this boy with all my heart, and I do not have the stomach to set standards for him. Thank goodness he has another mother in the frame."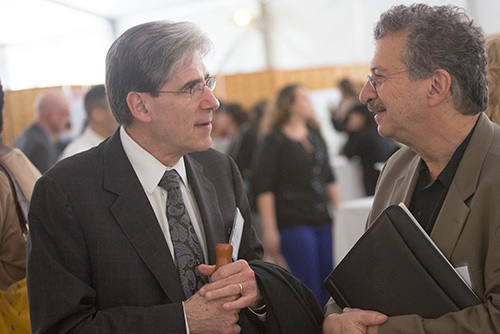 She said just like good parents mix their tenderness with discipline, good educators must understand that dedication to their students is a necessary corollary to the demands they make upon them — along with the courage to follow through with both.
"It's easy to be devoted if you don't have standards. It's easy to set high standards if you don't have to worry about people," she said. "Someone has to do an intervention on parents like me. Someone has to do the intervention on junior faculty members so they understand that if they leave their humanity at the door, they're not going to be nearly as effective."
Harvard School of Public Health Dean Julio Frenk took up the subject of adaptation, saying that when it comes to new technology, "the trick is not to adopt, but to adapt."
Frenk said the School's new educational strategy has two main dimensions, instructional and institutional. Instruction, he said, comes in three types — informative, formative, and transformative — which are present to different degrees in online and residential learning. The institutional part of the model also has three levers — colleagues, capacity, and culture — and "They can be barriers to change or levers to institutional adaptability."
Preservation was the topic for Nannerl O. Keohane, a member of the President and Fellows of Harvard College and the president emerita of Wellesley College and Duke University. She said that amid the changes in higher education, particularly the move to online learning, four pillars were desirable to maintain, and five were essential.
She said the desirables are institutional loyalty among faculty, students, alumni, and staff; the rite of passage to adulthood for traditional undergraduates; the sporting events, arts, parties, and community service that cannot be shared at a virtual campus; and the capacity to "look outside" at the grounds and buildings that make up a brick-and-mortar university, with the "treasures that we are preserving in our architecture and in our libraries and museums."
The essentials, she said, are accessibility for people from all backgrounds (which has "huge financial consequences, but unless we do that, we'll start to see a world in which the online education is for people of lesser means"); the classics in every field ("the canon of human achievements … We preserve them by using them, teaching them, reinterpreting them"); the mundane documents that chronicle human history ("letters, deeds, property statements … artifacts that reconstruct the past and provide a tangible basis for understanding how people lived"); the symbiosis between teaching and research, for both faculty and students; and the community of teachers and learners.
"Some of it needs to be face-to-face," she said. "Finding ways in which we preserve communities of scholars is one of our most important and most pressing obligations."
Diane Paulus, the artistic director of the American Repertory Theater and professor of the practice of theater, wrapped up the conference with a look at "the essentials," taking the audience members through some voice and movement exercises that had them stretching and shouting. Then she asked them to finish some sentences about teaching:
"I feel nervous in the classroom when …
"The best advice I would give a new teacher or student coming to Harvard is…
"One way I know that I'm engaged while I'm teaching/learning is …" (One answer from the audience: "When I hurt myself on an apparatus and I don't feel pain.")
Paulus said, "As a pedagogue, I try to encourage a student to ask a bigger question. … Ask the biggest question we can." After that, she said, "Discussion is Act II."