To Macky Sall, president of the Republic of Senegal, Africa is "the continent of the future" — a vast landscape of youthfulness, enterprise, and resources on the verge of exercising its potential.
Sall on Friday delivered the keynote address at the fourth annual Harvard African Development Conference, a multi-School, student-run event that draws experts and scholars — 350 this year — from around the world. His view was followed by a range of others — part optimism, part reality check — when participants turned Saturday to micro-scale messages related to this year's theme: visible change, one innovation at a time.
"The change in Africa is palpable," said Antoinette Sayeh, director of the International Monetary Fund's African Department, which tracks development in 45 sub-Saharan African countries. Five percent annual growth rates are the norm now, she said; debt-to-GDP ratios are shrinking, inflation is typically in the single digits, and poverty rates are falling. She pointed to Ghana, Senegal, and Gambia, three fast-growing nations in West Africa that the World Bank now classifies as "lower middle-income countries."
The continent overall is still poor, Sayeh said in a morning address at the Sheraton Commander Hotel, but its improving economic indicators make it the second-fastest growing region in the world, after Asia.
African nations also have a greater diversity of trading partners than ever, are "increasingly resilient" to global economic shocks, and are the sites of escalating trade and regulatory reform, she said.
On the heels of hope come a few imperatives for African nations, said Sayeh: embrace inclusion, so all economic boats rise with the economic tide; improve business climate (Rwanda is a model, she said); prepare for climate change, which in some countries could nip one-sixth of GDP from agriculture; and improve governance. Especially after conflict, she said, using her native Liberia as an example, civil society rebounds slowly.
Youth movement
And what can promote social growth in youth-dominated Africa more than good schools? Go to the grassroots for insight and advice, was the advice from one panel. Another turned to a grimmer reality: the growing number of African children educated in refugee camps. In Kenya's Dadaab refuge complex alone, crowded with 500,000 refugees, there are nearly 40,000 students in primary school; another 60,000 of the same age are eligible. Africa-wide there are 2.7 million refugees; a third are of school age.
Displaced by conflicts in Sudan, Nigeria, Somalia, Mali, and elsewhere, these children flee to neighboring countries where education may be spotty or subpar, or they may be met with hostility from native populations. As conflicts grow more protracted, the "hope of return" for many of these children is fading, said Ita Sheehy, senior education officer with the United Nations High Commission on Refugees. The average stay for a refugee encamped in Africa, she said, is 17 years.
Once in camp, school may not be an axis of stability in a child's life. Sheehy told the story of 10-year-old "Annette," a refugee from the Democratic Republic of the Congo. One day there were 17 children in her class; the next, after some crisis across the border, there were 150. Her fate, and that of others, is "insecurity and fear and uncertainty," Sheehy said.
"This is a global issue," said Christopher Talbot, a consultant with the group Education in Emergencies — one that creates social turmoil, including disputes over language, textbooks, and accreditation.
Add to that the tension from the local populace, who often see refugee children as getting a better education that their own, according to Sarah Dryden-Peterson, an assistant professor at the Harvard Graduate School of Education, and a veteran of projects in sub-Saharan Africa and within the African diaspora. "So," she said of one solution, "you get locals involved from the get-go."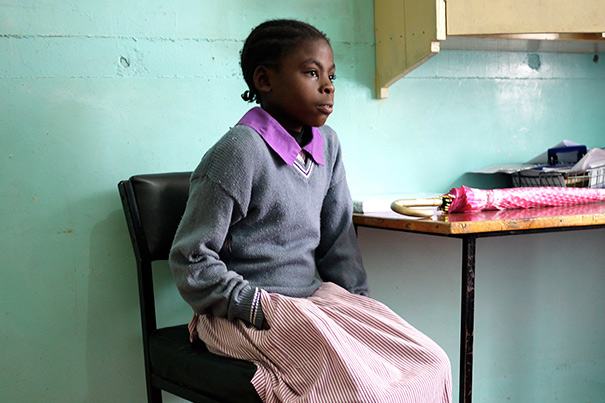 Other ideas emerged on behalf of children in refugee schools: more research, said Talbot, since the fate of students in these settings is so little studied; more teacher training, said Dryden-Peterson; and money, added Sheehy. Most outside aid goes to food, shelter, and security; not enough (4 percent or less) goes to educating refugee children.
Harmed most of all are girls, said Dryden-Peterson of refugee schools — and that pushes higher a trend that is already high in every African setting, where gender rights skew male. In the Dadaab camp, for instance, only a third of girls ages 5 to 13 go to school. "Girls don't persist in school," she said. "They have no voice."
Architecture and social justice
Africans have always had a "voice" in their housing designs, at least, perhaps since there are so few professional architects who impose design on traditional methods. (There are 35,000 registered architects in Africa; Italy, a pinprick on the map by comparison, has 120,000.)
More Western design professionals are getting involved in Africa's built environment, but they arrive both as practitioners and students of native materials and methods. And they sometimes team with young African architects, with whom they share an idea: architecture as a path to social justice.
Social inclusion was the theme of one panel that featured the voices of three veteran designers in Africa: Kunle Adeyemi, Chelina Odbert, and Yaw "DK" Osseo-Asare. Odbert, for one, has since 2006 worked on what she calls "PPS," "productive public spaces." In Kibera, a sprawling community in Nairobi, these public spaces accelerate the micro-enterprise that already lines every street.
Another panel, "From Help to Self-Help," was in part a look at how housing worksites can boost local crafts, employ local labor, apprentice local youth to building crafts, and use local building materials.
Australian architect Ross Langdon, director of Regional Associates, recalled a building project he and his brother were on in Tanzania.
"Most of the knowledge we got was from sitting under a tree somewhere," from sleeping in streamside tents, and from observing "the skills of the people we found there."
South African architect Heinrich Wolff described his native land as "a misanthropic paradise," with its contrasts of beauty and turmoil. One way forward: transform South African cities "fast," he said, using indigenously inspired designs for settlements, schools, and public spaces that are not "antagonistic to freedom."
Local craftsmen in Rwanda, Haiti, and elsewhere inspire Alan Ricks, CFO of the Boston-based MASS Design Group, but he introduced a sober idea in parallel to Wolff's description of settlements that increase social unrest: "Poor design is killing people." (Looking to Haiti, he said of the 2010 disaster:  "It wasn't the earthquake that killed a quarter of a million people. It was the buildings.")
Seventy percent of Africa's building designs originate in the developed world, without the "immersive research" Ricks said is required to design a new building correctly for its setting. Still, he and other Harvard-trained experts are pushing for more adoption of local design.  Their projects have included supporting the first school of architecture in Rwanda, a country of 10 million with 10 registered architects. The first class graduates this year.
Better health care
Another domain for innovation in Africa is health care. One panel looked at mental health, a growing crisis in Africa that is widely stigmatized, and the cause of rising rates of death and disability. Another looked at ways to build sustainable health systems in Africa — those that move beyond the fragmented, disease-specific aid of the present.
Money may pour into a country from overseas to address HIV or malaria, said William Brieger, a professor at the Johns Hopkins Bloomberg School of Public Health. But the receiving nation may not have a strong enough health infrastructure to use the aid effectively. "The alignment to go from policy to implementation is still not there," agreed Claire Pierre, who directs the Program in Health Systems Strengthening and Social Change at Harvard Medical School.
Money remains the biggest challenge, said Brieger. About 60 percent of African health care expenditures are out-of-pocket, forcing the poor to pay more to stay well.
But innovation may come in ways unfamiliar to the West. Faith healers, for one, can be an avenue in preventative care, said Pierre, and a way to reach more people. During the 2010 cholera outbreak in Haiti, she said, "we needed local healers. They're the first ones people went to."
"Medical shops" — the small retailers that dispense medicines and advice — are another pathway to innovation. Improving public health infrastructure in Africa is important, but so are these nonstandard pathways to health and information, said Brieger. "This is something we really need to think about."
The conference also explored innovation in the social realm. Alexander McLean, founder and director of the African Prisons Project, talked about prison reform. McLean's group helps establish prison clinics, libraries, nutritional programs, and literacy classes — low-cost improvements that reduce overcrowding and recidivism.
Prisons don't get much attention in Africa. But the continent's increasing vocal gay community gets even less. Its members are shunned, lynched, stoned, raped, imprisoned, and in some countries subject to the death penalty. So one panel looked at this third rail of African social life; at how anti-gay sentiment is fueled by growing fundamentalism; and at how grassroots movements might help.
Renewable energy, said another panel, is not a luxury Africa can't afford; it's an opportunity that needs to be explored. About 600 million people in Africa have no access to electricity. But sales of solar lights are growing on the continent by 100 percent a year, and light at night promotes social interaction. One panelist, Katherine Steel, manages Lighting Africa, a joint project of the International Finance Corp. and the World Bank that provides off-grid lighting to poor households and micro-enterprises.
The main sponsors of the conference included the Milbank Tweed Student Conference Fund at Harvard Law School, Harvard's Committee on African Studies, Face2Face Africa, and the Nigerian law firm Banwo & Ighodalo.