Anson Chan outlined her hopes for her country on Thursday during remarks that included both harsh criticisms of China and what she called its "potential to be a force for tremendous good in the world."
Chan, the former chief secretary for administration for the Hong Kong Special Administrative Region, delivered the Rama S. Mehta Lecture at the Radcliffe Institute for Advanced Study.
Chan, who earned the moniker "Iron Lady" of East Asia during her government tenure, has long been a champion of democracy and gender equality. (She was one of the first two women to join the Hong Kong civil service in 1962.) During her talk, she criticized a number of China's programs and policies, including its 1979 one-child procreation policy, an initiative she said fostered the country's "deep-seated prejudice for male children," and led to "a dangerous gender imbalance."
"My first hope," said Chan, "is that all Chinese women and girls will soon enjoy the rights and benefits and opportunities available to their wealthier, urban-dwelling sisters," and that the "birth of a baby girl will be celebrated as warmly as that of a boy."
While many countries, including the United States, worry that China's rapidly expanding economy is also "driving growth in its military power," Chan said she hoped future U.S.-China relations would be characterized "more by trust and less by suspicion."
"The fact that China is the largest foreign holder of U.S. securities should not be seen as a threat," she said. "It speaks for China's confidence in U.S. government institutions, and the long-term reliability of the U.S. dollar as the world's leading convertible currency."
Chan called for "constructive engagement" between the nations, founded on strong cultural and economic ties. She pointed out that the United States is China's second-largest trading partner after the European Union, and the thousands of Chinese graduate students studying in U.S. universities have become important contributors to "post-graduate research in many fields."
Chan urged the two nations, the world's leading producers of greenhouse gases, to combat global warming. We need "enhanced, bilateral cooperation to protect the environment," she said.
But Chan acknowledged that her pride in China, and its commitment to "hard work" and inherent "entrepreneurial spirit," hasn't blinded her to the country's troubling social and political record.
Greed and corruption are rampant in local and regional government, she said, and while the booming economy has lifted millions out of poverty in recent years, the gap between rich and poor continues to widen.
Harsh limits on freedom of speech and severe punishments for dissent are the norm, and power rests firmly in the hands of a few hundred privileged families, said Chan.
"One of my most cherished hopes for my country is that, over time, China can evolve peacefully to a nation where basic human rights are guaranteed and where every individual has an equal right and opportunity to influence how and by whom he or she is governed," she said.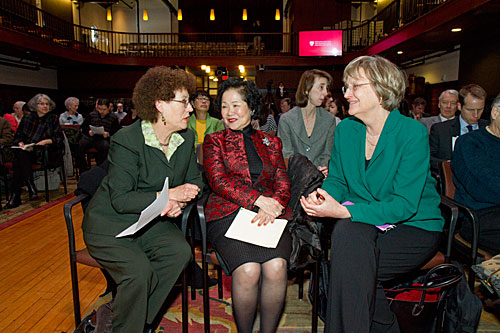 Part of that evolution includes fostering close economic and cultural ties with democracies. Hong Kong, with its rule of law, independent judiciary, freedom from arbitrary arrest and imprisonment, and zero tolerance for corruption, can and should be an example for China, said Chan.
Chan addressed the concern of many Hong Kongese who fear that officials in Beijing will take an increasingly hard line in the administrative region. The area has operated under a "one country, two systems" agreement since 1997, when Great Britain relinquished control to China. Since then, Hong Kong has maintained a significant degree of autonomy, including control of its own economic and political systems.
Recently, however, Beijing has tried to impose stricter reforms, including a failed attempt to implement a national education program in Hong Kong's primary and secondary schools last year. Young students and concerned parents took to the streets and protested by the hundreds of thousands, successfully blocking the initiative, said Chan. "They do not wish their children to be brainwashed and indoctrinated in schools, because, in their view, education is the last line of defense."
Chan said she trusts that spirit would prevail as Hong Kong pushes for universal suffrage in 2017, a move that she hopes will inspire greater openness in China.
"There is no doubt in my mind that Hong Kong can play a key role in helping to chart a course toward a more democratic government on the mainland," she said.
The annual Mehta lecture, established by the late Harvard economist John Kenneth Galbraith and his wife, Catherine, brings to campus "outstanding women leaders in the arts, public affairs, or science, who possess a deep understanding of the problems faced by women in the developing countries," said Radcliffe Dean Lizabeth Cohen, who introduced the talk.