This is the third in a series of articles about Harvard's interdisciplinary work at the Kumbh Mela, a religious gathering that every 12 years creates the world's largest pop-up city.
ALLAHABAD, India — Standing at the shores of the Sangam — the calm expanse of gray-blue water where the Ganges, the Yamuna, and the mythical Saraswati rivers meet — it's not hard to sense the profound spiritual significance the spot holds for millions of Hindu pilgrims.
Crossing it, however, can be a harrowing experience.
"One at a time!" a guide shouted in practiced English, as he shuffled eight Harvard students and their professor-leaders, Diana Eck and Dorothy Austin, into a narrow, creaky wooden boat. The guide and his partner manned the oars at the front of vessel. "Hands in! Hands in!"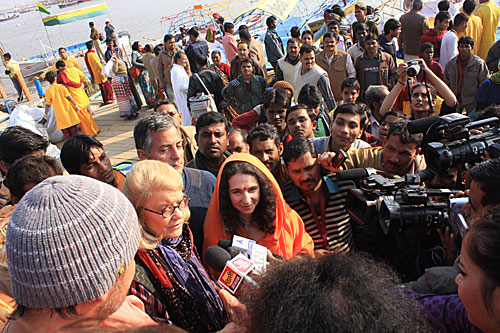 It was good advice. As a third man pushed the boat off from shore, it immediately collided with a scrum of other identical boats, narrowly avoiding banging its passengers' heads or pinching their fingers.
A mix of undergraduates, doctoral candidates, and Harvard Divinity School (HDS) students, the group had been at the Kumbh Mela, Allahabad's massive religious gathering, for several days already, and had been studying elements of the festival under Eck's guidance for months. But there was always another jolt in store.
Where better for them to learn firsthand the powerful role that nature and religion play in Indian culture than at a six-week-long, millions-strong celebration of Mother Ganga?
"For anyone interested in the vibrancy of Hindu culture, this is a kind of epicenter of religious life," Eck said.
Sacred, but polluted
On this afternoon, the group was headed to a stretch of beach at the Sangam to track down Swami Chidanand Saraswati, a small, energetic man in saffron-colored robes cropped above the knee, with a wild puff of wiry hair and an equally untamable beard.  Known simply as Swamiji to his followers, the Swami is one of the leading faces of the "Green Kumbh" movement, a new feature at this year's Maha Kumbh Mela and an offshoot of a broader push for environmentally conscious pilgrimage in India.
"Pilgrimage is on the rise in India," explained Eck, a professor of comparative religion and Indian studies at HDS and Fredric Wertham Professor of Law and Psychiatry in Society. "Millions upon millions of people travel to these holy places, and that takes a toll, in many ways, on the environment. It is something that is of deep concern to me, and that's also emerging as a major concern in India."
Indian Hindus' relationship to their land is unique, as Eck has described in her books, most recently last year's "India: A Sacred Geography." In Hinduism, nature is suffused with the presence of the gods; rivers in particular have special meaning. And yet, paradoxically, Hindus' mass devotions can overwhelm the fragile ecosystem of a river such as the Ganges, putting it in danger.
"There is no culture in the world that uses its rivers as extensively as a sort of ritual theater as India does," Eck said. "It's not just the Ganges and the Yamuna. It's seven sacred rivers from north to south, and beyond that many other sacred rivers that are utilized for daily religious rites in ways that one simply doesn't find anywhere else."
"There are these dilemmas: Do we use the river water to generate hydroelectric energy? Do we use the flowing rivers to create canals and irrigation systems?" Eck said. "How does all of that relate to the sacredness of the waters, of the rivers, and the ways in which they are used by millions upon millions of people?
"Those are important issues, and they're not simply issues of people who are in religious studies," she continued. "They're environmental issues, they're scientific issues, and they're inherently interdisciplinary."
Taking action at the Ganga
Once Eck's students arrived at the Kumbh, those environmental concerns became central to their work. Each had developed a project to pursue when taking the interdisciplinary course with Eck and Rahul Mehrotra, a Graduate School of Design (GSD) professor, in the fall. Their areas of interest ranged from the nature of performance and entertainment at the festival to toilets and sanitation efforts to attitudes toward the damming of the Ganga, as the Ganges is called.
Rachel Taylor, a sophomore anthropology concentrator, was interested in something a little more humble: flowers. Strands of marigolds — adorning naked holy men (nagababas) like robes, strung between tents, sent down the river as an offering to Mother Ganga — are so ubiquitous at the Kumbh that after a while they hardly register.
"But flowers, too, are spectacles," Taylor wrote in her final paper for the course. They also have a charged political history. Some Hindus believe that the flowers represent luxury; the Indian political leader Mahatma Gandhi, she learned, declined to wear garlands on the principle that cutting a flower amounted to an act of violence. But other sects promoted the offering of flowers to the gods as a great equalizer, an idea that intrigued Taylor. After all, the Kumbh is also a place where caste and status are leveled, as rich and poor, men and women, all bathe together in the Ganga.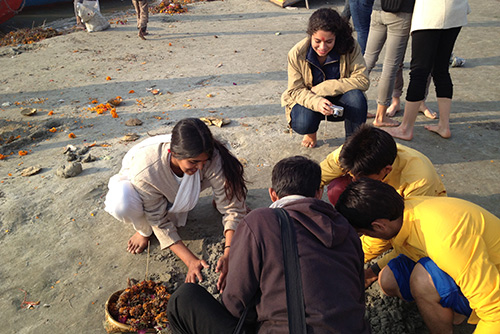 At the festival, Taylor planned to learn more about what she called "the Kumbh's most active participant." Luckily for her, Swamiji and his followers — quickly spotted once the Harvard group landed — were focused on the marigolds, too. The group was staging a "symbolic action," picking up trash and shards of clay pots (a common offering to the Ganga). They were also raking and burying large piles of soggy marigolds that would otherwise clog the river.
"One of the goals is to convince pilgrims that they're actually polluting the Ganga — they're not worshiping her by giving her flowers," Taylor said, as she observed Swamiji's helpers digging holes in the sand and helped to collect trash.
Her work was soon interrupted by a group of Indian journalists, eager for an interview with a Harvard student. (The Swami's group, Ganga Action Parivar, turned out to be impressively media savvy. Nearly all of the students in Eck's cohort ended up on television or in Indian newspapers later that day.)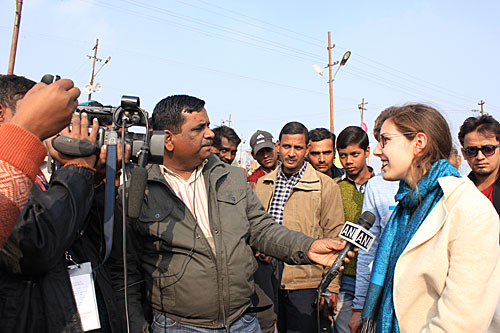 "It's not that trash is for someone else," the Swami expounded to the group. "Trash is everywhere," and is everyone's responsibility.
But despite the flurry of media attention that the cleanup garnered, the Green Kumbh's larger goal of a healthy Ganga is still far from a reality. Last year, the New York Times reported, India announced a multibillion-dollar effort to clean up the Ganges river basin, where water-borne illness costs its 400 million residents nearly $4 billion a year. Religious practices like those at the Kumbh, by one estimate, are responsible for 5 percent of the river's pollution.
"Do you think there will come a point where the Ganga's [significance] will somehow diminish as the river becomes more polluted?" Isaac Dayno, an undergraduate on the trip, asked Sadhvi Bhagawati Saraswati, an American-born woman who served as the Swami's right hand. "Will pilgrims no longer bathe in the Ganga because of these concerns?"
Sadhvi Bhagawati used an analogy: If your mother fell in a sewer ditch, would you hesitate to help her up? "There would never come a moment when you wouldn't love her, when you wouldn't lend her your hand," she said. "I can't imagine Ganga ever getting to a point where the faithful don't bathe."
Valuing culture
After breaking free of the cameras, the Harvard group piled back into a boat. Students took turns snapping photos of each other in seemingly endless configurations, the waters of the Ganga gently lapping at their backs.
Austin, Eck's wife and a lecturer on psychology — as well as a skilled rower — took a turn with the oar, to cheers of "Go Dorothy!" Other boats, packed with men happily singing in Hindi, drifted past, sometimes colliding in floating traffic jams.
For the class, it was the last full day at the Kumbh, a fact that hovered over the group members as they piled into a single Jeep to head back to the Harvard campsite. There, they would gather a final time with other professors, students, and researchers over vegetarian curry and chai masala to share their findings, the initial collaboration for a yearlong interdisciplinary research project, "Mapping the Kumbh Mela," sponsored by the South Asia Institute and the Harvard Global Health Institute (HGHI). (The Harvard team hopes to release, among other things, a book spearheaded by Mehrotra and educational tools produced by HGHI, which also sponsored some of Eck's students at the Kumbh.)
Taylor stared quietly out the back window as the car jostled alongside the Ganga. In the evening glow of the streetlights, the clumps of wet marigolds all along the water's edge made a textured carpet. A year before, she said, she had entered Harvard with pre-med aspirations; she was now more assured than ever of her decision to pursue anthropology.
"It made me confident in how much I value culture, in why I'm studying it," Taylor said later of the trip. "Every day, every hour, I think about how lucky I was to experience this."
Learn more about "Mapping the Kumbh Mela" and follow the South Asia Institute's blog on the project here.
Read previous Gazette coverage here, and watch the Gazette for more stories on the Kumbh Mela throughout February.